From Hell's Kitchen on the morning of September 11, 2001, I watched the horrifying slow motion terrorist attack on the World Trade Center on television. An hour later, when the numbness and denial faded, an urgency to volunteer swelled within. Needing to care for the city the way she comforted me over the years, I found myself entering the sandwiched 11th Avenue bus to Lincoln Center, where the American Red Cross [ARC] held court in the auditorium of a local school. (Ground Zero images curtosy John Feal 2001.)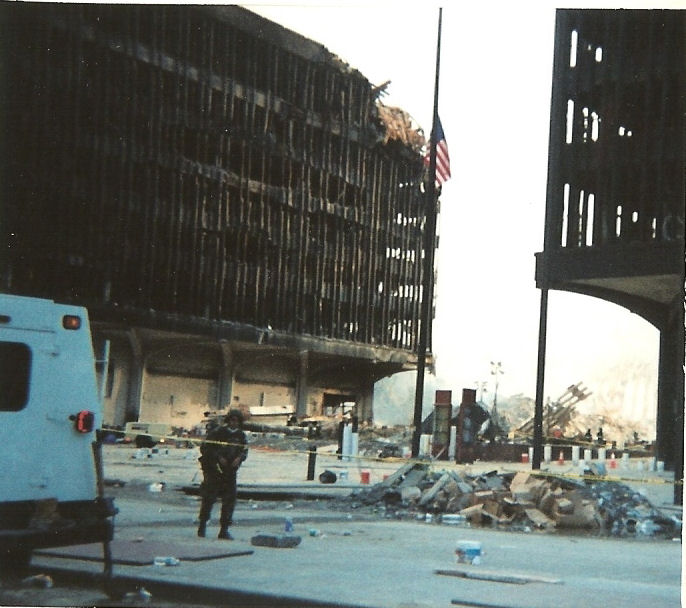 I would go the city's rescue in any way possible and aid the two limbs that had been taken without warning. The Mother of all cities, was herself, crumbling down to the marrow below her streets. The solid bedrock which sprouted two of her tallest beauties, were savagely destroyed---taking with them the many children of her city.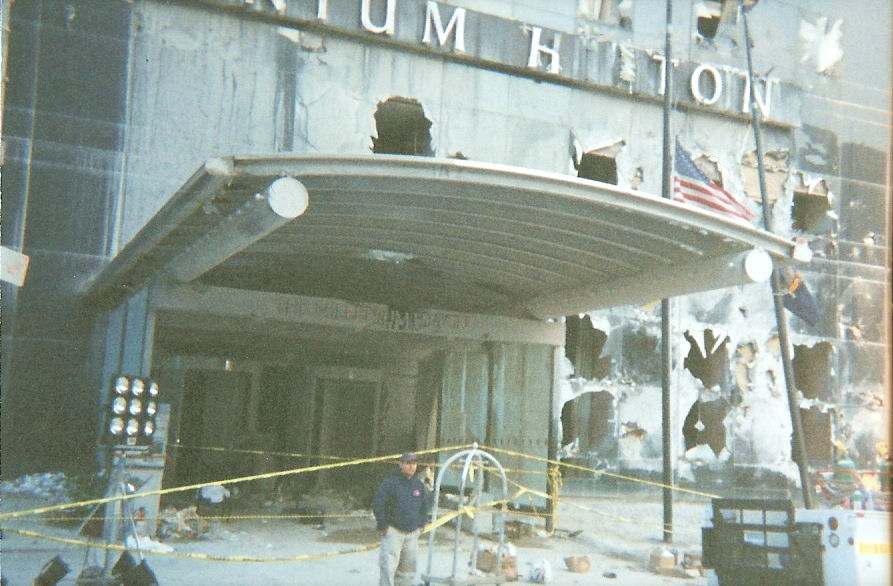 With the outpouring of volunteers, from New York and beyond, it was a month before the ARC called. They assigned a group of us for a week at a location blocks away from the WTC. We were immediately instructed that if anyone donated homemade sandwiches, brownies, or cookies---they must be destroyed because of contamination from the air---so only pre-packaged store bought foods were accepted.
Although Mayor Giuliani and former N. J. Governor Christie Todd Whitman, EPA Director under President Bush, assured New Yorkers repeatedly that "the air and water was safe and didn't pose a health hazard." But a contradiction was evident, that the exposure of food to the thickened, chalky white air---was toxic. Wary New Yorkers knew something was amiss---but it wouldn't surface until years later.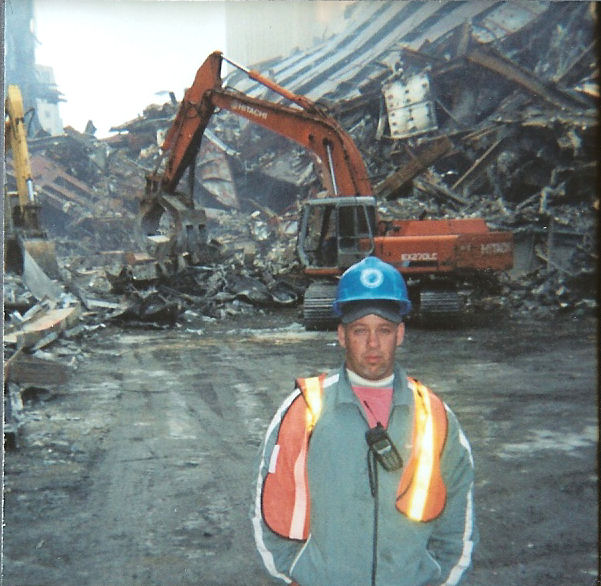 On that September day, former 101st Airborne Army soldier John Feal (above), a supervisor for a Long Island demolition company was asked by the owner to supervise the clean-up at Ground Zero's site seven. The former military specialist didn't flinch and went to the battle zone in lower Manhattan. His fateful course would change after a mere six days into the massive clean-up, when an 8,000 pound slab of steel fell atop his left foot----crushing it on impact. Feal spent the next 11 weeks in the hospital where his limb would develop a bout of gangrene----and claim half his foot.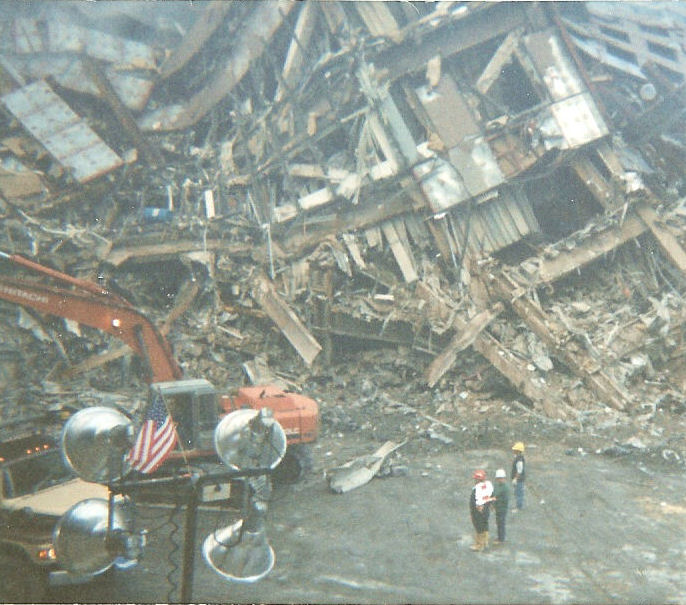 The then 34 year-old spent the next few years observing the mistreatment of his colleagues, peers and New York's bravest, the FDNY and NYPD, who had worked for the city at Ground Zero in an eight month clean-up effort. He witnessed their abrupt illnesses, and since 2004 a steady climb of rescue workers being diagnosed with cancer.
In 2005, with his anger over the treatment of 9/11 workers in tact, John Feal founded the non-for-profit FealGood Foundation. His love and compassion fuels the foundation to help those less fortunate. Since its inception, with $200,000 in aid, he's helped over 600 families. The FealGood Foundation advocates for all 9/11 responders with workmen's comp., pensions, social security disability, the crime victims of New York, and most importantly Bill HR 847 they hope is enacted soon. (NYPD, Glen Klein below)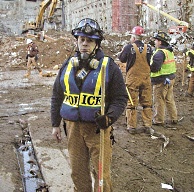 "Seventy percent have some sort of 9/11 illness," Feal stated from his L. I. office. "A lot of these men and women are paying for their heroic actions eight years ago. Over 800 have since died from a variety of illnesses, and probably thousands have been diagnosed with cancer."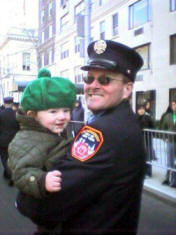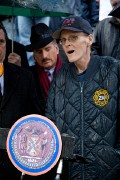 FDNY, John McNamara (above with son and in his latter stages) was diagnosed with stage IV colon cancer resulting in the removal of his entire colon. In August 2009 the 44 year-old lost his life to cancer, as his wife lost the love of her life, and young son lost the only father he'd ever known. "The cancers that have surfaced have been blood cancers, kidney, lung, thyroid, testicular and brain cancer," Feal recounted. Greg Quibell (below), a NY State Corrections Officer was one of those to die from a blood cancer, the most aggressive, AML Leukemia in August 2008.

If you were a uniformed rescue worker, you were fortunate to have pension and health care. But those non-uniformed workers who became sick and lost their jobs, are losing their homes and going bankrupt reported Feal. "September 11th was unprecedented, none of the doctors have ever seen these illnesses," he exclaimed. "The full effect won't be felt for another 10 to 20 years."

"The truth be told, Whitman without an environmental background----lied. She said that the air and water was safe because the White House told her to---but it wasn't true. She bears no responsibility---but God will judge her," he fumed.
"There has been no Federal legislation passed to ensure the welfare and healthcare of the men and women who risked their life without prejudice eight years ago, " Feal argued. "To quote Abraham Lincoln, 'Any nation that does not honor its hero's --- will not long endure.' "
One of those forgotten hero's, FDNY Corona, Queens Ladder 289, Kenny Specht spent weeks at the WTC in 2001. By that December he developed respitory ailments, in 2005 severe gastrointestinal problems followed. "In 2006 I experienced a burning pain in my chest that radiated downward. Upon going to the ER, the doctor said my gallbladder was four times the size it should be, describing it "as rotten." They removed it immediately," he informed. (Specht below with 9/11 supporter, former NY Giant, George Martin.)
Then on a fateful day in May 2007, Specht of Ladder 133 was injured in a fire and taken to L. I. Jewish Hospital. Still in his gear, covered in black smoke and drenched in water, they took a CT Scan of his neck. The doctors found two nodules in the thyroid area, one the size of a nickel, the other a dime. He was referred to an endocrinologist, who commented that Specht didn't fit the criteria for thyroid cancer....and sent him home with the neck pain.
The next day while at work he was reading an article in the New York Post about thyroid cancer. His breath became shallow as he read the symptoms---they were his. Specht urged the specialist for immediate testing. After a needle aspiration the results were neither positive or negative. Baffled, the doctor sent him to another specialist. And after three opinions---the 37 year-old was diagnosed with a stage I thyroid cancer on one tumor and stage II on the other. "I bawled like a girl," he admitted. "My body felt like I was 57." With surgery they were both removed.
Specht, whose family isn't predisposed to cancer, nor has he ever picked up a cigarette, did some research online. He discovered that radiation exposure came up as one of the causes for his cancer. "I was a guinea pig," he confided. "I strongly believe that my cancer diagnosis is a direct result to my six weeks of work at the WTC."
"Now I'm 40 and in the last three years I've been a medical mess. And the 17th firefighter to be diagnosed with thyroid cancer post September 11th. With a work force of 11,000 we don't fit the criteria of the national average," he concluded.
The minute those buildings collapsed it turned from a building fire to a hazardous materials incident he reported. "The equipment we were given to wear was for fire fighting only. Our gear is not rated for haz-mat incidents. The city and the FDNY owed us the proper equipment to mitigate those hazardous conditions," Specht exclaimed.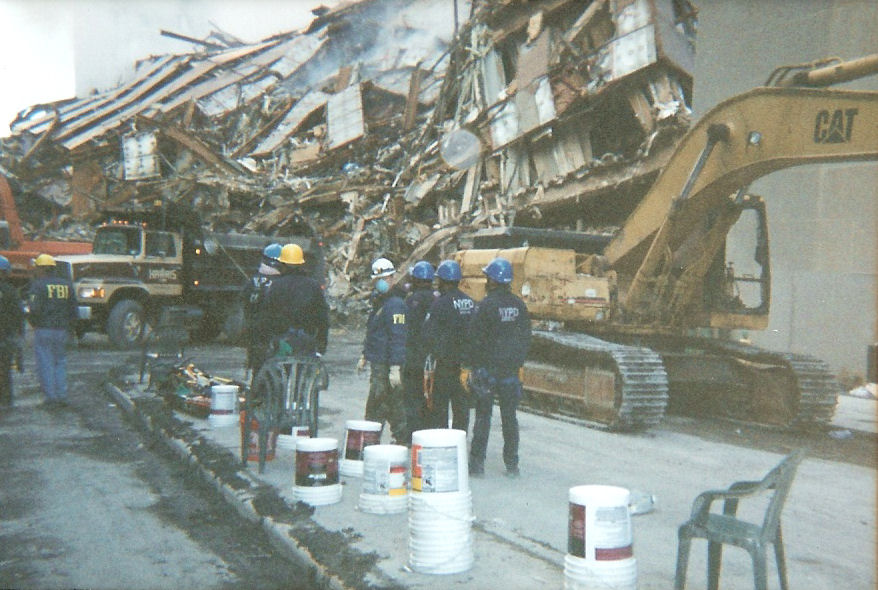 Now retired, Specht advises those who worked rescue or clean-up at Ground Zero, to inform your doctor that you were involved in the WTC, and were exposed to a variety of chemicals. "Ask him to look outside the box, taking into consideration your exposure to toxic agents."
Since 2002 when The NYC Fire Department World Trade Center Medical Monitoring Program was established, The firefighters grievance of Dr. David Prezant who is in charge of the annual testing, is that they have not released official statistics of their research. "The reports of 2002 and 2006, the only two to be released, were obscure and nearly identical. To me it's suspicious," Specht conceded. "Why when a NY firefighter is diagnosed with cancer does the burden of proof fall on the ill members shoulders?" he questioned. "Shouldn't the results of what is now an eight year study by the FDNY and the WTC monitoring program, have the proof that the cancer is a result of the WTC? Why have they never released a report?" (Below left to right: Specht, Feal, Channel 2 Sportscaster Dick Castiglione, Glen Klein, FealGood Foundation board member.)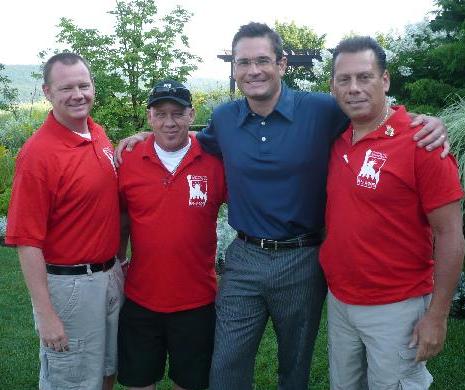 His frustration is a fraction of what the selfless caretakers of the WTC tend with on a daily basis---his following comment is a poignant summarization. "By September 12th we'll be forgotten for another year."
Dr. Doug Rokke, Ph.D, retired, U.S. Army Major, served as the U.S. Army Depleted Uranium Project director 1994 - 1995. His military career has spanned four decades including combat duty during the Vietnam and Gulf War I wars. Dr. Rokke, a disabled and retired Army Reserve Medical Service Corps officer who specialized in Nuclear Medicine; and Nuclear, Biological, and Chemical Warfare Operations [NBC]. A member of the 3rd U.S. Army Medical Command taught Hazardous Materials, Emergency Medicine, DU, Intelligence; Medical Operations; and Emergency Field Medicine as a former enlisted combat medic.
Dr. Rokke says the culprit for cancer diagnosis of 9/11 workers is, "A combination of toxic compounds from combustion and explosions and uranium ballast." He explained, "Depleted Uranium [DU] is used as ballast in commercial aircraft. And they [the airlines] are privy to that information."
Since 2003, a portion of Soldiers deployed to Iraq are also being diagnosed with rare cancers 2 to 24 months post deployment. Their exposure to carcinogens in the air, water and soil stem from Burn Pits and DU dust. Unprotected like the 9/11 workers, they are unknowingly inhaling and ingesting the toxins. Although the battlefield has residue from munitions, Dr. Rokke states there is "very little difference." "The soldiers from Operation Dessert Storm [ODS], Operation Iraqi Freedom [OIF] and Operation Enduring Freedom [OEF] exposures include uranium, and explosion / combustion byproducts; contaminated by explosives or radioactive wastes [DU]."
The exposure is the same; through inhalation, ingestion, wound contamination and absorption. Dr. Rokke informs, "Not much exposure is needed----just a few hundred micrograms." Adding that there are "too many factors to specify" when determining the length of time after exposure to diagnosis. "But on our original ODS DU team, including the OIF and OEF exposures, the confirmed cancers have occurred within several months."

There is medical testing that can be preformed if you've been exposed---but there is a time limit. "Too many years have elapsed. DoD orders for DU exposure is to test within 24 hours or so---not months or years," Dr. Rokke advises. As the original author and instructor for the [NBC and WMD] Emergency Response Course for the new Police and Fire Department Emergency Services Unit developed at Ft. McClelland, Alabama in 1995 - 1996. "They were taught about risk exposures. But it was the responsibility of NYC officials to provide them with the essential and required equipment in 2001 [OSHA /NIOSH Level A PE Protection]. There was an air of John Wayne / Rambo mentality apparent," Dr. Rokke observed.
Underlining the NYPD, FDNY, NIOSH, CDC, EPA, OHA, DOD, VA were all informed of those precautions. "The North American Emergency Response Guidebook, DOT, and Coast Guard Crisis Manual are suppose to be on every fire truck or with a dispatcher. There is no excuse for not taking these precautions."
While we mourn the 8th year of the traumatic WTC event, that day has never ended for the Rescue Workers---as it's still claiming their lives. In Dr. Rokke's professional opinion he suggests independent tests of the air, and surfaces at the WTC. "All structures both inside and out within at least a 20 miles radius should be tested." He concludes, "The medical problems mirror those of Gulf War I Veterans."
As a recognized national and international expert and educator, Dr. Rokke developed congressionally mandated education and training materials and wrote U.S. Army Regulation 700-48, the U.S. Army PAM 700-48, and the U.S. Army's common task for DU incidents. Dr. Rokke serves or has served as an advisor for the Centers of Disease Control; Department of Defense; National Academy of Sciences; Institute of Medicine; Department of Transportation; Federal Aviation Administration; Department of Veterans Affairs; British Royal Society; British House of Lords and House of Commons; United Nations; President William J. Clinton's Oversight Board; and local, state, and federal law enforcement, fire, and medical agencies.
Popular in the Community