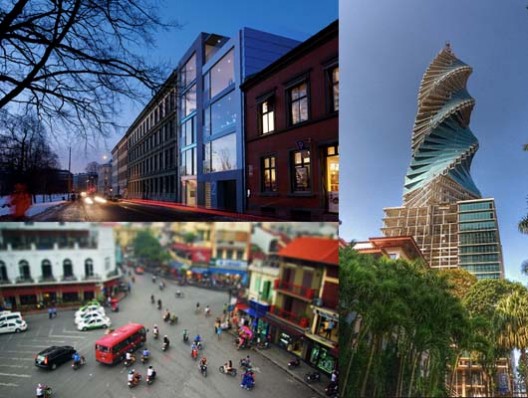 Upper left: Oslo by Flickr User CC Peter Guthrie. Bottom left: "Hanoi Traffic" by Flickr User pheochromocytoma. Right: "Revolution Tower, Panamá City, Panamá" by Flickr User CC Chodaboy.
Where in the world, as a young architect, would be the best country to find a job in an architecture firm?
Last week, we decided to pose this question and crowd-source our readers' intelligence for the answer. We received almost 200 comments from ArchDaily readers and Facebook fans all over the globe about the current employment opportunities, design culture, and wages in their respective countries. With many economies experiencing crippling Recession, and recent Architecture graduates suffering most, you've helped us generate a vital conversation.
Find out the 9 countries that made the cut after the break. Some may just surprise you…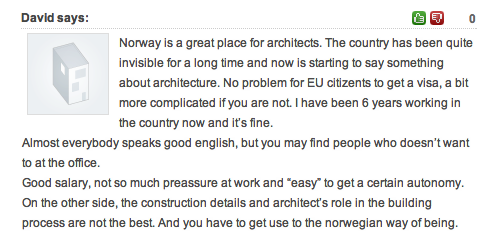 One of the few European countries to have crawled out of the Recession, Norway can boast explosive growth, low unemployment, and high wages. Add in the high level of English, and Norway would seem to be a unique opportunity for a young architect to get work and make money.

A construction boom that puts architects in high demand, decent wages, and a good design culture make Panama a good choice for a young Architect starting out.


While other commenters suggested that wages are low and work visas hard to come by, Brazil offers many opportunities for a young architect to get his feet wet (especially if you have some rudimentary Portuguese in your pocket).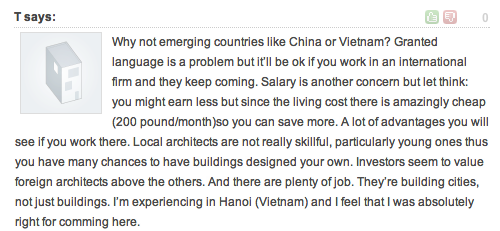 Consensus on Saudi Arabia seems to suggest that design culture is questionable, but wages and opportunities steadily rising (particularly in the cities of Riyadh and Jeddah).

Easily our most contentious country, Australia seems to have excellent opportunities is certain cities and absolutely none in others. One Facebook Fan suggested that while Melbourne is very slow, Brisbane and Perth are growing. Another commenter who worked in Australia said that while pay is good, acquiring a permanent Visa – and thus getting permanently hired by a firm – isn't easy.
China is a mixed-bag of architectural opportunities and challenges (check out today's post by Guy Horton on China's changing economy – and the shifts architects in China will have to ride-out as a result). The country is of course growing at an exponential rate, but commenters noted that the quality of design varies from firm to firm and language barriers can make for some difficult (if somewhat amusing) interactions. However, Shanghai and Hong Kong were suggested as your best-bets.
Related
Popular in the Community