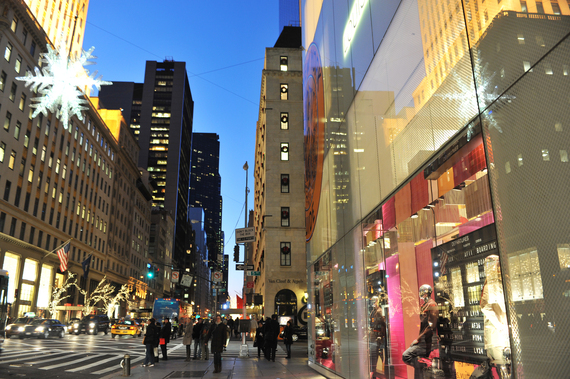 Whether you spend three days or three years in New York City, there is always something awaiting you just around the corner, a gem you have overlooked or never knew existed. Sure you'll enjoy wandering along Fifth Avenue, ambling through Central Park, and exploring Times Square, but venture further to reap the greatest rewards. Here are a few suggestions:
The High Line, once a freight railway, is now a green public garden that runs from Gansevoort Street in the Meatpacking District to West 34th St. between 10th and 12th Avenues. You will pass by and even through buildings, some from the 1800s, along with sculptures, small ponds, and places to watch the sun set over the Hudson River, restaurants and even a few shops. Accessible by elevator or stairs, the High Line is free and open most of the year from 7 a.m. till 10 p.m.
The Tenement Museum is a step back into the era of immigrants, sweatshops and tenements jammed into the Lower East Side. The lives of nearly 7,000 working class tenants who lived at 97 Orchard Street from 1863 until 1935 were researched to create the authentic experience that this museum affords visitors. This is not a Disneyfied look at immigrant life, but the nitty-gritty of hardscrabble lives in the apartments of Irish, German, Jewish, and Italian families. Reservations must be made advance. Adults: $25, Students: $20 and Seniors: $20.
The Sony Wonder Technology Lab at 550 Madison Avenue at 56th St. offers hands-on science for kids and adults alike. And don't think you won't be tempted. You can perform virtual surgery, control robots, create your own animation, mix your own music, build your own game, or star in your own TV newscast. And all of it is free. Make reservations with the Group Coordinator at (212) 833-8100, option 2.
Neue Galerie is a small jewel devoted to German and Austrian arts from the Bauhaus period to artists like Egon Schiele, Vasily Kandinsky, and George Grosz. A highlight of the collection is Gustav Klimt's The Woman in Gold, portrait of Adele Bloch-Bauer. Located at 1048 Fifth Avenue, it's open Thursday through Monday, 11 a.m. to 6 pm. Adults: $20, Students and Seniors: $10.
Grand Central When you enter beneath the largest Tiffany clock in the world you feel as though you are passing through a wrinkle in time, cascading back to when Cornelius Vanderbilt built this as a temple to transportation. Look up at the celestial ceiling, aglow with the constellations. Plan to spend some time exploring. There are 68 shops and 35 places to eat, including the celebrated Grand Central Oyster Bar, along with a buzzy gourmet food market. You can even get in a game of tennis at the Annex, which is open to the public. 42nd St. and Park Ave. Open 24 hours.
The Statue of Liberty beckons tourists and while it is worth seeing up close or making the long climb up inside to the crown, the real treasure is Ellis Island. When you buy your ticket for the ferry to Lady Liberty, you get Ellis Island for free. Be sure to get off and see where more than 22 million immigrants were processed before being admitted to America. Allow three hours and go before 2 p.m. so you can visit both the Statue of Liberty and Ellis Island. Adults: $18, Seniors: $14, Children: $9
The Frick Collection is a beautiful mansion turned art museum at the corner of Fifth Avenue and East 70th Street directly across from Central Park. Having once been the home of Henry Clay Frick, the 19th century industrialist, its 16 rooms on the ground floor allow you intimacy with the paintings. For instance, step into the Library to admire 18th century paintings such as George Romney's Lady Hamilton, fine Chinese porcelain vases and Italian bronzes or head to the Oval Room for life size portraits by James McNeill Whistler. Take refuge on a bench in the Garden Courtyard next to the fountain and enjoy the tranquility just steps from throbbing Fifth Avenue. Open Tuesday through Sunday. Adults: $20, Seniors: $15 and Students: $10. No children under 10 are permitted.
At 1,776 feet the Freedom Tower or One World Trade Center is the tallest building in the Western Hemisphere. It's the centerpiece of the World Trade Center Complex, which includes the National September 11 Memorial and Museum. The Freedom Tower forms eight isosceles triangles with a perfect octagon at its center. The views from the top are both magnificent and expensive. The Observatory, open seven days a week from 9 a.m. until 8 p.m., costs $32 for adults, $30 for seniors and $26 for children. Nearby is the 9/11 Memorial and Museum. Its exhibition is divided into three parts: Before 9/11, the Day of 9/11 and After 9/11, including the events at the Twin Towers, the Pentagon and the story of Flight 93.
Chelsea Market sits in the heart of the Meatpacking District. This area has always been a foodie's paradise, dating back to the Algonquin Indians, who traded food and game on the banks of the Hudson River. From cheese to pastries, spices to wine, Korean street food to Australian meat pies, foodies will find this a fun place to explore. Also tucked in among restaurants and food vendors are bookstores, kitchenware shops, Moroccan handicrafts, florists, a barbershop, and even a shoeshine.
The Market is free for browsing Monday through Saturday from 7 a.m. to 9 p.m. and Sunday, 8 a.m. to 8 p.m.
Calling all HuffPost superfans!
Sign up for membership to become a founding member and help shape HuffPost's next chapter