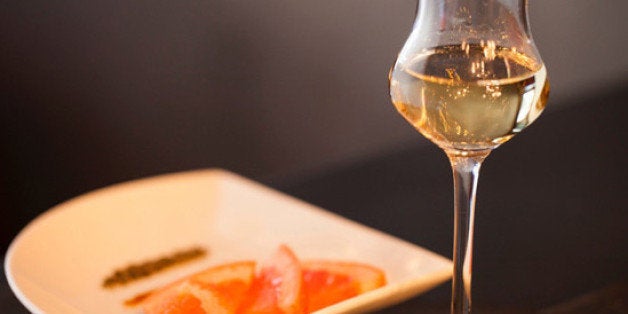 From mushrooms and kale to oysters and foie gras, it's safe to say cocktail ingredients have stretched beyond straight spirits and citrus wedges. Bartenders are finding ways to infuse savory substances (think: duck fat-infused mezcal) and sweet (see: fig jam) into atypical libations. Maybe it's time you make a checklist.
1. No Shrubs

Image: Posana Restaurant
Typically made with fruit juice, sugar and acid (like vinegar), shrubs in cocktails are nothing new, but inventive flavors are popping up everywhere. Posana Restaurant in Asheville, NC offers the Sleight of Hand made with beet-grapefruit shrub; at The Rooftop at The Vendue in Charleston, Tolerating the Beet features beet-cinnamon-ginger shrub. And at Coppa in Boston, beverage director Brittany Casos came up with the Concord Crush, made with concord grape-rosemary shrub.
2. Meat Lovers' Delight

Image: Ramen-San
As savory as a beverage can get, broths and meat are finding their way into cocktails. (We predicted it earlier this year.) At Ramen-San in Chicago, the team found a way to infuse duck fat into Rittenhouse Rye by steeping roasted duck skins in the rye for 72 hours. The result? A Tribe Called Quack Whisky Sour. At Pistola in Los Angeles, find From The Kitchen With Love, a sipping broth cocktail made with lamb consommé and only found on the spot's secret cocktail menu.
3. Dairy Queens
Image: Mezzanine
Milk and eggs are one thing but when yogurt and cheese find their way into drinks, it gets interesting. At the Baldwin Bar at Sichuan Garden in Massachusetts, the I Put a Spell On You cocktail is made with Greek yogurt as is Get Her To The Greek, found at Capa Restaurant at the Four Seasons Resort Orlando. The bartender at the Mezzanine at LA Chapter uses whey as a frothing agent instead of egg white in making the Amaretto Sour. The whey is a by-product of the ricotta made in-house and is mixed with a bit of half and half.
4. Up in Smoke
Image: Cameo
At Cameo Bar at Viceroy Santa Monica, bartender Gary Cahill incorporates hibiscus smoke into his version of an aviation (the Smoked Hibiscus Aviation) by smoking hibiscus tea leaves, filtering the smoke into a glass bottle and sealing shut. The cocktail is strained into a glass bottle filled with smoke, shaken and served. The Flaming Ramirez, made and named for bartender David Ramirez, is topped with an ancho chile set on fire before getting dunked in the cocktail. Find it at Ruggles Black in Houston.
5. Health Kicks
Image: Public
While green juice mixed with booze is one way of incorporating health into cocktails, we're now seeing even more out there ingredients. At Public in New York City, Eben Freeman has created Smokey The Bee, which uses bee pollen as a garnish to emphasize the drink's honey notes. At The Spare Room in Hollywood, beverage director Yael Vengroff utilizes coconut oil in a fat-washed Aylesbury Duck Vodka and incorporates the result into her creations.
6. Better Butter
Image: Xixa
If Paula Deen taught us anything, it's that everything is better with butter. Bartenders have taken note and at the Slurping Turtle, a restaurant in Ann Arbor, Michigan, they serve Staring at the Sun, a cocktail made with fig butter. At Xixa in Brooklyn, the Brown Butter Camarena Reposado is made with tequila infused with brown butter and served neat.
7. Saline Solution
Image: Midnight Rambler
Bartenders are finding new ways to utilize salt in their creations (see pickle salt, coffee salt and worm salt). Some are taking it one step further. Eben Klemm, partner and beverage director at King Bee in New York City, created The Nast, made with soy sauce and at the Midnight Rambler in Dallas, Crazy Water is used in drinks to increase the minerality: The Silvertone is garnished with house-pickled onions for extra bite.
8. Powders, Baby
Image: The Gorbals
Dried and dusted is the way to garnish cocktails these days, and Petrossian in West Hollywood has found a way to do exactly that with caviar. The Caviar-tini is an update on the martini and made with, yes, caviar powder. At Café Clover in New York City, the Harajuku Gimlet incorporates matcha powder into its house-made yuzu cordial and over in Brooklyn at The Gorbals, beverage director Christine Kang has crafted a cocktail featuring toasted milk solids, called Pillow Talk.
9. Everything Else
Image: Tacoteca
In New York City, Davio's Northern Italian Steakhouse uses snow (yes, really) in its Snowed In Negroni. For obvious flair, the Sparkle Plenty served at the Swizzle Stick Bar in New Orleans is made with house-made gold dust bitters. And at Tacoteca in Los Angeles, the Aguacatero is garnished with chapulines (seasoned and cooked Mexican grasshoppers) and rimmed with worm salt (ground up gusano worms with rock salt and chiles).