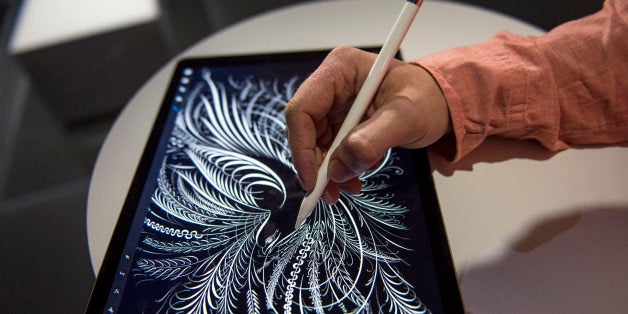 A couple of weeks back, I wrote an article on how Samsung's Galaxy TabPro S easily beats the iPad Pro. I was comparing it to the 12.9-inch version of the iPad Pro and thinking of how the TabPro S is far more of a laptop replacement, especially since it runs a desktop operating system (Windows 10). Apple's iPad line has always run a mobile operating system, iOS.
Last week, Apple released the 9.7-inch iPad Pro and I have been using it for the past four days. Because it's smaller, easier to carry, and still holds great power, I have come to appreciate it as a great tablet. There is no way it will replace a laptop, but if you stop thinking about it in those terms, you will be absolutely blown away by the new iPad Pro, even if you are an iPad Air or iPad Air 2 owner.
The 9.7-inch iPad Pro is the greatest digital note-taking pad ever released by a company. You have to pay $99 extra for the Apple Pencil, which easily beats anything Microsoft has made for their Surface Pro line. When writing with the N-Trig stylus on the Surface Pro, the writing comes off as squiggly and unnatural. However, when writing with the Apple Pencil on most iPad Pro apps, it feels almost as natural as writing on a pad of paper. Writing with Microsoft OneNote still has some minor limitations, but the Apple Pencil still does the job well. Apple may have taken a long time to come out with a stylus, but they certainly created one that is just about perfect.
Speaking of perfection, the new iPad Pro's True Tone display has to be seen to be believed. The colorful display actually adapts the color tone to the environment you are in. At first, you won't think it's that big of a deal. However, when you turn True Tone off, you see how unnatural the colors are. The iPad Pro still has the same 2048 x 1536 pixel resolution display as the iPad Air 1 and 2, but it's hard to imagine the benefits of having a higher resolution screen, especially because it would eat the battery life faster. As of right now, the battery life easily gets past ten hours when surfing the web or streaming videos over Wi-Fi.
Then, there are the speakers, which are the best speakers provided for a tablet device. Instead of the two stereo speakers usually found on iPads, the new 9.7-inch iPad Pro now contains four speakers and they aren't just holes in the device. You can actually feel bass come out of them, and listening to music, if you are not around headphones or a high-quality Bluetooth speaker, is actually a pretty satisfactory experience.
Then, there's watching videos. The 4:3 aspect ratio of the iPad still makes it too square for watching widescreen movies, but most iPad users are used to the black bars on top and below their video clips. What's impressive is how the speakers add extra life to video clips, so you can feel what's going on as well as see. It would be great to see Apple make a 3:2 aspect ratio screen that provides a balance of watching videos in landscape, while also providing the portrait-like notepad experience of a tablet.
The new Smart Keyboard Cover, which connects to the iPad Pro's Smart Connector, won't win the prize for keyboard of the year, but it definitely does the job. It wraps around your iPad Pro to create a cover and provides you with typing capabilities without adding much weight to the overall package. The small keys are a little difficult to get used to, but after I played with them for ten minutes, I was able to type as fast as I usually can. Good luck finding the new Smart Keyboard Cover; it's almost impossible to find at any Apple Store retail locations.
The new 9.7-inch iPad Pro is a major step forward in Apple's tablet business, which has been in decline because people aren't convinced they need a tablet anymore. However, once anybody gets their hands and eyes on the new iPad Pro, they won't be able to let go. The iPad is still relevant and will be for a long time.
Calling all HuffPost superfans!
Sign up for membership to become a founding member and help shape HuffPost's next chapter