One month ago, I wrote "Heroes in Fine-print", which highlighted the actions of two Sherpas who were involved in rescuing several survivors of the K2 tragedy. In subsequent interviews with them, some new information has come to light that should be reported as part of the ongoing effort to find out precisely what happened. The information concerns a radio transmission that occurred on August 2nd between Pemba Gyalje and the rescue party of Pasang Bhote and Tsering Bhote. It occurred sometime after 3 PM, just after Pemba had found Marco Confortola lying passed out on a pile of fresh avalanche debris at roughly 8,000 meters.
As Pemba was reviving Confortola with bottled oxygen, he received a radio call from Pasang Bhote and Tsering Bhote, who reported that they had rendezvoused with Jumic Bhote and two of the Koreans (most likely Hwang Dong-Jin and Park Kyeong-Hyo) at the top of the Bottleneck. They said that aside from some frostbite, Jumic Bhote was basically alright, and that everyone was coming down. Pemba told them to hurry down, as the serac was very unstable.
The rescue team went on to say that they had witnessed a climber in a red suit with patches fall from the middle of the Traverse, the section of the route which connects the top of the Bottleneck couloir to the summit slopes. Apparently the man was swept off by an avalanche, and was 15-30 minutes behind Jumic Bhote and the two Koreans. Moments after this radio communication, Pemba heard a large avalanche and witnessed the bodies of two Sherpas and two Koreans tumble by him.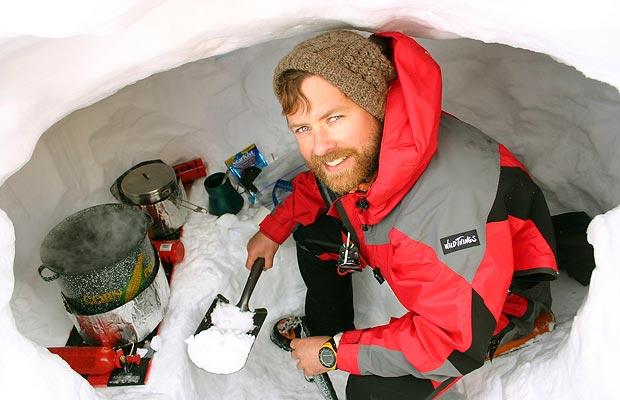 Gerard McDonnell. New information from Pemba Gyalje Sherpa suggests that the mountaineer died while trying to rescue three other climbers.
I learned months ago in email correspondence with Pemba that the rescue team had succeeded in reaching Jumic Bhote and two of the Koreans. But it wasn't until I met with him in Kathmandu and we had the chance to speak extensively about K2 that I heard about the man in the red suit behind Jumic and the Koreans. Though both Gerard McDonnell and Pakistani guide Karim Meherban wore red suits, only McDonnell's had patches on the front, matching the description given in the radio transmission. Accordingly, Pemba believes that this man was his friend and teammate McDonnell.
The precise circumstances of Gerard MacDonnell's disappearance has been one of the most enduring questions of the K2 tragedy. A story written by Omar Waraich in the UK paper The Independent on August 9th (purportedly based on Mr. Confortola's first newspaper interview after the tragedy) seemed to suggest that the three Koreans died in their presence: "For three hours, McDonnell and Confortola tried to right them, but it was in vain. All three died. It was at that moment, "for some strange reason", that McDonnell began to walk away." A lengthy article in Men's Journal written by Matt Powers (who also was in Islamabad interviewing the survivors) reported that: "By mid-morning, Marco and Gerard had left the Koreans and continued toward the traverse... Suddenly, Marco said later, Gerard turned around and began to climb back up the slope, back toward the Koreans, offering no explanation." Finally, Michael Kodas wrote in Outside Magazine that: "They spent three and half hours trying to free the Koreans but gave up when the glacier let loose nearby and reminded them of their perilous location. McDonnell, perhaps confused by the lack of oxygen, climbed back up the slope toward the summit. Confortola shouted to his friend but couldn't get his attention. Then he heard an avalanche and recognized two yellow boots in the slide."
Pemba's account of the radio transmission requires that the overall tragedy be re-examined. It seems possible, if not probable, that Gerard McDonnell continued efforts to revive Jumic Bhote and the two Koreans after Van Roojen and Confortola descended, and that McDonnell succeeded in getting the injured climbers mobile so that they could descend the Traverse to the top of the Bottleneck, where they were met by the rescue team of Pasang Bhote and Tsering Bhote. Sadly, many published accounts have portrayed McDonnell's final actions as being irrational, perhaps the result of hypoxia or hallucination. It now seems quite likely that McDonnell nobly continued rescue efforts right up until the moment he was killed.
It is readily clear that the media owes the family, friends, and loved-ones of Gerard MacDonnell an apology for so misrepresenting his memory. As someone who's written about K2 a lot, I include myself as being partly to blame. In "Heros in Fine-print", I implied that McDonnell, along with Van Roojen and Confortola, had abandoned the Koreans, while the Sherpas launched a rescue. Abandoned is a very strong word, and it bears nothing in common with what I now believe were Gerard MacDonnell's final actions.
There are still lots of unanswered questions as to what exactly happened on August 1st-2nd on K2. Marco Confortola has written a lengthy testimony that details his recollections of the summit push.
Wilco van Roojen has yet to provide a similarly detailed account.
Popular in the Community