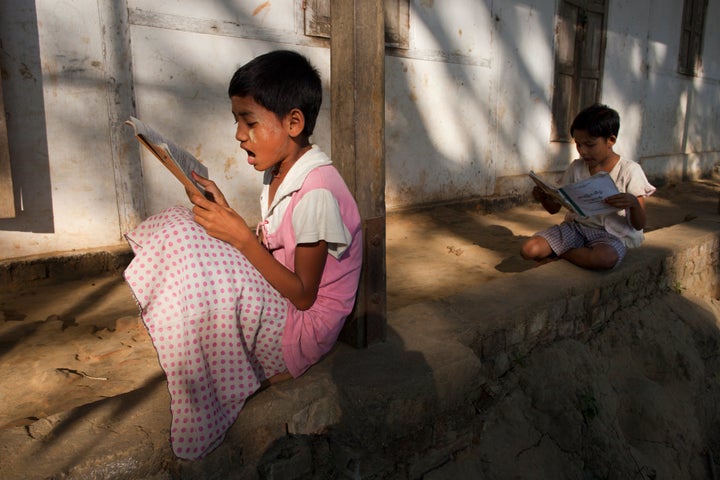 On a recent visit to Baltimore, singer-songwriter Adam Klein found the ideal venue to perform songs from an album he is writing about Nicaragua.
It wasn't glamorous: Just a corner kitchen in an aging warehouse, where a handful of people gathered around a pizza box. But Klein crooned away, undaunted by the fluorescent glare and the bad acoustics.
After all, his music is inspired by the struggles of people in distant places, and this was the headquarters of the International Book Bank, which sends free learning materials to poor communities all over the world.
It was Klein's performance that led me to discover IBB, tucked away in the neighborhood of Hampden. The organization's executive director, Kate Joyce, met Klein when both were serving in the Peace Corps in Mali and had invited him to use the space.
IBB's mission is to get free books -- from elementary readers to accounting manuals -- into the hands of students in the developing world.
"These are all hitting the road," Joyce said during a recent walk-through of the warehouse, pointing to pallets bound for Malawi, Kenya and Tanzania. In many poor communities, learning happens primarily by copying off the blackboard. "Because that's the only resource," Joyce said -- the "teacher and some chalk."
That problem is also on the radar screens of major aid organizations. USAID is among the donors behind a new grant initiative called All Children Reading, which will fund literacy-promotion experiments; the donors have flagged the dearth of teaching materials in developing countries as a major challenge.
A Chicago publishing executive founded IBB in 1987; a few years later, the nonprofit moved to Baltimore to be near a port. (As it happens, the home of Poe and Mencken at the time was branding itself as "The City That Reads.")
IBB is not the only organization that sends books to developing countries, but Joyce believes it's the only one that provides exclusively new books and lets recipients choose them ahead of time from a catalog. Recipients have to pay for shipping but the books are free, courtesy of American publishers, who donate unsold material and get a tax write-off for their trouble. Many books go to aid organizations or literacy projects on the ground in poor countries that then take charge of further distribution. IBB sends out about 2 million volumes annually.
Of course, it's not just children in distant corners of the globe who are hurting for school supplies. There are other nonprofits that distribute books to children domestically. However, publishers give IBB textbooks that they do not want given away in the U.S. for fear of undermining their markets here.
But books designed for the U.S. market and priced at the cost of international shipping are still inaccessible to many people -- a problem that IBB hopes to solve with new ventures.
The organization will make its first foray into publishing this year when it releases a series of storybooks in four African languages, plus English and French. IBB's partner in the project is CODE, a Canadian literacy organization with which the Baltimore nonprofit has a long-standing relationship.
Local-language reading materials are often in short supply in the developing world, Joyce said, with serious consequences for literacy.
"You can't actually learn to read in a language you don't speak," she said. On the other hand, she said, if people learn to read, the skill can be transferred to other languages they may acquire.
The books tell richly illustrated tales -- about the sun and the moon competing for bragging rights, or a boy sneaking meat from his mother's pot, for example. The heroes look African, and their stories will be ones African children will relate to more easily than with books imported from the U.S., Joyce said. The books were originally published in Kiswahili by a pair of Tanzanian companies in a project that also had support from CODE.
Another goal is to expand fundraising so that IBB will be able to send books to communities that are unable to pay the shipping expenses. Joyce wants IBB to be a resource for readers who do not have even the support of an aid group to cover such costs.
But is the future of world literacy really in books? USAID is already exploring how to use mobile gadgets to help students in poor countries learn. Joyce herself got a Kindle last Christmas. Still, she doesn't think her warehouse will be obsolete anytime soon.
And it's a good thing, because Klein might want to return someday to do another concert. As he puts it, "The Nicaragua album is one project of a few in which I'm connecting my interests in songwriting and life in the global south."
Few, indeed -- soon he may have enough to start a library of his own. Klein has an album of Malian music he recorded in that country coming out in February. And he is soliciting ideas from listeners for song topics for yet another album -- about issues affecting the developing world.
Related
Popular in the Community