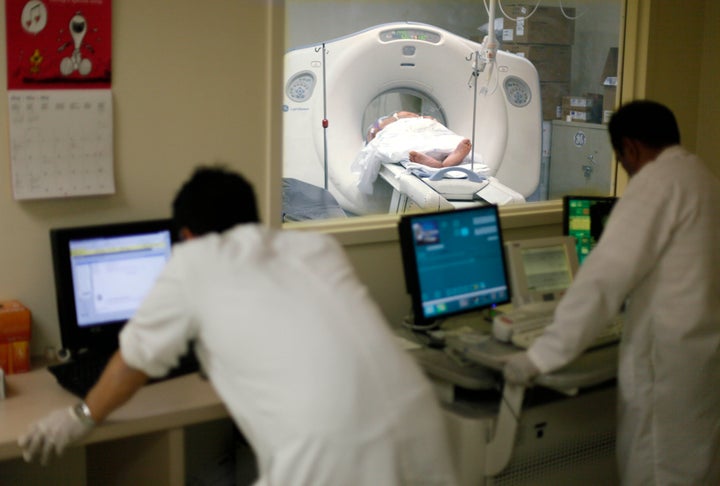 One year ago, President Obama signed the Affordable Care Act (ACA) into law. On its first anniversary, we celebrate a number of welcome and strong patient protections: children with pre-existing health conditions now receive health care coverage, young adults can now remain on their parents' health insurance until they turn 26, children will now receive Bright Futures services--the definitive standard of pediatric well-child and preventive care--as an immediate benefit for no co-pay, and insurers can no longer drop coverage for children or adults when they become sick, among many other important reforms.
Now in the second year, amidst continued legislative and legal machinations, the ACA is unfolding along the planned four-year time schedule. And yet, there remains confusion about the law's provisions and what they mean for American families. This is unfortunate, because the law is based on principles that are as fundamental as ABC.
Last year, as President of the American Academy of Pediatrics, I had the enormous privilege of meeting with senators and congressmen from both parties, as well as Administration staff in the White House and U.S. Department of Health and Human Services, to discuss what the ACA means for children and pediatricians.
One clear take-away from all of these meetings was how serious everyone was about wanting to get health care reform right. There were, of course, differences of opinion on the best way to achieve the goal, but through debate, discussion and negotiation, they finally came up with a road map for addressing the growing problems of our costly, hodge-podge, illness care, health non-system.
Employers, insurers, providers and the general public all agreed that the United States was hurtling toward an untenable position that was threatening the viability of an already ailing economy. Something had to be done.
So, what were those ABC principles and how are we doing at this point?
Access: Across the United States, access to health care is variable in quantity and quality. Some communities have full access to primary care, all subspecialties, emergency room and hospital services. Families in other communities have difficulty finding doctors, nurses, dentists and mental health providers to care for them.
This problem is most pronounced for families who rely on Medicaid and the Children's Health Insurance Program because the payment rates for these insurance plans are so low and the bureaucratic burdens are so high that many providers have opted out of caring for patients on Medicaid.
The ACA has several fixes for the access problem. Medicaid payments for some services have been raised to Medicare levels for a prescribed period from 2013 to 2014. The ACA includes substantially increased support for community health centers, loan repayment for subspecialists who choose to practice in underserved areas, and increases in the National Health Service Corps. Taken together, these provisions represent a very positive approach to the access problem.
While these improvements to access to care are not insignificant, there is still more work to be done to ensure that our pediatric workforce remains robust and equipped to care for our nation's most vulnerable children. More than half of all Medicaid recipients are children who depend on the program for access to vital health services. We need then to extend the ACA's Medicaid payment increases to all Medicaid services, and keep them in place well beyond 2014. In addition, funding the pediatric subspecialty loan repayment program authorized in the ACA, as well as funding children's hospital graduate medical education programs, will provide the resources necessary to help the pediatric workforce better meet the demands of young patients whose complex and often chronic health conditions require specialized attention.
Benefits: The benefits offered to families under the ACA are really new and represent the true core of the legislation. For a very long time, analysts of the U.S. health care system have pointed out that while the United States provides stunning specialized care to treat very sick children and adolescents, our nation does not take advantage of strategies that could help prevent some of episodes of ill health and disability. Over and over, for instance, intensive care unit doctors and nurses bewail the absence of strong bicycle helmet or gun safety programs as they try to patch children back together again after tragic injuries. Prevention works, and up until the passage of the ACA, the United States has paid far too little attention, willing to pay a pound for cure rather than a penny for prevention.
Two prevention provisions in the ACA are noteworthy. First, a comprehensive set of AAP-recommended preventive services for infants, children and adolescents will now be available with no co-payment for families.
The other provision focuses on a community-based Prevention Fund, which will allow communities to identify health-promoting interventions that will strengthen families and avert costly long-term consequences. The epidemics of obesity and childhood mental health disorders render these community-based interventions essential.
Some naysayers in Congress are attacking the Prevention Fund, labeling it a 'slush fund.' They are completely missing the point.
These funds are the basic investment in the health of our nation -- with them we can build stronger todays and healthier tomorrows. Without them, we will continue to play catch-up, treating costly illnesses like diabetes, hypertension, cancer and heart disease in adults because we didn't attend to our children's needs for good food, healthy physical activity and opportunities to grow into productive, contributing citizens.
Coverage: A major incentive for the passage of ACA was the fact that in 2008, more than 45 million Americans (including 8 million children ) were without health insurance. This meant they were hesitant to go to the doctor for routine care, took less than their prescribed medicines, and lived on the edge when they crossed the street, used sharp tools or operated heavy machinery. Living without health insurance wasn't good for these uninsured people and it wasn't good for America. Insurance works by spreading risk. Now, with everyone being required to purchase health insurance under the ACA, there is a new equity and a new efficiency.
As wonderful as the coverage provision is, in child health we remain concerned about many children that we see -- primarily from border states -- who are uninsured because of their immigration status. We all know this is a hard one, but right now, it is hardest on extremely vulnerable little babies and children. We applaud states who are finding ways to cover these young people.
These are the ABCs. How do we get them right?
We need to be serious about implementation and cost containment.
When the ACA was being written, much of the implementation depended on quality improvement methodology. This scientific approach to health care delivery emphasizes getting the right care to the right patient at the right time. The world's expert in quality improvement is Dr. Donald Berwick. With his triple aim of improving the health of the population; enhancing the patient experience of care (including quality, access, and reliability); and reducing the per capita cost of care, he has documented success with health care delivery improvement throughout the United States and internationally. He is now the nominee for Administrator of the Center for Medicare and Medicaid Services. He is the right man. He knows all about the ABCs. One essential step to getting health care reform right is his Senate confirmation. The nation needs him to bring his commonsense, proven approaches now.
And what else? At the office and clinic level, we all would do well with a transformation to address 21st century issues with 21st century solutions. The medical home, one of the benefits of the ACA, lets us do just that. Medical home practitioners get involved in their communities. They get out and see how children and families live, what issues they confront, what strengths and assets they have. Medical home practitioners develop active partnerships with parents and with community-based organizations to attack the root causes of childhood illness.
Recently, my husband, pediatrician Sean Palfrey, has put his finger squarely on another transformation that is needed. In an article in the New England Journal of Medicine, he calls on doctors and nurses to examine the way we are practicing medicine and to balance high technology interventions with more personal, less costly clinical care. Insurance incentives and risk aversion lead health care providers to the ordering of many too many tests and the use of more and fancier medicines than necessary.
To get the ACA right, everyone is going to need to pitch in. Doctors, families, insurance companies, states, employers, medical and nursing schools, hospitals -- everyone has a stake in seeing health care reform succeed.
It is time we all learn our ABCs.
REAL LIFE. REAL NEWS. REAL VOICES.
Help us tell more of the stories that matter from voices that too often remain unheard.