Our AmeriCorps VISTA members are asked to serve their communities under conditions of hardship, receiving a poverty-level living allowance in return for their one year commitment of service. For many of our members, their year of service is the first time they experience personal poverty. Yet there are those among our ranks who are all too familiar with the sacrifices and hardships faced by those who live without access to resources and employment options.
One such individual is Aaron Bigler Lefebvre, an AmeriCorps VISTA member serving with NeighborWorks of Western Pennsylvania. Aaron shares with us in his own words, how his AmeriCorps VISTA experience has provided him with both professional as well as personal development. Aaron's story, like so many of our members, inspires me to continue the work in ensuring that all Americans are aware of the opportunity to serve their communities through AmeriCorps and specifically, the AmeriCorps VISTA program.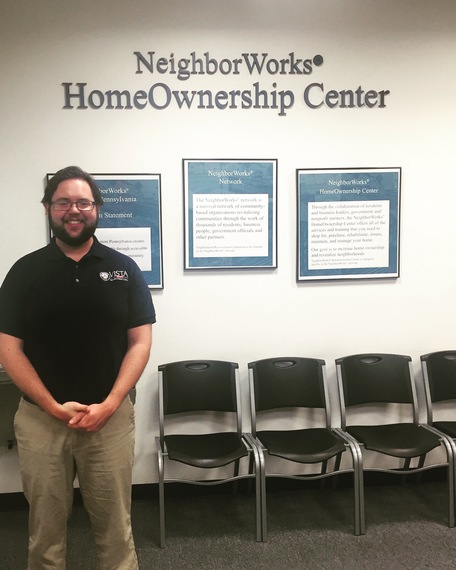 When attending Pre-Service Orientation, members in the AmeriCorps VISTA program learn about poverty. They learn about situational poverty, about generational poverty, about urban and rural poverty, and so forth. During this training, some facilitators ask their groups to form a circle to discuss what poverty means to them. They're asked: what does poverty look like to you?
The answers would no doubt surprise you, and would undoubtedly provoke the conscience to consider unknown situations. As a new AmeriCorps VISTA member, when I was asked the question of what poverty looks like, the realization arrived that it was the situation in which I'd been living, though it might not look like the poverty you're picturing.
I have a low-vision blindness disability that I developed at the age of 19. I'm a white, middle-class male. A Boy Scout who has always done well in school. Well enough even to earn two English degrees while adapting to the newly acquired low-vision disability.
After graduating from Rutgers University in Camden with an MFA in Creative Writing, I began a job search. I had many interviews, yet none yielded an offer. Some, I was unqualified for, while others, I was more than qualified for. On occasion, I was dismissed because I had to disclose my disability. Yes, it's illegal, but you know what? They gave me the run-around anyway. Why? Because like with many people who experience poverty on one level or another, I didn't have the resources to do anything about it.
I began looking for simpler work so that I could pay my bills, but I realized that wasn't an easier task because many jobs that require low skill-sets require good vision capabilities. Imagine for a moment, what it might be like to count money without sight, to mop a dirty floor without sight, to operate a ride-sharing service without sight. The jobs that many take for granted and even turn their nose up toward can be entirely out of reach for persons with certain disabilities. The same can be said for persons with certain features in their history like felonies, substance abuse, or simply not having or being able to maintain a valid driver's license. These are common factors that lead to exclusion, which leads to poverty, and it's a cycle that remains unbroken. Time and time again, I heard the words "no" and "disability." I eventually started to believe that I was unable, that I really couldn't do, and that it didn't matter how much education I had because no one seemed to believe that I had the ability to do the work I thought I could do.
With all of these forces working against me, I began thinking of other options, which ultimately lead to the AmeriCorps VISTA program. I had friends who served in the AmeriCorps KEYS program who suggested I explore opportunities with AmeriCorps. There, I could gain valuable professional experience without fear of rejection based on discrimination, and I would help others in that community gain their own footing as well.
NeighborWorks Western Pennsylvania was looking for an AmeriCorps VISTA member to evaluate and redevelop their program delivery model by holding internal interviews, creating client-facing surveys, developing new education and training materials, and implementing a client triage system that would improve the capacity for ensuring client success.
I applied, interviewed, accepted an offer, and went off to Pre-Service Orientation the week before starting my VISTA assignment. At the orientation, I trained for a full year of service as an AmeriCorps VISTA member who would help combat the many faces of poverty that threaten to degrade society and remove many from opportunity. And no one told me it was something I couldn't do.
Now in the final stages of my VISTA project, after working with staff members, attending training sessions and conferences, developing training manuals, workshop materials, client triage protocols, procedures, surveys, outreach materials, and gaining the trust and appreciation of NeighborWorks Western Pennsylvania staff, I can say this: I am able; I can do; I have done; and I will do more.
In the face of an impoverished lifestyle of living on nothing but Social Security disability and SNAP benefits, I've shown myself and the world that the word "disability" is a word often reserved for nothing better than demotivating a differently abled individual. Through AmeriCorps VISTA, I learned that individuals living with disabilities bring fresh perspectives, new ideas, new culture, and new levels of awareness. All of those aid in improving the perspectives of others and the missions of organizations.

As both an impoverished individual and an AmeriCorps VISTA member working to reduce the effects of poverty in my community, the VISTA program is indispensable to those without opportunity who need a chance to show what they're capable of. Inclusion is a mainstay of the program, and that was made clear to me by my supervisor--a VISTA alumna--when she offered me the VISTA role at NeighborWorks Western Pennsylvania. By including all comers without disparaging or turning them away, by including one person who has been accustomed to exclusion, one may spread the values of self-reliance and self-sustainability. The VISTA program has energized my confidence and reaffirmed my belief that I can be an independent, self-reliable, self-sustainable, productive member of society. Without the AmeriCorps VISTA program, I may never have found the opportunity I needed to show myself and others that I have the potential for making a difference that can change the community.
-Aaron Bigler Lefebvre AmeriCorps VISTA Member, NeighborWorks of Western PA 2015-2016
REAL LIFE. REAL NEWS. REAL VOICES.
Help us tell more of the stories that matter from voices that too often remain unheard.