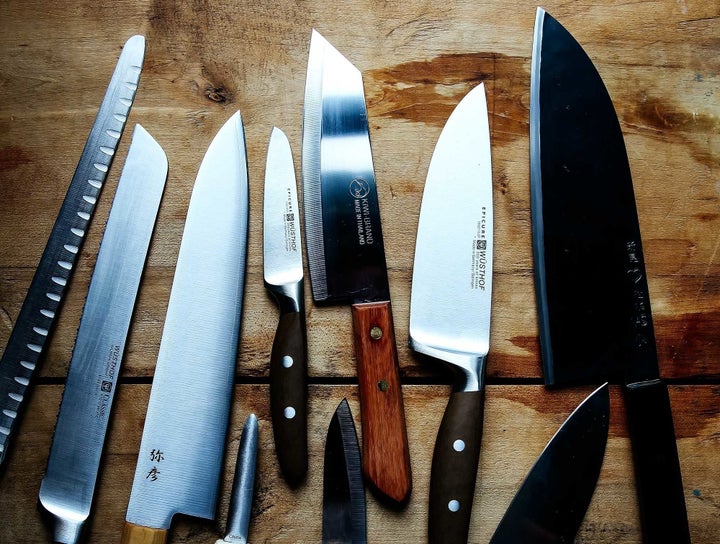 Here in the Saveur Test Kitchen, we've had ample opportunity to test drive a covetable selection of kitchen tools. Some of our favorites are the kitchen knives. When it comes to style, comfort, and function, many high end brands are worth every precious penny. Whether made in Japan, Europe, or the Wisconsin, the craftsmanship of the world's top bladesmiths is worthy of admiration.
These are the workhorses of the kitchen, so they should be your most thoughtful investment. Stick with something versatile (nothing too long or too short), durable (hard enough to hold an edge but easy to sharpen), and comfortable (this is personal; consider your own grip, hand size, and strength).
There are advantages to both European and Asian style blades, but for home use and for the widest range of applications, consider a hybrid shape. These two all-purpose chef's knives combine elements of both Eastern and Western styling; perfect for trimming precise strips of sushi fish, matchstick julienne vegetables, or feathery chiffonade.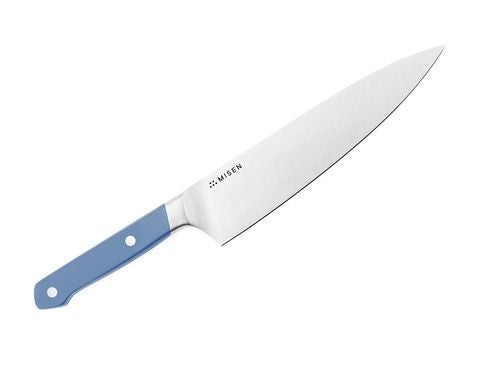 The new crowd-funded kitchenware company Misen ("meez-uhn," as in mise en place) is upending the way you stock your arsenal by connecting the manufacturer directly to consumer, while giving other high-end brands a run for their money.
Their affordable chef's knife will only put you out $60; it combines Japanese steel, the taper and rock of classic western blades, and an acutely angled edge for a sturdy yet nimble blade that can chop, slice, or butcher through your most ambitious kitchen projects.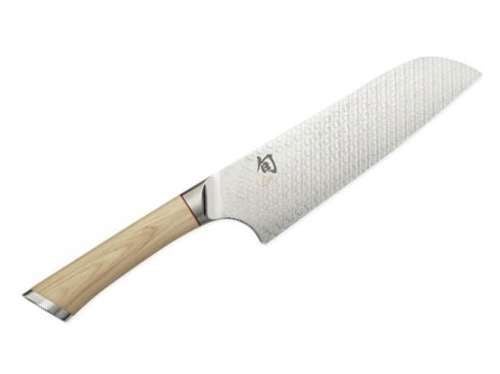 Japanese knife brand Shun recently launched this super-premium line through William Sonoma, and I'm a little bit in love. The attractive damascus patterning on the blade is sandwiched over alternating microlayers of high-carbon stainless steel. The overlay provides a bit of texture, preventing foods from sticking during cutting while the layers purportedly wear at different rates, creating "micro serrations" that extend performance between sharpenings.
Compared to true santoku blades, the Hikari's edge has a slight curve, allowing for a bit of rock; this speeds up tasks like milling through finely chopped herbs or mincing garlic and ginger. The curved birch Pakkawood handle is smooth and comfortable for a wide range of hand sizes.
There's little practical reason to break the bank on a luxury paring knife. The aren't heavy enough to warrant top-shelf steel: since they weigh next to nothing, they aren't prone to breakage when dropped, the nimble tasks they are used for aren't the sorts to necessitate much heft, and sharpening a 3-inch blade takes very little time and effort.
That said, if you want to treat yourself to a fancy blade without dropping a chunk of change, paring knives have the most attainable entry point. I like to keep one or two reliable, cheap-o options on hand that can withstand a run through the dishwasher while stashing my snazzy custom mini away for more delicate tasks: butchering small birds like cornish hens and squab, separating fragrant strips citrus zest away from the bitter pith, and coring juicy strawberries and tomatoes.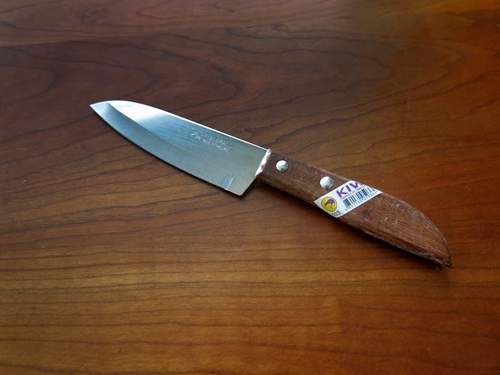 Budget Thai knife-maker Kiwi Brand is a staff favorite. Their blades are lightweight, they come in a range of Asian styles and shapes, and they hold a precise edge better than many premium brands. Best of all, they top out at $16.95. Many of Kiwi's knives, including this petit chopper are only available with unfinished wooden handles that will degrade with time, though at $4.95, you won't mind replacing this one in a few years.
I'm partial to the blade shape; most paring knives are intended for working in the air with a "choke grip" and so they're awkward for use on a cutting board. This little guy has an offset heel like a full-sized chef's knife so your knuckles won't hit the board while chopping or slicing; the butt of the handle has a gentle curve for a comfortable grip.
Town Cutler Carbon Steel Paring Knife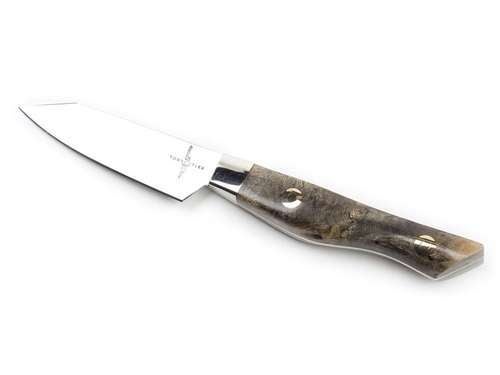 This elegant, American-made paring knife from the bladesmiths over at Town Cutler is a true knife nerd's knife. Its carbon steel blade requires a bit of babying – left wet or dirty, it will most definitely rust – but if you're willing to show it some love, it will reward you with a superfine, superdurable edge. The nickel bolster, and brass fasteners are built to last and the ergonomically-designed stabilized wood handle is comfortable and secure in a variety of grips.
For more favorites, visit SAVEUR.