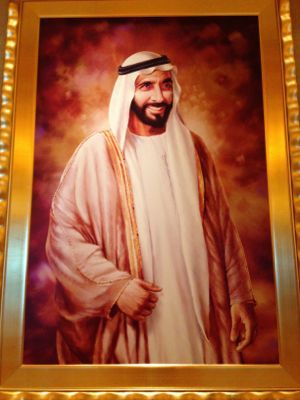 "Many countries go to war and then towards reconciliation. The history of mankind is full of stories of wars between people and states that have come together after fighting for long. Why can't Arabs be like them?" -- H.H. Sheikh Zayed Bin Sultan Al Nahyan.
There are two obvious threads running through the selection of world cinema showcasing in this year's Abu Dhabi Film Festival. One is undeniably the alienated solitude we've managed to back ourselves into the corner of through our addiction to social media, celebrity news and sharing everything from what we eat, to when we sleep on Twitter, Facebook and Instagram. All I had to do was watch the Taiwanese film Exit by Chienn Hsian to realize the filmmaker's themes hit too close to home for comfort. I walked out at the end of the screening with a deep sense of desperation.
The other thread has to do with the politics of cinema. Even though most filmmakers agree that political agendas are best kept out of their films, somehow there cannot be a film made about the Arab world, the Middle East today that does not in some way, shape or form bear the unfortunate task of heralding the politics of a nation, or a people. I say unfortunate because I wish stories could be simply human these days, but it seems that even to be so, they have to pass through the political geography in the process. Films such as the documentary Queens of Syria by Yasmin Fedda and the Georgian drama Corn Island by Giorgi Ovashvili are perfect examples. Beautiful stories, ideas, set within the struggles of war and desperation.
How ugly our world is becoming.
But then there are meetings like the ones I've been fortunate enough to have at ADFF. Inside the cocoon of the Industry and Press Lounge at the Emirates Palace, I sat with and heard the genius of such personalities as Iraqi-Canadian rapper The Narcicyst, Swiss-Iraqi documentary filmmaker Samir and world cinema actor Ali Suliman, who was born in Nazareth, my favorite city in Palestine. I even had lunch with the director/producer team of the poetic Bengali film Labour of Love, sitting next to Indian actor Irrfan Khan. Now that's enough to give a girl renewed hope in the world around her.
Perhaps H.H. Sheikh Zayed, the beloved founding Father of the UAE, said it best when he uttered the above quote. It's out of the deepest conflicts and biggest fights that peace is finally achieved. How many times I've argued with someone, really let all my feelings out, only to find in that person my closest friend and strongest ally. Because the only danger in today's world are hidden alliances and suppressed beliefs.
A piece about the wonder that is the Abu Dhabi Film Festival cannot be complete without mention of the festival's talented Arab cinema programmer, Intishal Al Timimi, who this year also selected films from Iran and Turkey. He's the reason I ended up on the Netpac jury and met my amazing co-jurors, our president Vietnamese filmmaker Dang Nhat Minh and Dale Hudson, a beloved professor at NYU Abu Dhabi. It is seldom that there is a true meeting of the minds, especially among three people, but when we put down our selections for our favorite films, it was otherworldly to see three titles all on that list, voted by each of us. The final result will be revealed in just a few hours... But back to Al Timimi.
The programmer's passion for cinema is obvious, and infectious. When he talks about a film he selected, either for the festival or followed since its inception through the SANAD funding arm of ADFF (which he also oversees), Al Timimi shows the kind of love for, and belief in cinema from this Region that can, and will, create an industry. Projects like Theeb, Ghassan Salhab's The Valley, Shawkat Amin Korki's Memories on Stone and even the languid Sounds of the Sea by Emirati filmmaker Nujoom Al Ghanem all present the future of cinema, in and from the Arab world. They are projects that open the door to cultures unknown, give voice to the unheard and help build that bridge across misunderstandings and stereotypes, which, lets face it, abound from every side.
I rediscovered my love of life and passion for cinema here in Abu Dhabi. And if I sound like I'm gushing, make no mistake. I am.
Top image by E. Nina Rothe, all images courtesy of ADFF, used with permission
Calling all HuffPost superfans!
Sign up for membership to become a founding member and help shape HuffPost's next chapter