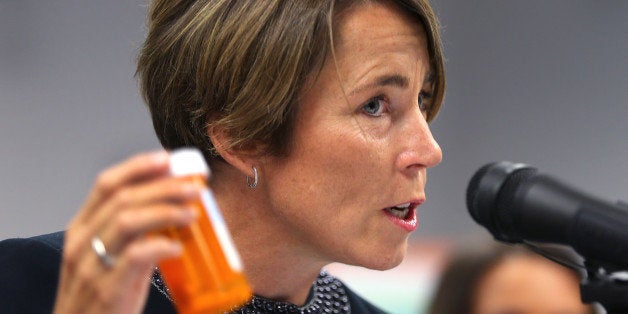 In the arc of a lifetime, I've witnessed the rising tides of many drug epidemics, beginning in the 1960s. Sadly, none have accelerated as quickly as the latest opioid addiction epidemic, which seems to be sweeping the nation and leaving no one untouched. In fact, you can't read the news without seeing one disturbing example after another.
In my home state of Virginia, for example, the Secretary for Health and Human Services recently said the crisis is so widespread and so fast-growing that punishment alone cannot address the problem, and that more people in Virginia die from opioid overdose than from car crashes and gun violence combined. In Ohio, the Cuyahoga County Medical Examiner, Dr. Thomas Gilson, recently said that fentanyl and heroin had already killed 300 people this year and the number of fatalities are likely to be double from 2015. In Wisconsin, the Department of Health Services issued an advisory calling opioid addiction a public health crisis. With more than 600 opioid-related deaths in 2015, the number of people dying from overdoses in Wisconsin now exceeds those dying in car crashes or from breast cancer, colon cancer, HIV, suicide or shootings, the advisory said. And a recent video from Massachusetts of a young woman overdosed on the floor of a store went viral, grimly showing her two-year-old daughter crying and calling for her mom to wake up.
In the past, it seemed like these waves of drug abuse were distant, something that happened elsewhere, in poor neighborhoods or depressed rural areas. But today, this epidemic seems to be everywhere and sparing no one, regardless of geography or demography. Almost a decade ago, a friend of our son Jack died of a fentanyl (synthetic opioid) overdose; fast-forward to today, and as an addiction counselor in New Haven, Connecticut, Jack's caseload is increasingly comprised of young people addicted to opioids.
Like other drug epidemics, the solutions are complex and multiple parties play a role. In the realm of prevention, physicians have begun to prescribe opioid painkillers more sparingly, though we need a much quicker change in protocols for managing pain. Medical researchers are studying new ways to do that. Data analytics - "big data" - is already helping public health officials understand the crisis, for example by producing maps that track opiate prescriptions, hospitalizations for overdoses, and deaths; and by using masses of data predictively, to anticipate and prepare for cases in the near future. Information technology may also be useful for immediate intervention during overdose. In September, the U.S. Food & Drug Administration (FDA) announced a new competition to develop a smartphone app to connect opioid users who are overdosing with nearby clinics that have supplies of the prescription drug naloxone, the antidote for an opioid overdose. Ultimately, all of us need to understand and support a change of mindset, away from criminal measures and toward recognition that opioid and other abusers are sick and need treatment.
But as someone who has spent a lifetime working in the safety- and security-sensitive airline industry, as well as studying mobility and logistics, I'm especially interested in two linked questions "how does all this bad stuff get from producer to consumer?" and "what can we do to interrupt the flow?" Although synthetic opioids are relatively easy to make here in the U.S., with far less risk than building an explosion-prone methamphetamine lab, foreign producers are major suppliers of opioids. Foreign labs and mules have gotten creative with transport - drones are increasingly popular for low-weight contraband, and a homemade bazooka was recently found across the border from Arizona.
Hiding in plain sight is the U.S.Postal Service, which does not adequately screen the approximately 340 million packages that annually enter our country from abroad for dangerous and illegal contents. This lapse in security exposes Americans to additional risk from opioids and other illegal drugs. The Trade Act of 2002 mandated that U.S. Customs and Border Protection (CPB) receive advance information (electronically, in a document commonly called a manifest) on all packages entering the nation. FedEx, UPS, and cargo-carrying passenger airlines quickly complied. But the government's own carrier, the USPS, never adopted regulations for screening practices, partly because of concerns about the compliance of foreign postal services. So the Chinese fentanyl lab can simply mail their dangerous stuff and your smiling letter carrier will put it in your neighbor's mailbox - or maybe yours, for your teenagers to intercept before you get home from work.
Drug Enforcement Administration spokesman Russ Baer recently said that "[Fetnanyl and fentanyl-related compounds], along with a growing cornucopia of illicit synthetics, are largely being manufactured in China and smuggled into the United States both over land and through the U.S. Postal Service."
When I recently spoke with our son, the addiction counselor, about this security issue, he responded, "I'm saddened but not especially surprised. Federal and state governments have not been smart in dealing with waves of drug epidemics. The War on Drugs failed massively, and now suppliers can send boxes of opioids without fear that they will be detected. By failing to screen, we all become partly responsible for addiction across the United States."
I've always been an optimist, and there are signs that we're waking up. One came last month when Congressman Pat Tiberi (R-Ohio) and Congressman Richard E. Neal (D-Massachusetts) introduced the Synthetics Trafficking & Overdose Prevention (STOP) Act, a measure to address this security screening loophole by requiring the USPS to provide advance electronic information about package shipments to U.S. Customs and Border Protection and for other purposes. A week earlier, Senators Rob Portman of Ohio, Ron Johnson of Wisconsin and Kelly Ayotte of New Hampshire introduced the STOP Act in the Senate.
It's a welcome first step, but the Obama Administration has a role to play here, too. And it's past time our government takes action and stops the flood of opioids barreling into our country.
Calling all HuffPost superfans!
Sign up for membership to become a founding member and help shape HuffPost's next chapter