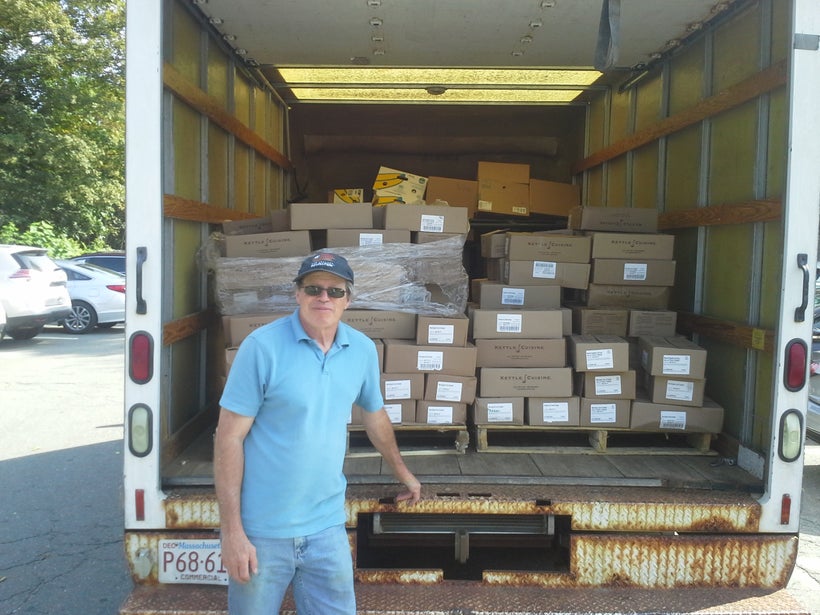 John Tierney's background is diverse, having worked in insurance, construction, mortgages, and, most recently, medical compounding. For ten years, he worked for the MA Laborer's Union. He did a brief stint as a NASCAR Driver, and, in his early days, completed two tours in Vietnam.
Stuart McNeil was in advertising, working at Cablevision, AT&T, and Comcast in sales and marketing prior to launching his own company, Results Media which he ran for 14 years.  One of Stuart's clients was John Tierney of Tierney Construction, and that's how their acquaintance first began. 
Their friendship started through business, but it continued through conversations at the Saturday morning community coffee at the old Town Hall in Andover, Massachusetts.  The local bank used to host free coffee and donuts every Saturday morning from 9-11, going back twenty years. But, through bank mergers and buy outs, the tradition ended, and local citizens kept it alive on their own at the old Town Hall.  As regular attendees of the community coffee, John and Stuart often had a hand in organizing the donated food and coffee pickups. McDonald's / Perfecto's / Heavenly Donut's for the coffee and Stop and Shop North Andover and Andover for the bread and pastries.
It was while on one of their Saturday morning runs at Stop and Shop when the manager of Stop and Shop in North Andover, Massachusetts told the two that he wished there were someone who could take more food donations on a weekly basis, since the store was throwing away more than 5 dumpsters full of perfectly good overstocked food per month.  Seeing an opportunity to help the poor in their community and those of surrounding towns, John and Stuart offered to take all the food each month and deliver it to those in need. And with that, John and Stuart's accidental food bank was born four years ago.
In 2016, John and Stuart made 204 deliveries of food, with each delivery consisting of 10 banana boxes filled to the brim with food.  From January of 2017 through June of 2017 they had traveled 3800 miles (on their own dime) and had thus far made 200 deliveries to veteran's organizations, senior centers, food banks, and fire stations.  The two friends spend 3-4 hours per day, 6 days per week, delivering food. Why do they do it? According to Stuart, "We feel responsibility to the 3000 plus people we touch a month. If we don't do it, who will? It's not about us. It's about the people who need the food."
John says that the two have learned a great deal about creating and scaling a mobile food bank over the last four years. First, they quickly realized that the need is great, even in affluent communities like Andover, Massachusetts, where they say there are many house rich, cash poor seniors who are living on the edge, and depend on the supplemental food provided by programs like the one John and Stuart run. Second, they also came to learn that there are not enough organizations doing such work. In fact, today John and Stuart have been the go-to team for police and fire when these organizations run across families who need support. And finally, they learned that there are plenty of organizations who want to help with donations, but not enough organizations who can handle distribution. Stuart and John now help redistribute overstocked food for three Stop and Shops. Furthermore, many of Stop and Shop's vendors bring in their own donations to the program. The North Andover Stop and Shop has set up a section in their back warehouse for vendors to leave food donations for Stuart and John to redistribute.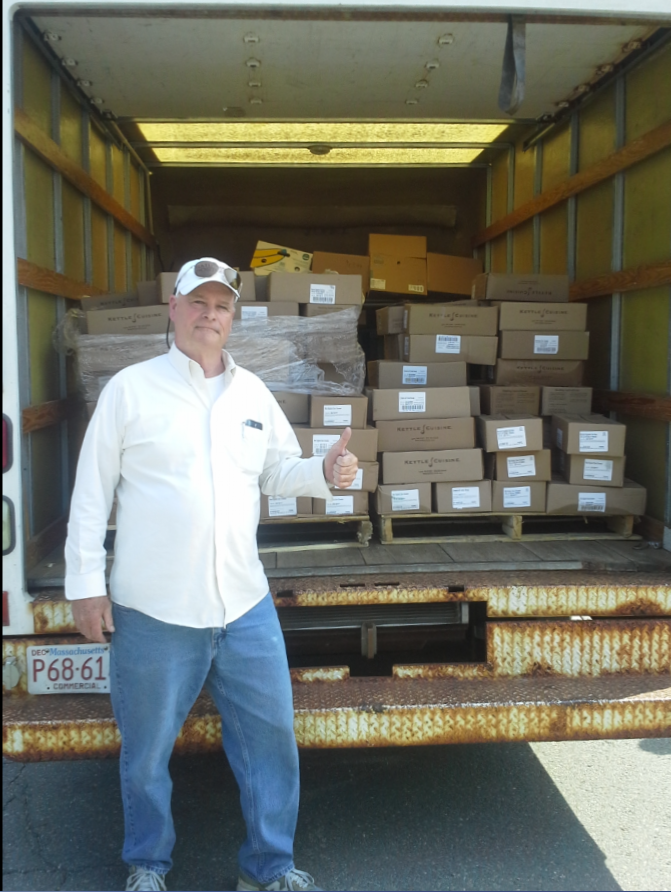 The best part of the program, besides helping more than 3000 people per month, says John, "Stop and Shop used to have a 400K loss on their books for overstocked food they threw away. Now that food is redistributed to people who need it, and Stop and Shop gets the opportunity to write off a donation. It's win, win all around." John and Stuart are now in the process of growing their mobile food bank to a new level. They have served 3000 people per month by stuffing their tiny vehicles with banana boxes of food and working 4 hours a day on distribution by themselves. What they want to do next is expand the program tenfold, which will require a refrigerated warehouse, vans, and employees. So, the two are working on fundraising so that they can expand the mission and thus the difference they are making in the lives of people throughout their communities.
To get involved with their program or to inquire on how you can help them scale to the next level you can reach John or Stuart at the emails below: John Tierney: johntierney921@gmail.com 1-978-494-3152 Stuart McNeil: scmcneil@gmail.com
Calling all HuffPost superfans!
Sign up for membership to become a founding member and help shape HuffPost's next chapter
This post was published on the now-closed HuffPost Contributor platform. Contributors control their own work and posted freely to our site. If you need to flag this entry as abusive,
send us an email
.