In late 2012, the 193-room hotel, The Westford Regency, one of those rare independent hotels, was bought out by a new owner. The previous owner had built it 25 years earlier, and back then it was the premier hotel in Westford, Massachusetts and surrounding towns. Over the years, Westford changed, but The Westford Regency didn't. Westford became a metropolis of fine restaurants and shopping. As well, the town had become its own little technology belt for super-sized corporations with hundreds -- and sometimes thousands -- of employees.
A one-time rural community with cow pastures is now a suburban hub of industry, and with the influx of new people came competition in the hotel field. New and more modern hotels cropped up, two of them within a mile of The Westford Regency. Having changed very little in 25 years, the new owner of the hotel, Larry Gordon -- a local entrepreneur and owner of several car dealerships and another hotel in New Hampshire -- bought the struggling Westford Regency and today, just a year later, The Westford Regency is resting easily on top of the world.
Why? It all comes down to an amazing general manager, Jules Lavoie, who has taken this scruffy little unloved hotel to a world class destination. Having seen the transformation with my own eyes, I needed to meet the man behind it all. Today, I share with you the energy, passion, charisma, drive and ambition of a man I consider an accidental leader. Please meet Jules Lavoie.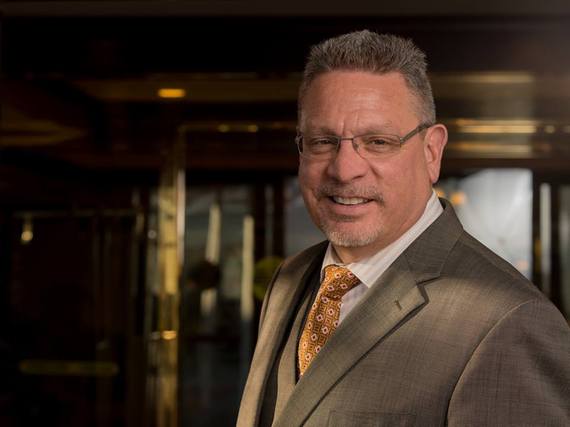 To begin with, why do I call him the accidental leader? Well, for starters, he is the general manager of the hotel. He was hired to manage the day-to-day operations of the hotel. That being said, a job as a manager is dynamically different than the job of a leader. A manager just oversees people. A leader develops them. A manager makes sure the ship is moving. A leader finds better destinations for it to visit. A manager manages. A leader leads. It is impossible for someone with a manager mindset to take a hotel from the gutters of the industry to a world-class community partner in 12 short months. Only a leader could do that. Only Jules Lavoie. I bet you'd love to get into this guy's head for just a little bit to figure out his blueprint to success. I've been there and I'm about to share my journey.
Jules Lavoie and his thoughts on Passion, Community and Perseverance
Getting Knocked Down - Jules worked at The Westford Regency for 10 years and left in 2000. He had worked his way up through several positions and had vied for the general manager position back then. He was given the title without the authority to do anything to help the hotel flourish. It was heartbreaking to leave, but he did. Looking back on that time now, 13 years later, he said that leaving in 2000 ended up being the best thing that could have happened to him because it caused him to venture out into the world where he worked for two large hotel chains -- one with 40 hotels and one with 65. He said it was in those 13 years that he learned about brand standards for hotels, and learned the fine details of every brand he now competes with. He says that the 13-year hiatus has given him the opportunity to learn how to build an awesome hotel today, right down to the little decisions, like choosing high quality toiletries for guests. As Jules notes, it's the really small details that make a huge difference in the client experience and that client experience is the pinnacle of what your brand is, so Jules is obsessive about the little things. It was in his first go around at The Westford Regency that Jules met his partner, now his husband, Brad. Jules is thankful that even though the first experience was not ideal, he did meet his future husband and he learned a lot of things about how not to run a hotel. Jules was quick to remind me that everything bad that happens in life, normally happens for a reason; you just have to wait it out and someday all the stars will align and you will think to yourself, "Oh... So that's why that happened to me."
Mentors - Jules is grateful to his mentor Barbara Leary. She hired him in 1979 at his first job at the Sheraton Wayfarer where he worked the front desk and eventually moved up. He said that mentors are invaluable if only because they are someone that takes an interest in you. Barbara took an interest in him and spent time showing him the basics of the hospitality business. She taught him about the little nuances that make a great difference -- like instead of saying, "Bye bye now," saying "Goodbye and good evening." Barbara was an important puzzle piece in his climb to success and because of her, Jules takes any opportunity he can to offer the same type of mentorship to others. "It's about taking an interest in people," said Jules, and he has incorporated this as an important key to his own leadership style.
Community - The Westford Regency went from being virtually unknown 12 months ago to today being the epicenter of the Westford community. They recently hosted a "Festival of Trees" event to raise money for local organizations. Their "Breakfast with Santa" event brought in more people for breakfast in three hours than the hotel used to see in an entire month just a year ago. If you go to any community event in town, Jules is a fixture. He's gained rock star status in this little town and when I asked him about this he said, "I love this town and I love the people, and they are an extension of who I am. To me, this is not a job, this is my life. The Westford Regency is my house, it is Westford's house. Sure, I have a house that technically I live in, but my life happens at this hotel and with the people of this community, so everything I do is for and about Westford." Jules went on to explain, "I feel bad for people who don't get the opportunity to truly love their work. I am so blessed to wake up every day to come to this." Another important lesson Jules relayed is this: Love your community and they will love you back. Simple yet profound!
Asking for Second Chances - One of the more difficult jobs Jules has is that he's had to go back and ask for second chances from customers that were let down by their Westford Regency experience in years past. He said that saying you are sorry goes a long way. People sense sincerity and honesty and often when you ask someone to give you the opportunity to earn back their business, most people will grant you that chance. Recently Jules won back the business and support from a large corporation who had stopped doing their meetings and events at The Westford Regency many years ago. Jules said that winning back business is a huge opportunity because you not only get the business back, you get people to start sharing your new story out in the community and those newly impressed customers become your army of evangelists who want to help you even more.
Is the Customer Always Right? - "They have to be," replied Jules. Every single customer that walks through our doors must feel valued and so, he says, yes, the customer is always right because they always have valuable insight and feedback. He said that one of the most important things he does in his role as general manager is to listen to what people are saying because he said, even when it's sometimes hard to hear, that person usually has a very valid point, and so acting on that insight is what makes us stronger as a brand.
Jules Lavoie an amazing visionary. Is he an accidental leader? Well, there's really not much accidental about him. He's planned, purposeful and passionate, but to call him just a general manager is to totally underestimate this amazing man that is changing the face of the hotel industry and certainly making his mark on the world.
REAL LIFE. REAL NEWS. REAL VOICES.
Help us tell more of the stories that matter from voices that too often remain unheard.