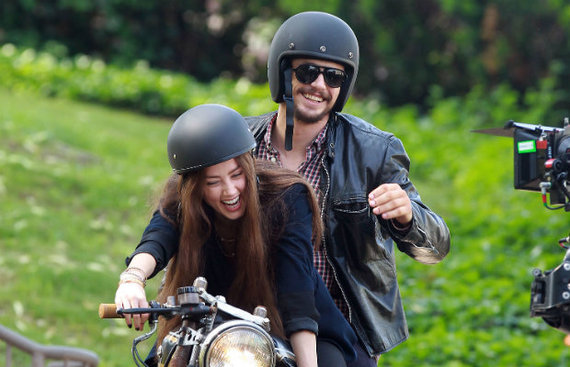 Of the hundreds of films screened at festivals across the nation only a handful will wind up at your local theatres, and that goes for those lucky enough to have been viewed at the growingly prestigious Tribeca Film Festival (TFF).
A month has passed, and the media has already unremembered the 14th edition of Tribeca, which had an overall attendance of 467,000 -- and now it's beginning to forget Cannes and its offerings, such as Todd Haynes' Carol, which already has a 2016 Oscar buzz surrounding it. And by tomorrow, anticipation will start growing for the Telluride, Toronto, and New York Film Festivals, and so forth. A sisyphean cycle if there ever was one.
But thanks to some wise studios distributing several of Tribeca's offerings, this year's Fest's imprint might last a little longer.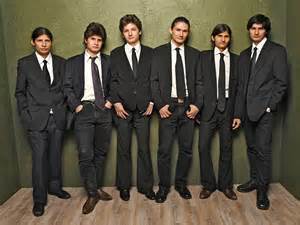 The brothers of The Wolfpack.
There's the hauntingly exuberant documentary The Wolfpack (opening June 12th) that, pre-TFF, started garnering plaudits at Sundance. Here a group of brothers and one sister are kept locked away in their Lower East Side apartment by their dad for most of their lives until one intrepidly ventures outside and tastes freedom. How did these sheltered siblings pass their time? Reenacting action films such as Reservoir Dogs.
The Overnight (June 19th) might just be the best American sex comedy since Paul Mazursky's Bob, Carol, Ted, and Alice (1969). Adam Scott (Parks and Recreation) and Taylor Schilling (Orange Is the New Black) star as a couple with child that's new to Los Angeles. The duo immediately makes friends with a seemingly sane father (Jason Schwartzman) and his son at a playground. An invitation for dinner is foisted tout de suite on the naïve newbies and more than a kale salad will be served. Let the seduction games begin. Jumping from extreme silliness to unbridled outrageousness to a truth most dramas do not achieve, The Overnight might just duplicate the success of There's Something About Mary if there is a comedy god in the vicinity.
And let's not forget Lily Tomlin's Grandma (August 21st), directed by American Pie's Paul Weitz. This wry, moving family tale stars Lily as a hard-as-nails lesbian academic who's not yet over the death of her lover of 40 years. Well, she wakes up crotchety one morning but her witchy mood will get worse. First, she ousts her much younger girlfriend/former student from her home and then her granddaughter shows up needing cash for an abortion. Grammy's broke so she and her kin visit old friends, lovers, and enemies in hope of garnering some dough. Yes, this is a sublime, comic journey, and a superb Lily has seldom been better.
Which brings us to the fierce adaptation of Stephen Elliott's hard-hitting The Adderall Diaries: A Memoir of Moods, Masochism, and Murder (2009). That Elliott, an author of seven books, survived to write this cult autobiography is a wonder in itself. This once-addicted author's mother for most of his childhood was slowly dying from an illness that immobilized her, and his dad was a lying, sadistic, self-involved loser who might just have cut down a man in an act of revenge. To say Pops was not paternal is an understatement. To survive this upbringing, our anti-hero took drugs, committed minor crimes, hustled, and searched for ladies who didn't mind belting him.
Here's an outtake from one of his Elliott's encounters with an older woman who looked like "Jessica Rabbit if Jessica Rabbit starred in Venus in Furs":
"I don't like giving people pleasure,' she said. Then she sat on the sofa and I kneeled in front of her and she slapped me several times. She held her cigarette near my face and I could feel its heat about to burn my eyelids. She laughed loudly. Then she pressed the cigarette into the back of both my hands. 'Those are going to blister.'"
Happily, that scene is not in the film nor numerous other equally flinch-causing moments, or this venture might have come off as a sequel to Pasolini's Salo.
The Diaries is an engrossing saga of one man's battle against his own physical and mental dissolution while he's reporting on the trial of a wife killer and communing with his pal who claims to be a serial murderer. It is also an exploration of what it is to be a writer. After pondering on Sylvia Plath's struggles and Susan Sontag's insistence that audiences of her time valued "the enormous self-indulgence in suffering" of their artists, Elliott responds that today, "we're living in the most medicated era humanity has ever known. The artist is no longer expected to play chicken with her creation. Doctors monitor our intake. We live in the age of Goethe on Zoloft."
No wonder James Franco bought the rights and stars in The Diaries along with Ed Harris, Christian Slater, Amber Heard, and Cynthia Nixon. Franco, throughout his recent career, has often sought out works, whether as a director or actor, that depict men who are often trying to feel something through a societal and sometimes self-imposed numbness (e.g. Child of God; Leather Bar; As I Lay Dying).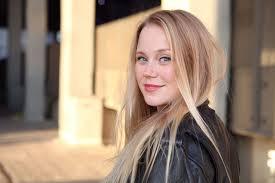 Pamela Romonowsky, director and screenwriter of The Adderall Diaries. Photo by Joey Kuhn.
In this case, Franco handed over the directorial duties to Pamela Romanowsky, a fellow student at New York University, where they were both enrolled in the MFA Film Program. Romanowsky, a cross between Joni Mitchell and Mod Squad's Peggy Lipton (blonde and lyrical with a punch), has immaculately captured the essence of Elliott's life story, while slicing away numerous subplots. The performances she elicits from her cast are often devastating.
In a room not that far from the World Trade Center Memorial, she noted that seeing her film screened for audiences "was simultaneously very exciting and also very intimidating. I was certainly nervous at the premiere [at TFF], but also totally thrilled. You know I've been sitting with this story in my own apartment and in an editing room and in a color correct room and in all kinds of places by myself for three years now, so having it out in the world and seeing it with an audience is a really exciting thing."
"As far as figuring out how to adapt it," she continued, "it just took a long time and a lot of drafts both in the writing and editing stages. So figuring out what the heart of the story was and which pieces of the book best supported my intentions with it was a process of paring away. You know, trial and error, and getting a lot of feedback. I had the good fortune to develop the script at the Sundance Institute . . . and that process afforded me a lot of time to be able to hone the script into what I wanted it to be. It still really was a balancing act figuring out how to work with the interplay of past and present, how they affect each in the movie. That again was a long process of trying things, many of which didn't work."
As for her connection with Franco?
"James and I loved working together," Romanowsky smiles. "I think we really clicked really creatively. He's one of my favorite people, one of my favorite collaborators. I loved working with him. He's been with me every second of the way. And it was a great moment of synchronicity [when he offered me the project] because it was a book I had just read and loved. It feels like I met one of my long collaborators and creative partners.
"He inspired me so much. There are very few people in the world who are so willing to follow their passion and who are so fearless in their creative decisions," she added with another smile.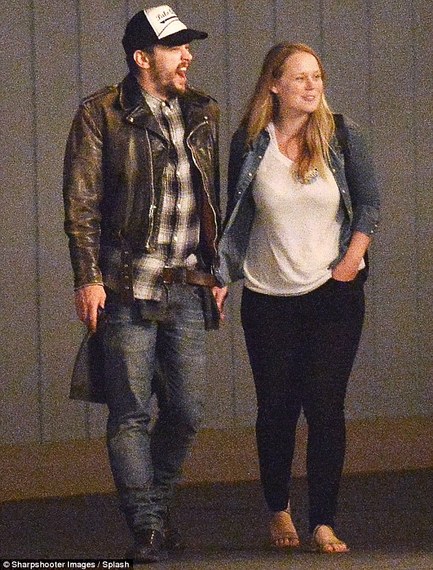 James Franco and director Pamela Romanowsky at Disneyland. Photo by Sharpshooter Images/Splash for DailyMail.com.
As for her next project, it is again with Mr. Franco (her third if you count the group project (The Color of Time) and it's an adaptation of Chuck (Fight Club) Palahniuk's Rant. According to Wikipedia, this novel deals with a dead central character who played with animal organs as child, an act that made folks vomit. There are also car crashes, a nationwide rabies epidemic, plus incest. Disney will definitely not distribute, but Romanowsky's not worried. She's telling tales.
As is Stephen Elliott who quotes in his bio an iota of wisdom from Joan Didion's The White Album: "We tell ourselves stories in order to live." Elliott adds that this act of narration, according to a forensic psychologist he met, is a way of regaining some of the power that was taken away from us in our youth. That's probably the reason we go to the cinema, too.
(A24 will distribute The Adderall Diaries at a future date in 2016.)
Calling all HuffPost superfans!
Sign up for membership to become a founding member and help shape HuffPost's next chapter