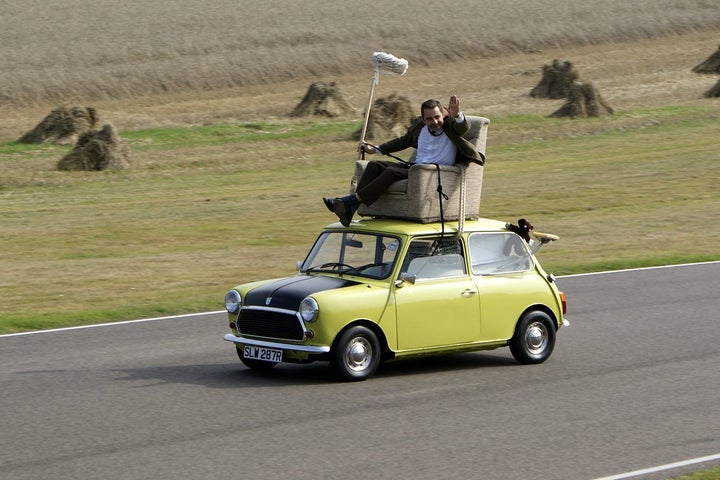 If you ever have the occasion to explain "British Humour" to the American set, Bean is your man. From toddlers to the jaded senior set, no one can resist the bulging eyes, extraordinary facial expressions, and exceptional physical comedy that only Mr. Bean can deliver. Not even the most stoic,humorless person can stifle a giggle when Bean inadvertently "head butts" the Queen of England during formal introductions in the video below. His antics make us love the worst of ourselves,and he is without fear in the spectrum of ludicrous.
Mr Bean, the much loved TV Brit show was famous for the quirky physical comedy of Rowan Atkinson, who created and played Mr. Bean.His sidekick "Teddy" was a staple on the show as Mr Bean's best friend.Although Teddy is inanimate, Mr. Bean often pretends he is alive.When Mr. Bean hypnotizes Teddy for instance,he snaps his fingers and the bear's head falls backwards as if it had fallen asleep instantly (Bean used his finger to prop Teddy's head up). Atkinson was heavily was influenced by physical performers such as Jacques Tati (Les Vacances de Monsieur Hulot ) the brilliant French mime artist
The phenomenon that came to be know as Mr. Bean was first broadcast on 1st January 1990, but there were only 14 episodes ever made. Rowan Atkinson IS Mr Bean, a versatile and brilliant British actor who before he created Bean graduated from Oxford University with an MSc in Electrical Engineering.
On 1st January 1992 18.7 million viewers in the UK tuned in to watch The Trouble with Mr Bean , and 19 million viewers tuned again for Merry Christmas Mr Bean (29th Dec 1992).1992 also was the first broadcast of Mr Bean Rides Again (17th Feb 1992).Mr Bean then recorded his own Comic Relief single called '(I want to be) Elected' , a cover of an Alice Cooper song. It reached number 9 in the UK singles chart.Mr Bean was also nominated for a BAFTA award for Best Comedy Program Series in 1992.
Based on a character developed by Atkinson while he was studying for his master's at Oxford University, the series follows the exploits of Mr. Bean, described by Atkinson as "a child in a grown man's body,"(does that remind you of anyone?) in solving various problems presented by everyday tasks and often causing disruption in the process. Bean rarely speaks, and the largely physical humor of the series is derived from his interactions with other people and his unusual solutions to situations.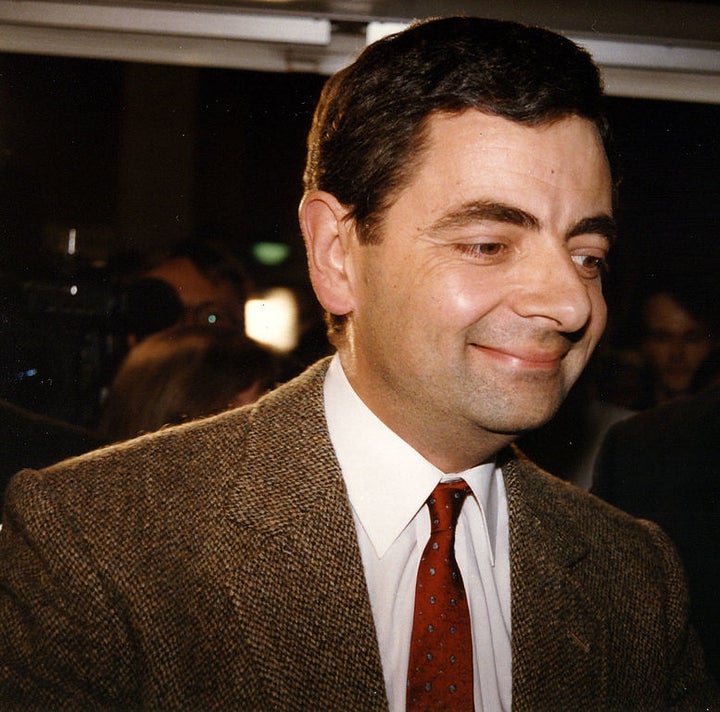 In addition to his supporting roles, Atkinson also had success as a leading man. His television character Mr. Bean debuted on the big screen with Bean (1997) to international success. A sequel, Mr. Bean's Holiday (2007), also became an international success, and then in 2003 he starred in the James Bond parody Johnny English and its sequel, Johnny English Reborn (2011).
In November 2012, Rowan Atkinson decided to retire Mr. Bean. "The stuff that has been most commercially successful for me," he told the Daily Telegraph's Review, "basically quite physical, quite childish, I increasingly feel I'm going to do a lot less of. Apart from the fact that your physical ability starts to decline, I also think someone in their 50s being childlike becomes a little sad. You've got to be careful."
In 2002 Mr Bean was transformed into an animated series of 26 half hour episodes.The series remains entirely faithful to the original Mr Bean, with the character still living very much in the real world. Rowan Atkinson provided all of Mr Bean's vocal sounds.
The Animated Series has heralded a new era for one of the UK's most successful characters of all time. Rowan Atkinson worked on the transformation to animated character and acted out every episode in front of the cameras so that the animators could capture the unique movement of Britain's most infamous character.
We've been entertained by Rowan Atkinson aka Bean for over 30 years on stage, TV and film. His innovative comedy genius is hard to compare. Suffice it to say if you enjoy his humour you can find his material on YouTube so that your whole family can enjoy his genius.
Popular in the Community