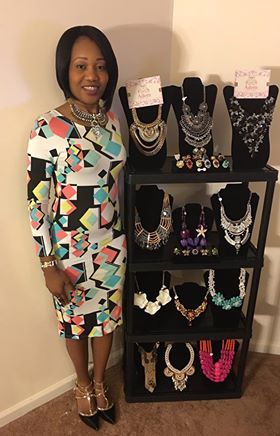 I've always believed that a woman's natural beauty shines its brightest when her confidence is undeniable, her smile is kind, and her strength isn't used to compete, but to encourage other ladies to be their best versions of themselves. A woman like this doesn't strive to be the prettiest in the room, she amplifies her uniqueness and quirks forcing others to take notice. She is fearless, philanthropic, and fly as hell.
With that said, I've gotta introduce you to Tomi Aiyetiwa, the owner of AdornWithStyle, an online boutique whose mission is to inspire you to be the memorable woman I described before. While working as an IT Consultant, Tomi had become a goldmine of fashion advice to people who admired the way she dresses. Eventually, her creative energy was used to enhance special events like weddings and baby showers. However, she didn't truly find what she was looking for until she attended a fashion show at the University of Maryland. After receiving unexpected compliments on her antique pearl necklace throughout the night, Tomi fantasized about selling a line of jewelry herself.
After a prayer, the word "Adorn" appeared in Tomi's dreams. Feeling that Adorn would be too generic for her brand, she added her vision and birthed AdornWithStyle: Be adorned. Be Unforgettable.
After studying jewelry trends, meeting with vendors, and forcing herself out of her introverted tendencies to become a social media savvy extravert, Tomi opened her online store in March 2015.
You will find dope cultural statement jewelry, custom monogram pieces, and beautiful floral designs at AdornWithStyle, but if you speak with Tomi, you will walk away feeling encouraged. An entrepreneur's success doesn't mean much if they aren't willing to use their platform to help others. In the past, she donated jewelry and backpacks to back-to-school drives that benefitted high school and college girls in both the United States and Africa. In the future, she'd like to partner with nonprofit organizations to help less fortunate girls prepare for prom with her own jewelry donations.
When I asked her to share a few pieces of wisdom for women who are sitting on a great idea, but have yet to take action, Tomi shared a quote from Simon Sinek (which is now on a sticky note taped to my desk); "Dream big. Start small. But most of all, start." She stresses the flexibility you give yourself by starting small and notes that there will always be mistakes made and lessons to learn. Before making major moves, Tomi asks questions, reads and researches, and gives all or nothing.
The part of my interaction with her that stood out to me the most was a humbling feeling of sisterhood. Tomi shared stories about customer encounters at pop-up shop events that went beyond the normal, mundane interactions we're all used to. You know, the emotionless pleasantries before you trade cash for a product? These sales come with a side of comradery and the store thrives from human interaction with customers whose stories dig holes into her heart.
For those of you who are local to the Maryland area, swing by the AdornWithStyle Pop-up Shop for food, karaoke, and the latest handpicked jewelry collection Saturday, November 12 in the upper level of the Fire Station Restaurant from 1:00pm-4:00pm in Silver Spring. To everyone else: Be adorned. Be unforgettable.
Follow AdornWithStyle on Instagram today!
Calling all HuffPost superfans!
Sign up for membership to become a founding member and help shape HuffPost's next chapter
This post was published on the now-closed HuffPost Contributor platform. Contributors control their own work and posted freely to our site. If you need to flag this entry as abusive,
send us an email
.