The German version of the advisory boutique proposal for major banks was first published in April 2013.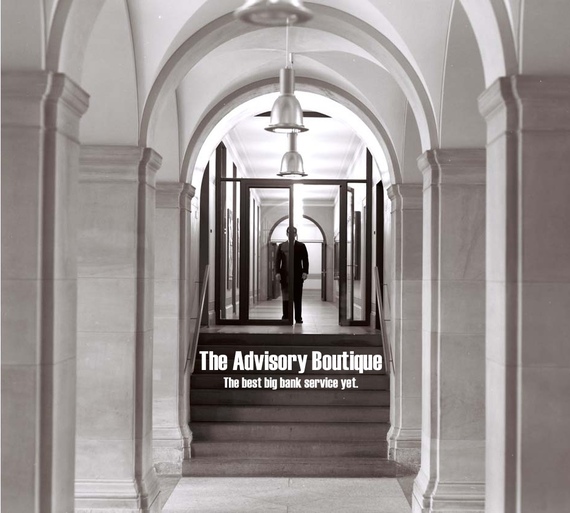 It may sound strange to some to imagine an independent advisory boutique company within a large bank. However, precisely in this proposal lies a future business model for major banks.
The new Advisory Boutique division within a major bank
The boutique approach presented here combines the advantages and attractiveness of an independent advisory boutique. The boutique benefits from the organization, strength, influence and reach of a major bank.
The new advisory boutique unit combines asset management boutiques and consulting boutiques under one roof. It creates a new division next to private banking and possible investment banking within a major bank.
There will be a clear difference of services between the asset management and consulting boutiques.
The task of the asset management boutiques is the management of assets. The task of the consulting boutiques is advising clients regarding the selection of the most suitable asset management boutiques or other service providers.
The Advisory Boutique ensures top-quality service
Boutiques enjoy a huge popularity among high net worth clients and family offices since this client segment always wants and demands the best services in the form of performance and client focus.
In order for boutiques to ensure continuous top-quality service, they allow their team of experts to participate in the fruits of their success. By the same token, the team must have 'skin in the game' by co-investing with their clients. In other words, they must align their own interests with those of their clients.
Naturally, what is considered the best service can be interpreted in various ways. For most clients, though, best service is management's ability to achieve long-term, stable out-performance (alpha, the so-called risk-adjusted "excess return") with respect to a benchmark and most competitors.
The Advisory Boutique helps retain top talent and reduce brain drain
As an obvious precondition for providing out-performance for clients, boutique teams are composed of experts with strong performance records, experience, and drive to generate positive alpha for their clients.
However, a big challenge for big banks or institutions lies exactly here. Managers and experts with increasing qualifications and expertise are often promoted to perform other management tasks or leave the bank to join or establish their own advisory boutique.
For most talented individuals who want to leave a large institution to be part of a boutique structure, the appeal lies in the high degree of independence and freedom of boutiques. Also, not of less importance, is to escape the internal politics of large institutions.
Banks benefit to set-up an advisory boutique environment
The employee fluctuation and, thus, the brain drain (know-how and talent loss) is reduced.
The teams are very motivated to perform at their best; otherwise, they run the realistic risk that clients will leave them for another boutique or bank. As all entrepreneurs know, subpar performance often will have personal consequences and furthermore, will threaten their original business model and their very existence.
To ensure success, managers in advisory boutiques within banks need to think and act entrepreneurially. They must have a strong focus on customer relationships because they depend on it more than major banks due to the smaller customer base of their entity.
The sought proximity between management and the customer in combination with team competence and the quality of services increases customer satisfaction and enhances the customer experience.
The new approach combines the advantages of boutiques (performance-driven culture, no conflicts of interest, continuity of top management, customer orientation, entrepreneurship, and much more) and places them within a major bank as an independent division.
Boutique entrepreneurs benefit to be part of a large bank
It solves one of the big problems of running a boutique, namely, the investment, outsourcing, and running of a growing infrastructure.
The burden of complying with regulators is better absorbed within a larger institution.
The access to a huge client base and a strong brand will help to better market its services and expertise.
The international "too big to fail" debate will continue to drive the trend further towards this boutique proposal.
It has long been recognized that the multi-boutiques (several units under one roof) approach is enjoying a growing popularity with large fund companies and clients.
The proposed approach is not yet implemented by most major banks, although, it has an enormous potential to rejuvenate their old business model to a more entrepreneurial business model.
The management of a major bank will say that it already offers customers specialists and funds that do exactly what the Advisory Division Boutique promises.
However, that is not so; the performance, the services, and the dependencies are as different as the business model of a major bank is different from an advisory boutique.
In order to implement this within a large bank, it needs structural changes, and it is those changes that will contribute to an innovative culture that will renew the existing business model and prepare the bank for the future.
Like any strategy, the advisory boutique also bears risks; however, well-defined structures and processes can reduce them significantly.
A parallel strategy within a bank also means the diversification and reduction of risks.
The boutiques are very popular among the ultra-rich and family offices. This fact should cause big banks that see the greatest growth potential in this client segment to listen up.
The unthinkable has to be made possible.
"Courage is the beginning of action, but Fortune is the arbiter of the goal"
Democritus (460-370 BC)
Calling all HuffPost superfans!
Sign up for membership to become a founding member and help shape HuffPost's next chapter