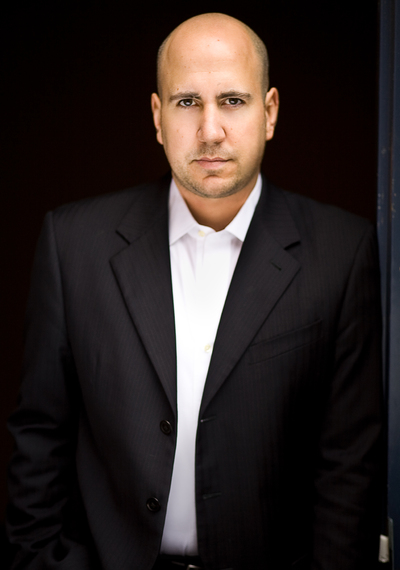 Anthony Franze has received praise for his work as an attorney, handling cases before the Appellate and Supreme Courts. Both the New York Times and Washington Post have quoted or cited him concerning the U.S. Supreme Court. He has been a legal contributor to the New Republic, Bloomberg and National Law Journal.
The Advocate's Daughter, his second novel, focuses on Sean Serrat, a man who transformed his misspent youth to become a Washington D.C. attorney of such high standing, he is now on the short list to fill a vacancy on the U.S. Supreme Court. After his daughter, Abby, is found murdered in the library of the Supreme Court, Sean's personal tragedy escalates into a national media sensation threatening to implode his family and career. Probing the mysteries of his daughter's last few days, Sean discovers secrets within his own family, and stumbles over the lies of powerful people who will stop at nothing to ensure the truth never emerges.
As a practicing attorney, how and why did you turn to writing fiction?
I'd always thought about writing fiction but it wasn't until I'd been in practice for a few years and my first son was born that I tried. I was up late at night with him, and maybe it was during the haze of sleep deprivation, an idea for a story came to me. I started writing it down, and I've been doing it ever since.
The Advocate's Daughter addresses compelling issues regarding a Supreme Court nominee and the selection process. You exemplify the adage 'Write what you know.' Tell us about your own experiences and how they've informed your writing.
'Write what you know' is a rule that's only half-true for me. If I wrote only what I know, it would be very dull. I spend most of my days in an office writing briefs. But, I'm an appellate lawyer and have had a number of cases in the High Court, so it's a natural setting for me and has always interested me in ways beyond my day-to-day work. It's a fascinating community with many contentious issues. It's a great setting for novels, so I wanted to take readers inside a world they're not familiar with. These days, the Supreme Court is getting more attention, but most people really don't know much about it.
Speaking of taking readers inside that complex and intriguing setting, your narration is compelling and very understandable to the lay person.
I try to do the same thing in fiction as I do in writing legal briefs: I say as much as I can with as few words as possible. I want to make it readable and want the reader to feel compelled to turn the page. I subscribe to Elmore Leonard's famous rule of writing which is 'Leave out the parts readers tend to skip.' That's my guiding principle.
The Advocate's Daughter also deals with the devastating loss of a child, and many day-to-day concerns such as kids surfing the Internet. Did you turn to any unusual sources for information about these issues?
I had three very good sources about raising children, right under my roof--my kids. [Laughter] As all parents do, we struggle with the amount of access our kids have to the Internet.
As for the devastating loss of a child, I read a number of books about parents who have lost children. I tried to capture that desperate loss I think never goes away.
The novel also deals with the issue of the law and racial injustice. Share your thoughts about this topic which is so often in the news these days.
Although it's not a centerpiece of the novel, we all see news stories about how our system can fail minority groups. I thought it would be an interesting backdrop to the novel without making it prominent. That component added depth to the issue about the person arrested after the protagonist's daughter was killed.
After 'Acknowledgements' you have a brief note entitled 'About Authenticity' where you credit various people and events for the authentic atmosphere conjured in the novel. Will you tell us a bit about that?
While practicing law in Washington, I've met fascinating people with interesting jobs. Many of them took time out of their lives to meet with me or give me access to various locales: the Oval Office, the private subway beneath the Capital Building, or the basketball court on the top floor of the Supreme Court Building, which, parenthetically, is referred to by insiders as 'the highest court in the land.' [Laughter]. Though the novel is a murder mystery, these people gave me insight about the day-to-day life of Washington, D.C.'s elite, and provided richness for the settings in the story.
The Advocate's Daughter is your second published novel. Tell us about your road to publication.
Like many writers, I still have that first novel in a drawer. I finished that manuscript in 2002 and landed an agent, but the book never sold. I took a long break before staring the next novel, The Last Justice, which was published in 2012. Looking back, it was really for the best. When I re-read the first manuscript, I realized it wasn't ready to be published. It was, in a sense, training for writing The Last Justice, and steered me to an incredible literary agent, Lisa Erbach Vance. Thanks to her, The Advocate's Daughter had multiple offers and I signed on with St. Martin's Publishing Group.
With the recent nomination of Judge Merrick Garland, in an attempt to depoliticize nominations, there's been some talk about setting term limits for justices of the Supreme Court. Any thoughts about that idea?
The Supreme Court nomination battle can add a lot of suspense to a story. [Laughter] In The Advocate's Daughter, all the nominees get a hearing and a vote [more laughter].
As for term limits, I think the Constitution views the Supreme Court as an independent body, which is a good thing. I think it's the least political branch of our government. I think politics should stay completely out of it and I don't see a need for proposals to change what the Constitution provides. I don't believe term limits would change the political environment we're now in.
Who are the past Supreme Court justices you admire most?
I would pick Chief Justice John Marshall. He was a consensus-builder who authored Marbury v. Madison, one of the most important decisions ever made by the Supreme Court. He also had a sense of humor. There's an anecdote about the Court getting criticized about the justices drinking too much while deliberating. Marshall formulated the rule they would only drink wine when it was raining. When they were deliberating, he would have an aide look out the window. If it wasn't raining, Marshall would say, 'Well, given our vast jurisdiction, it's raining somewhere.' [Laughter]
If you could experience reading one book again for the first time, which one would it be?
A Separate Peace by John Knowles.
Why?
When I was a kid, we moved frequently because my father was in the military. I went to four different high schools in four years. When you move to a new place in the middle of summer, it can be very lonely for a kid. I filled much of that time by reading. That book meant a great deal to me; it kept me company one summer.
What's coming next from Anthony Franze?
I just turned in the manuscript for my next novel and am working on the fourth. I also have a case that will be heard in the Supreme Court next term.
Congratulations on writing The Advocate's Daughter, a taut, twisting thriller that's received high praise from Gregg Hurwitz, Joseph Finder, Lisa Unger, Alafair Burke, Lee Child, and Linda Fairstein.
Mark Rubinstein's latest novel, The Lovers' Tango, won the Gold Award for Popular Fiction at the Benjamin Franklin Book Awards.
Related
Popular in the Community