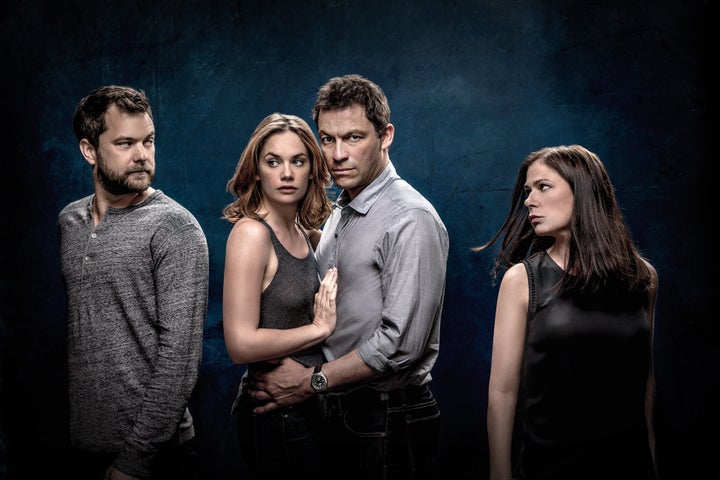 Season 2 of "The Affair" kicked off with double the drama on Sunday night, by expanding the two-person perspective to four. The show added the POVs of Helen (Maura Tierney) and Cole (Joshua Jackson), Noah's (Dominic West) wife and Alison's (Ruth Wilson) husband respectively.
With Helen's debut as narrator, the show also gave us its first-ever shot of full-frontal male nudity. Considering the number of sex scenes we saw last season, we're surprised it took so long. But on the other hand, we know the rules of TV -- breasts and butts are OK, male genitalia on the other hand, not so much. 
During the episode, Helen, who's in the middle of her divorce with Noah, had a romp in the sheets with Noah's best friend Max (Josh Stamberg). Max, you might remember, is the business man who was obsessed with her in Season 1. After the two have some very loud sex in a hotel room, Max orders room service for breakfast, making sure the person on the other end of the line knows he (well, his company) owns the hotel. And then it happens: the penis shot. Right after Max says, "Penthouse D, like dog," (we see what you did there, writers) on the phone, we see his naked body in front of Helen. She continues to lie in bed as he walks over to the window, draws open the drapes and flashes the city. 
Warning: The clip below is NSFW.
As short as it was, the scene still manages to make the gap between female and male nudity on TV a lot smaller. For that, we've got to give the show credit. (Maybe the writers heard Kevin Bacon's plea for more male nudity in Hollywood.)
As it turns out, preparing for the full-frontal scene took quite a bit of work.
"Do you know how they shot that? It's f**king funny," West told E! News. "I don't know why they decided they wanted a full-frontal male, but I thought it was so funny. He gets up out of bed, with his a** to camera and he crosses the camera ... and then the stand-in just steps in. This completely different guy who had to have his d**k inspected. [Laughs.]"  
Tierney told E! the scene made her cringe, but she liked that it provided "a big jump ahead for the character." 
She added, "What's she doing -- does it have a revenge element to it or is this person really just a comfort to her and has clearly loved her for a long time? I like that they skipped right to that sex, so you don't really know what's going on." 
Hopefully we find out as the season airs. 
Watch "The Affair" Sunday nights at 10 p.m. on Showtime. 
PHOTO GALLERY
Celebrity News & Photos
Calling all HuffPost superfans!
Sign up for membership to become a founding member and help shape HuffPost's next chapter