[Warning: Contains spoilers from already-aired episodes.]
One of the problems with affairs is that they so often turn out to be less than you wanted them to be.
Showtime's The Affair makes that point in a couple of ways, one of which is the show itself.
The Affair, which wraps up its second season Sunday at 10 p.m., launched with four splendid actors and the tacit expectation that it was going to offer a raw, edgy, honest, perhaps even different look at the impact of an affair on the lives of the two couples ensnared in its web.
There have been glimpses of that. Far more often The Affair has felt like a soap opera whose primary distinction from other prime-time soaps is that it moves more slowly, takes off more clothes and uses dirty words.
That doesn't mean The Affair has been a terrible show. As someone who regularly watched Revenge and still watches Nashville, I'm unapologetic proof that modern soap operas haven't lasted almost a century, from radio to TV to cable and the Internet, without a reason.
I just thought The Affair was shooting for more.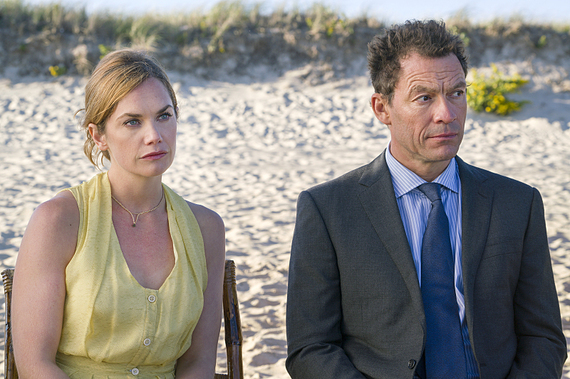 Noah and Helen Solloway (Dominic West and Maura Tierney) were a successful New York couple with kids. He was a writer, with a writer's angst and neuroses, and she was a daughter of wealth.
They were driving the kids out to the Hamptons and stopped in Montauk for lunch at a local joint called the Lobster Roll. A brief crisis in which one of the kids started choking led to more interaction than usual with a waitress, Alison Lockhart (Ruth Wilson).
Alison caught Noah's eye. Future encounters were not so chance, and soon they were having the show's title affair.
Predictably, it shredded both the Solloway marriage and Alison's marriage to Island native Cole (Joshua Jackson).
One of the show's options at that juncture, presumably, was to take an intense look at what happens when two consenting adults make that kind of decision - the price they pay, what if anything they gain, whether in the end it was worth it and if so, by what and whose standards.
The Affair didn't take that path. It turned on the faucet and started churning out soap suds.
Helen had issues with her father Bruce (John Doman) and her awful mother Margaret (Kathleen Chalfant), whose grandparenting style included rewarding Helen's daughter Whitney (Julia Goldani Telles) for becoming more anorexic.
That explains some things about Helen. But The Affair hardly even paused there. It plowed ahead into Bruce leaving Margaret, seeding a whole new tawdry subplot.
Cole's family turns out to be a bunch of shady hustlers. His brother Scott (Colin Donnell) is a drug dealer who bitterly resents Cole for getting the things Scott wanted, including a woman to whom Cole becomes engaged after he and Alison are divorced.
Divorced? Did we say divorced? Wait! As Noah and Alison go through some rough times, interrupted by a few minor matters like having a baby, Alison periodically turns to Cole to escape the pressures of big-time literary New York and rediscover the comforts of small-town Long Island.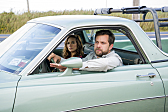 Alison also went back to college, saying she wanted to become a doctor. Then she dropped out, without mentioning it to Noah. The first he heard of it was when he learned Alison and Cole had pooled their money to buy, yup, the Lobster Roll.
Would you like extra suds with that soap?
I've left out a few things here, like Noah writing a steamy best-selling novel based on his affair with Alison, and Noah running into Whitney at a sex party, and a vehicular death trial, but you get the point.
The original affair has long since become just the launch pad for a daisy chain of exponentially blossoming melodrama.
My friend Bob Lamm explains this particular soap tradition better than I: "You have to have those endless 'coincidental' plot turns that bring the same characters back to the same circle. It's like they're all in a salad bowl that just keeps getting tossed around, so if the cucumber and the celery get separated for a while they'll soon be next to each other again."
This can lead to some good things. In Season 1, for instance, we only got Alison's and Noah's stories. In Season 2 we've also gotten Helen's and Cole's, which has added some welcome breadth.
In an extended scene a couple of weeks ago, Noah went one-on-one with his shrink, played by Cynthia Nixon. The dialogue was sharp and sometimes uncomfortable. More to the point, it felt like it was about something.
West and Nixon were first-rate, which reminded us of what all these actors have been and can be. Too often, the storylines here haven't allowed it.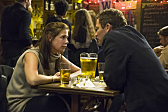 In any case, the course for The Affair seems set. Showtime has ordered a Season 3 and its creators have said their hope is to have it run four.
So we've got plenty of cucumbers and celery ahead. We'd just been hoping for something a bit more human.
Calling all HuffPost superfans!
Sign up for membership to become a founding member and help shape HuffPost's next chapter