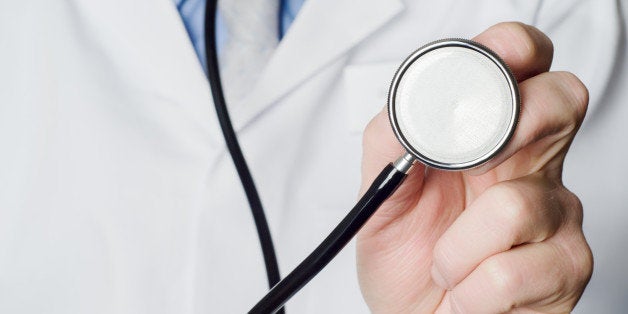 As a person who has been living with what's commonly known as "a preexisting health condition," and one that can require expensive surgery and even result in emergency-room visits if it gets out of control, I consider the Affordable Care Act a lifesaver. It provides the most hope I have ever had for myself and my family when it comes to keeping us healthy and getting care when we need it most.
I have endometriosis. It's not uncommon, but it is chronic, and it's a condition I've been living and dealing with for more than 10 years. There have been a few years when I had to have multiple surgeries to address complications associated with it. I've even been forced to go to the emergency room on occasion. I lost my health-care coverage when I had to leave my full-time job due to extreme complications during my pregnancy with my son back in 2011. Five months of bed rest made it impossible to maintain my 50- to 60-hours-a-week job. Since then, I have been working multiple part-time positions, including one as a college instructor and another as a clinic receptionist. While these positions have provided me with flexibility and a stable income, because they're part-time jobs, none of them offers health-care coverage. For several months, both my son and I went without coverage, and I spent nearly every moment terrified and anxious. I constantly worried about whether we could afford to visit the doctor, and often I found myself trying to somehow "make do" without. My husband and I even sold our car to try to purchase private health insurance, but we were repeatedly denied coverage because of my preexisting condition. It's simply incredible how access to health care can impact so many of the decisions you make about your work and life.
I'm not alone; it seems that so many people in my community have chronic or serious health conditions that they can't afford to manage without comprehensive health coverage. I have seen friends asking for donations on Facebook in order to get health care for their kids. That should never, ever happen. No child should go without the health care he or she needs because there's not enough money, nor should any adult.
Now my son and I are both enrolled in a health plan through CoveredCA (California's health-insurance exchange, created as part of the Affordable Care Act). We are keeping the same great plan with fewer out-of-pocket costs, and we get a $235 subsidy each month. This means we now pay less than we did prior to the new health-care law, for better insurance. We also get to be on a family plan, so I no longer have to worry about how my income is going to affect our child's coverage, not to mention that I now know that one health crisis won't send us into bankruptcy.
I believe the Affordable Care Act provides important protections for me both as a consumer of health care and as a human being who needs access to health care. It's not perfect, but there are problems with almost all programs, especially when they are implemented for the first time, and the Affordable Care Act is certainly better than what we've had up until now. It gets us a step closer to a more equitable health-care system.
There are a lot of people opposed to the Affordable Care Act. They think it takes away choice, is too expensive or unfairly places a burden on taxpayers. My own family members are among them. For me, not having any options for health coverage definitely did not feel like it gave me more choice. I'm a hardworking taxpayer; don't I deserve the same chance to get health coverage for my family? Now that I'm covered, I have the financial security to consider buying a house, looking for a new job or maybe even starting a business. If we want to support thriving families and a growing economy, providing secure health coverage is the best place for our country to start.