Rosy and distressing are two words not typically used in the same sentence, yet they best describe Africa today. While we host six of the world's fastest growing economies, more than 40% of our population lives in poverty on less than $2 USD a day, according to the World Bank.
Youth would typically play a significant role in driving economic growth, but they face a bigger threat: unemployment. African Economic Outlook estimates that more 20% of youth ages 15-24 lack any form of formal employment with more than 70% in vulnerable employment. The prospect of achieving real growth gains from fast economic growth seems a far off goal.
August 12, 2014 marks International Youth Day, and I'd like to pose two questions to African youth, myself included:
"How can we play a stronger role in creating real prosperity for Africa? How can we create an environment where all African people become a symbol of wealth and prosperity?"
As Africa's next generation of leaders, we need to have a clear understanding of how the continent has come to this place, and develop a strategic approach to tackling some of our economic challenges like youth unemployment.
When I was 16, with a group of friends, we started a student movement to engage youth in progressive activism for social and economic change. Frustrated by the slow bureaucratic pace of change, we evolved into
, an enterprise development centre providing financing, training and office space for start-up entrepreneurs to build competitive enterprises in Uganda and throughout Africa. Some of the enterprises we have built include:
AFRICAP a retail investment firm working with over 500 youth investors;
Angels Agric Fund, a commodity trading company working with over 700 small holder farmers; and
Icon Telecom, a business communication company working with over 100 small and medium enterprises.
Overall, the companies that we support are creating more than 100 jobs and impacting more than 1,000 youth. But Africa needs 100 million jobs, not a mere 100!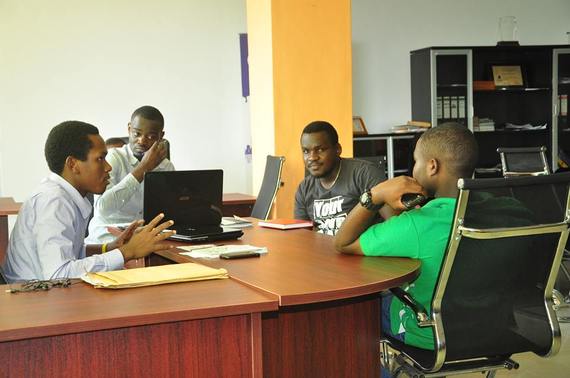 Photo Credit: Angels Hub's FaceBook Page
I believe that Africa's high unemployment and poverty rates are due to two main reasons: a private sector -- mainly driven by multinational corporations -- that is not creating enough income earning opportunities and social benefits for the wider population; and an overdependence on nongovernment organizations (NGOs) that serve every challenge that we face in our countries. These two factors produce much needed short-term benefits, but fail to bolster growth of competitive local private sectors to create sustainable economic opportunities for Africans, even less so for youth.
As youth, we can create meaningful economic opportunities for ourselves. As the global market economy is more open than ever before, we cannot hide under the facade and continue to spread the fallacy of "poor Africans needing help." We need to pull up our socks and be more competitive to survive in the new world.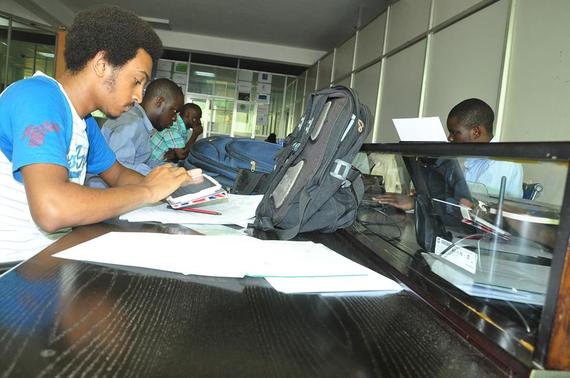 Photo Credit: Angels Hub's FaceBook Page
Firstly, we need to start and build enterprises competitive enough to challenge the increasing number of multinational organizations. Like them, we need to do business across Africa and worldwide in better and more efficient ways. Only then will we be able to service our local and global market needs, while creating jobs and expanding economic opportunity in Africa.
Secondly, development partners and governments need to strengthen support for local enterprise development. By providing capital to seed local enterprises, development partners can encourage "active philanthropic investments" that seek a return on capital to the financers. Africans in the Diaspora, as partners in development, can take part in "active equity and debt investments" and leverage their expertise to expand local enterprises.
Thirdly, multinational corporations should increasingly forge business relationships with local enterprises to foster greater market access beyond country boundaries.
Lastly, African governments must develop incentives and policies that enable local enterprises to flourish by doing business with them, creating tax havens, and funding start-ups, while promoting private sector expansion.
We cannot afford to stand at the sidelines and watch people do things for us. Developing a resilient entrepreneurial base and private sector can sustain economic growth and produce real economic and social gains in Africa.
Continue the conversation in a Twitter chat convened by Ashoka's Future Forward initiative in partnership with the MasterCard Foundation. The initiative finds, supports and accelerates innovative solutions for youth employment in Africa and will be holding a twitter chat on August 12th using the hashtags #AfricaYouthFwd and #IYD2014.
George W. Bakka is a serial entrepreneur who dropped out of university to pursue an obsession- to use business to transform Africa. Bakka is also Acumen, Anzisha & Educate! Fellow. Join him in the conversation @GeorgeBakka.
Related
Popular in the Community