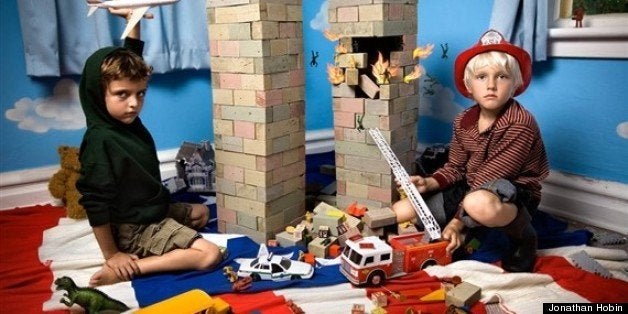 The Twins, Jonathan Hobin
The power of a photographer over his or her subject is immense. This is not just because of the possibilities to manipulate the subject, but also because of the documentary aspects of photography. The realistic or documentary message conveyed by a photo about life, the state of the world and reality can be powerful, all the more so when using children as subjects. Images of children in photos can bring to the forefront issues of vulnerability and trust resulting in feelings of unease and discomfort.
The photographers we present in this article convey messages, or artistic concepts, with children as their photographic subjects, and by doing so raise questions about the body, society and culture, as well as issues of realism and representation.
Charles Dodgson was a teacher and a scholar but to readers all over the world he became renowned as Lewis Carroll, the author of Alice's Adventures in Wonderland. Dodgson was an accomplished portraitist and his work is well known and much discussed, particularly his portraits of Alice Liddell.
About half of Dodgson's photographs are of children and throughout the years he was criticized for his interest in using children as subjects and was accused of seeing little girls as substitutes for incestuous love objects. A few major biographies suggested that he had pedophilic urges but never acted on them. (Photo: Alice Liddell as the Beggar Maid", Charles Dodgson)
By Victorian standards, however, Dodgson's photos were considered rather conventional. A few of his photographs depict semi-nude children, but Victorians saw childhood as a state of grace and nude photographs of children were considered innocent.
Edward Wakeling, the Editor of Lewis Carroll's Diaries, claims that Dodgson's unhealthy attitude towards children is one of the most prevalent myths that dominate our present age, pointing out that in the Victorian age, attitudes toward children were very different. Dodgson's fascination with children's physical beauty and intellectual development are misunderstood and often interpreted through a contemporary lens which leans towards viewing an adult fascination with childhood as predatory and sexually perverse. (Photo: Xie Kitchin on Sofa, Charles Dodgson).
AES+F, a group of four Russian artists, is dedicated to the theme of childhood and adolescence in modern society and contemporary culture as a representation of an enlarged mirror of society itself. Their works discuss important social issues and can be sometimes seen as provocative and uneasy to watch, questioning conventional ideas and concepts.
According to AES+F, the mass media image of humankind became increasingly younger in the last decade. The teens in Calvin Klein ads, models and pop stars who started their career during childhood, as well as young sport stars, are a relatively new phenomenon in the media world.
The Le Roi des Aulnes series was shot in the palace of Catherine the Second in St. Petersburg. It revolves around themes of professional children in ballet, sports and the media industry and corporate identity. For the first performance of the series, AES+F chose more than a hundred students from specialized ballet and sports academies as well as child-models from 3.5 to 11 year in age. The children did not strike any special poses for the photographs and mostly behaved naturally in front of camera.
For their Action Half Life project -- the name of an actual computer game -- AES+F recruited young teen-models to act out the roles of conquering heroes and heroines in a conceptual battlefield. Set against the backdrop of the desert, there is no sign of an enemy or of the horror of war. Equipped with a steely array of futuristic looking armaments, the models are airbrushed clean and kitted out in crisp white clothing. AES+F have created frozen-in-the-moment tableaux that radiate an unsettling but awe-inspiring combination of sheer beauty and mounting unease.
Photographer Jonathan Hobin chose to convey important messages through his "In the Playroom" series of images that depict children reenacting major current events and headlines of our time, including major news items such as 9/11, Abu Ghraib torture, Hurricane Katrina and the Osama Bin Laden raid. The collection smartly juxtaposes these devastating themes with the bright and playful setting of a kid's playroom through relevant props such as dolls, toys and stuffed animals. The images are eerily innocent and disturbing at the same time. (Photo: A Boo Grave, Jonathan Hobin)
"In the Playroom, is a metaphor for the impossibility of a protective space safe from the reach of modern media," says Hobin. "The quizzical disposition of youth and the pervasive nature of the media are symbolically represented in my images through tableau-vivant re-enactments of the very current events that adults might wish to keep out of their child's world. Just as children make a game of pretending to be adults as a way to prepare and ultimately take on these roles in later life, so too do they explore things that they hear or see, whether or not they completely understand the magnitude of the event or the implications of their play."
Hobin sees these photographs as visual echoes of iconic media imagery that has had an immeasurable effect on our culture. "The images are deliberately staged constructions full of arresting detail designed to underscore the infiltration of modern media into the corners of the everyday. With children cast as the central players, I hope to prompt viewers to think about the first time they heard about or saw the aftermath of current events and to imagine how a child with limited context and experience might perceive the same event." (Photo: GOT HIM!, Jonathan Hobin)
Loretta Lux's photographs are remarkably captivating yet disturbing. They are Victorian, nostalgic in style and yet also futuristic. A former painter, Lux captures the essence of childhood purity and innocence in her work through a mix of fine art and contemporary pop culture, taking photos of children and digitally placing them into fairy-tale like backgrounds.
Lux goes through a long process working on her photos and it can take up to a year to complete a single image. Lux's subjects, usually the children of friends, are dressed and sometimes given symbolic props such as a fish, a drum or a loaf of bread. They are photographed under a direct light which gives the children a very pale skin and facial complexion. She then replaces the background with a different setting from her own paintings and pictures. She erases any other objects in the background and makes the child the focus of the photo. The end result is images of perfect, digitalized dolls, a representation of children as symbols for the idea of childhood. "Children have no reservations, they are the most honest models," Lux said in an interview to Time Magazine about choosing children as photography subjects.
(Photo: The Drummer, Loretta Lux)
Study of a Girl 2, Loretta Lux Sasha and Ruby 4, Loretta Lux
In 2008, photographer Irina Popova went to St Petersburg and took a series of photos of drug-addicts Lilya and Pasha and their daughter, Anfisa. She moved into their apartment for two weeks and documented their lives through photos. Her powerful photographs were later nominated for an award but there were viewers who were outraged by some photos of Anfisa. One was a photo of the child playing with her mother's cigarettes. Another, a photo of Anfisa crawling towards a window ledge, seemingly in danger angered viewers, but both Popova and Lilya were ready to grab the child and a safety net was below the window.
The story of the photos raised questions about the moral responsibility of a photographer or the artist in non-fiction and also about the difference between what the photographer and his viewers see in a work of art. Following the success of her exhibition, Popova realized the viewers did not see what she saw in her photos. Photography tends to magnify and distort both deeds and misdeeds and though her photos depicted chaos, neglect and despair, Popova felt that Anfisa was genuinely loved and generally well cared-for, something that many viewers missed while looking at her photos. Popova's book, Another Family (Schilt Publishing) documenting Anfisa and her parents is coming out this month. (Photo: Anfisa plays with cigarettes while her mother sleeps, Irina Popova).
Anfisa on the window ledge, Irina Popova Anfisa with a bottle, Irina Popova
We'd love to hear your thoughts: What do you think of the use of children as photography subjects?
Popular in the Community