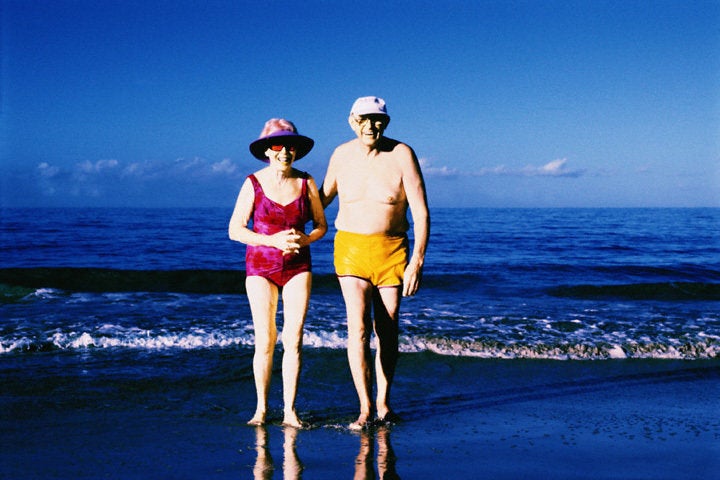 I just spent two days with some smart, thoughtful people, talking about something everyone knows is coming, but most of us are in denial about. No, not climate change. Our aging population. Here's a small slice: in 2000, there were 600 million people 60 and over worldwide. By 2025, that number will double. And right now in the developed world, people 80 and over are the fastest growing population group.
In fact, whether our aging population will be a deficit or a dividend was hotly debated. By the end of the summit, I was listing heavily to one side. Yes, there are huge challenges, and we must acknowledge and address them. But, ohmigod, such amazing things are underway and we are going to reshape the world!
In my head, I replaced the tsunami with a gorgeous wave - huge but not terrifying - and all of my favorite experts were yelling "surf's up!" and paddling their boards madly into the roiling waters. Here are the people you'll see riding the crest of this wave. (If you're like me and need a little soundtrack to go along with your visualization, try the boomer-friendly Hawaii 5-0.)
• Jane Barratt
Jane will be the first one into the water. Secretary-General of the International Federation on Ageing, she kicked off the summit with the thought that aging begins at birth. "I'm not an older person, I'm a person who's growing older." She got us thinking about why we need to create an age-friendly society, and how each of us can contribute. In fact, she was particularly emphatic that this work can't be left to the "experts", that we all need to speak up and chip in.
• John Beard
He had me from hello. John showed us a news item about a woman working on her 100th birthday. "Why is this news?" he asked. "Because she's 100, of course, and because she's working. This won't be abnormal in the future." He then debunked a bunch of myths about aging, like that older people are a burden on society (in fact, most of us continue to live independently right up to our last year of life). That the real objective is how to stretch out what he calls the middle years - by doing things like preventing chronic illness, creating environments that foster engagement, and introducing age-appropriate care. John is Director of the Department of Ageing and Life Course at the World Health Organization in Geneva. Check out their website for data and publications about how we can all adapt to what's coming and realize potential benefits.
• Alvaro Fernandez
Imagine a workplace brain fitness program that will help you think better now and ward off the symptoms of dementia as you age. One that is grounded in two decades of research. That's what Alvaro and his team are developing at Sharp Brains. It's one of the projects launched by Cogniciti, a joint venture between MaRS and Baycrest (a health sciences centre), created to bring cutting-edge research to market.
• Laurie Orlov
Laurie's New Radical career started with a deeply personal event: the death of her mother in 2006 (New Radicals are people who put skills acquired in their careers to work on the world's greatest challenges, for more please see archived articles). A technology industry veteran, Laurie realized that tech could be used to help seniors achieve one of their goals - to "age in place". So she founded Aging in Place Technology Watch to provide insight, analysis, and guidance about technologies that can help people do just that. Great resources on her site. Not to be missed.
• Saul Kaplan
The fact that he calls himself Chief Catalyst and his organization the Business Innovation Factory speaks volumes about Saul. He got us all stirred up by asking "where's the urgency, where's the outrage?". He insisted that we don't need to simply tweak existing systems, but transform them. His team designs and tests new solutions in real-world laboratories, including something they call the "Elder Experience Lab". Highly recommended. (And count on Saul to be wearing the most creative trunks.)
Buzz Aldrin, one of the first two astronauts to walk on the moon (and fellow HuffPo blogger), was supposed to wrap up the summit, but had to cancel due to illness (we wish him a speedy recovery!). As the full moon rose in the early evening sky over Toronto, Buzz's stepdaughter, Lisa Cannon, showed us a video that brought back memories for everyone in the room (where were you when they walked on the moon in 1969?). She spoke about the insatiable curiousity of humankind, and our desire to try new things - in JFK's phrase, "Not because they are easy, but because they are hard."
I'll be writing more about who's out there surfing the wave, including what technology companies like Cisco are doing, about cool new ideas in urban planning, transportation, health care, and storytelling - and how it all fits together. In the meantime, be sure to sign up at the Business of Aging website.
Now, over to you. Do you think the "silver tsunami" is a problem or an opportunity? And should we suggest to Arianna that HuffPo add a new section called, perhaps, Silver? Please comment below, or feel free to email me directly: Julia (that familiar symbol) wearethenewradicals (punctuation) (COM).
Related