It was finally time to lose my virginity... my standup comedy virginity, that is. I dearly hoped it would be something like that other coming-of-age trauma: awkward and nerve-racking at first, but eventually satisfying and a lot of fun.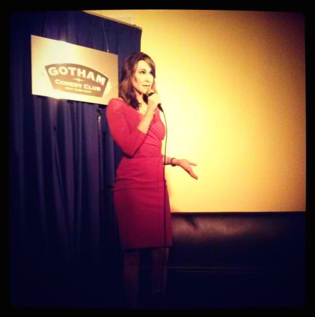 It was a dark and stormy night last winter. The wind howled like a primal scream as the sidewalks piled up with snow. At least my first audience would be manageably small, I hoped, but instead it was an SRO crowd. I was braced against the bar, wondering if I should take a shot of liquid courage directly from the tequila bottle as I waited for my name to be called at the Gotham Comedy Club in Manhattan's Chelsea neighborhood.

Founded in 1996, Gotham is unlike most dark-and-dingy comedy clubs. Its outside appearance is unassuming yet upon entering, you are greeted by pictures of Comedy Royalty who perform there, like Jerry Seinfeld, Dave Chappelle and Chris Rock. The walls shine. The carpet feels new under your feet. (Trust me, this is an amenity: It isn't uncommon at clubs for a drunken audience member to urinate on the carpet during a show!)
The main stage wasn't waiting for me. Instead, along with a group of aspiring stand-ups who are taking weekly classes at the American Comedy Institute, it was the smaller stage, in the basement, down a steep staircase, past the signs pointing to the bathrooms. Upon entering the room, I thought, "Wow, this is neat. This is the place for beginners to get the feel of standup... it's small... it's quaint... it's safe from the hecklers."

As I stood in the back of the room, which was now filled with 100 paying friends and family of ACI students, drinking liberally at tiny tables, I kept feeling for my inner thighs. My legs were so numb that if I had lost control of my bladder, I wouldn't have known. My friend, comedian Jim Norton, told me that the best comics have no fear. "Richard Pryor had no fear," he said.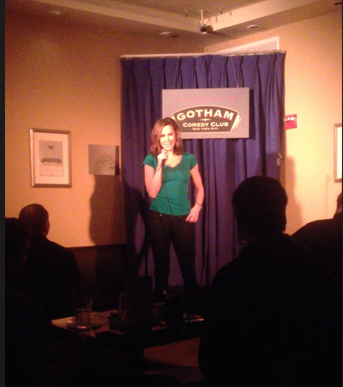 No fear? How about complete terror?

The emcee called out, "You may have seen her on Fox News... Tamara Holder!"
Somehow I arrived at the stage.
In real life, I'm an attorney, representing murderers and drug dealers -- excuse me, alleged murderers and drug dealers -- with the largest part of my practice focused on filing clemency and pardon petitions.

And, yes, I'm also an on-air Fox News contributor... a diehard Democrat who loves to debate Sean Hannity about his bananas opinions.

I have always loved comedy -- laughing and trying to make people laugh. My greatest childhood memories with my sister involve the two of us talking shit about people, particularly our family, which is so dysfunctional we should have our own reality show. At the moment my sister and I are composing a long list of inappropriate questions our mom has asked our potential suitors over the years. Needless to say, Sissy and I are still single.

When I began my work as an attorney in Chicago, it quickly became grim and depressing. It was hard visiting clients in filthy jail cells or dilapidated public housing buildings where the drug dealers controlled access to the elevators. I felt like I was losing my sense of humor. Staring into the open casket of a high school girl who was gunned down during a drive-by gang shooting is not remotely a laughing matter. Neither is trying to receive a pardon from the governor for a client who honorably served our country in three wars and yet, because he stole a saddle from a barn when he was 18 years old, cannot be hired as a firefighter.

Shit was always so serious.
As I continued to carve out my legal career, along with a budding television presence discussing the nuances of Casey Anthony with the always-understated Nancy Grace, the "Freshman 30" thing crept up on me. The last thing I wanted was to get fat. I could not afford a therapist or Lexapro. What to do?

At a divinely perfect time for an intervention, my college friend Jeff, who lived a supremely happy and green life in Oregon with his wife and kids, suggested I take improvisation classes at The Second City, the legendary comedy school and theater located in Chicago's Old Town neighborhood. It was my life-saver.

The school's hallways were adorned with photos of legendary alumni like Chris Farley, Stephen Colbert, Julia Louis-Dreyfus and Tina Fey. I always felt their energy oozing out of the school's walls. I took classes there for more than a year, as well as outside improv clinics. One of my instructors, David Razowsky, who came up with Colbert at Second City, defined improvisation as the art of "creating in-the-moment... reacting to what is around you, responding to what's inside of you, and rejecting the judgment you carry."

"Reject the judgment?" I couldn't even get out of my own head! I thought too much. Watching improv was funny, but doing it was another matter. I simply could not hop into a scene and act like I was driving in a car to my therapist, or baking a pizza.
Needless to say, I am not very good at working well with others.

Then two years ago, I moved to New York City. It was a huge risk. It's a pop-cultural cliché that wannabe actresses fly off to Los Angeles the day after high school graduation. But I had never heard of a promising attorney with a growing practice pulling up stakes in Chicago, a great city in its own right, to make her home in a place where talented performers are a dime a dozen.

I joined the Friars Club. And I enrolled at the American Comedy Institute, which is located on the fifth floor of the venerable Hotel New Yorker and thankfully bears no resemblance to the Albert Brooks Famous School for Comedians that was hilariously advertised during the first season of Saturday Night Live.

ACI is run with utmost seriousness of purpose by Stephen Rosenfield, a ridiculously brilliant man who loves teaching art of stand-up to willing amateurs. He is a charismatic and demanding teacher, who can transform a paragraph of student gibberish into professionally-crafted jokes. The first assignment: Come to class with a list of the things that bother you. I thought, "No problemo! Comedy is going to be easy. Everything bothers me!"

That delusion evaporated immediately upon entering the class when he said we had to stand up, in front of the group of strangers, and share our writings through a microphone.

Classes are anything but homogenous. One of my classmates is an older Harvard graduate who is pissed because he's jobless and he'd thought his Ivy League degree meant carte blanche lifetime employment. My favorite classmate works at UPS. His hatred for his work (and Doritos) is infectious. (In fact, Craig Todaro might soon stop delivering packages -- Gotham recently chose him to appear on its TV show.)

So on the night of my first performance, I found myself standing on the five-foot-long stage, unable to see the audience or my fellow student-comedians because of the blinding spotlight. I felt as if I was at the bottom of the ocean, barely able to breathe.

Wearing too-tight jeans, a V-neck shirt and five-inch heels -- I had failed to calculate the possibilities of a wardrobe malfunction -- I grabbed the mic from the stand and committed to my first joke. Positioning myself into a downward dog yoga pose -- which apparently was slightly more revealing than I had intended -- I said: "I was in yoga class today and this woman kept moaning. 'Oooooo, ahhhh, ahhhh' ... Finally, I had enough and said to her, 'Hey lady, this is downward dog, not doggy style. Shut the fuck up!'" As I eased out of the pose, I heard the audience laughing.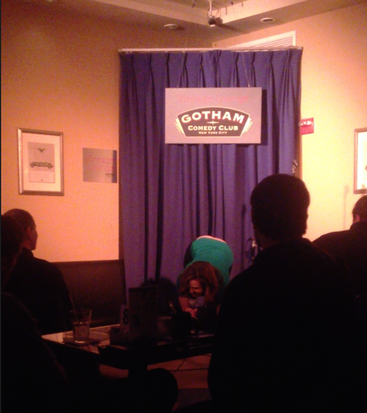 At the end of my five minute set, I walked off stage feeling proud of myself. It was rewarding to know that I could make an audience do my bidding. Well, maybe not everyone. I didn't hear my dear mother laughing, during my second standup gig that she insisted on attending, when I said, "I don't understand the craze with e-cigarettes. If I am going to spend $75 on something that is handheld and battery-operated, it definitely is NOT going to be that."

Once a month, I will perform at Gotham as an ACI student. I love being a student of this never-ending, never perfected, art form.
Being a comedian is like being a junkie, but in a good way. Inject the needle, get high. Execute the joke, get a laugh.
I hope to be addicted for life, and make a lot of people smile along the way.