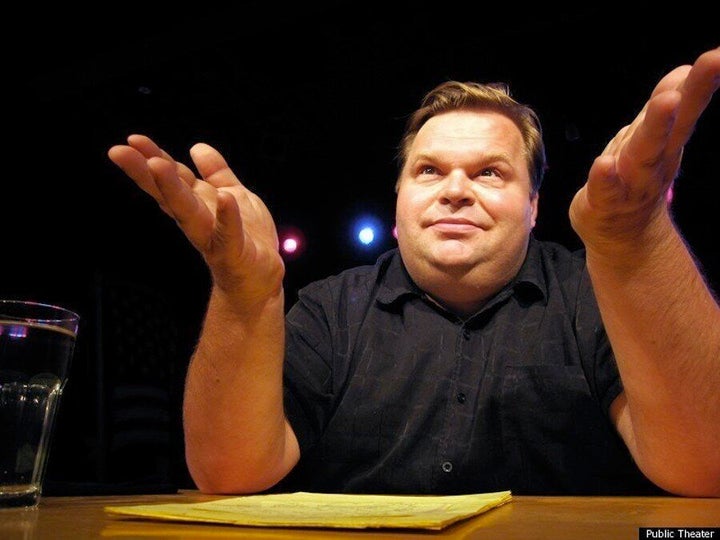 A representative for Daisey said that within the first 48 hours of Agony and the Ecstacy's online publication Feb. 21, over 42,000 individuals had downloaded the script. The figure had risen to over 60,000 as of Feb. 24.
Playbill also reports that Lance Baker, a Chicago-based stage and film actor, will be among the first to perform the play, premiering it in Chicago at the Red Orchid Theatre on March 5.
Last week, Daisey outlined the rules of his offer to CNN Money as freedom to adapt, re-publish, perform or simply read any or all of his script with or without contacting or crediting him (though he requests the latter). That story came a day after the script's unveiling, and Daisey said he'd already been contacted by 500-plus interested groups in 11 countries, "from mid-size regional theaters to a small community in Kurdistan on the Iraq border."
Daisey traveled to Foxconn, the factory in Shenzhen, China where most of the world's electronic gadgets are produced. Barred from entering, he stood outside and waited to speak to any employees he could. His first-person retelling, which he premiered at the Berkeley Repertory Theater last January, foreshadowed the wave of stories of worker suicides, pre-teen employees, and draconian workdays that have tainted the reputation of Foxconn and its high-profile tech clients -- Apple most of all -- in recent months.
In a previous statement to Playbill, Daisey made a pitch for the timeliness of his work, which the New York Times called "mind-clouding" and "eye-opening," and which Apple co-founder Steve Wozniak said made him cry.
"We live in denial about China: a relationship that so disturbs us that we pretend our devices are made in magical Willy Wonka-esque factories by space elves instead of the real human cost we all know in our hearts has been paid. This moment is an opportunity to peel back the surface and get at the secret heart of our relationship with Steve Jobs, his devices, our labor, and China itself."
CORRECTION: An earlier version of this article stated that Daisey wrote "The Agony And The Ecstasy" after Steve Jobs' death. The text has been changed to reflect that Daisey wrote the play before Jobs' death.
Calling all HuffPost superfans!
Sign up for membership to become a founding member and help shape HuffPost's next chapter