Returning home to New York City after an extensive world tour is Alvin Ailey's Ailey II dance company. Known for creating a space in which the country's young talent combines their passion with the innovative works of emerging choreographers, this season includes provocative pieces from Jae Man Joo, Bridget L. Moore, former Ailey dancer, Marcus Jarrell Willis, and many others.
Recognizing the young company's work was ABC's Good Morning America! Not only did these amazing dancers demonstrate their love of dance, but they also proved that their age does not hinder their ability to perform at the professional level.
When speaking with current Artistic Director, Troy Powell, he exclaimed that the Ailey family goes beyond preparing Ailey II dancers for the professional dance industry. His journey with the company has shown him that this family, unlike any other dance company in the nation, creates leaders dedicated to serving their communities.
"The Ailey community is much more than a dance company, we're like family"
VA: After an extensive dance journey, when did you decide your next step would be in a leadership role for the Ailey II company?
Powell: I didn't expect to become an artistic director. It ran through my mind when I danced with Ailey because I got to witness the importance of many roles; director, choreographer, dancer, costume designer, etc. Dancing with the company and becoming a part of this community helped me realize how much of a family we really are to one another. But I didn't think my experiences would lead to my promotion as Artistic Director.
VA: Being only the second ever Artistic Director of the company, how would you describe the talent presented this season?
Powell: The level of the dancers in Ailey II is tremendous and escalates every day. They are very passionate and committed, which shows through their performances. I am there to coach them along the way but they are so intelligent that they almost don't need me. They push each other artistically.
VA: Why Ailey? What is it about this community that draws you in and keeps you motivated to lead young dancers in the development of their professional careers?
Powell: The Ailey community is really like a family. Robert Battle has become like a father figure to many of the dancers so it especially feels like a close-knit community. What's incredible about the Ailey II program is that the two-year commitment attracts really passionate dancers that take our guidance and advice seriously. Many of them end up working on Broadway and in numerous companies throughout Europe and the U.S.
But the number one aspect of the company that keeps me motivated is the development of leadership these dancers experience. They host master dance classes at universities in which a lot of the university and college students become inspired by. Ailey is known for going into the community and inspiring youth by giving them hope. By letting students know that this art form, dance, is one that can inspire you to be whatever you want to be, we see many students gain hope and believe in their dreams and in themselves.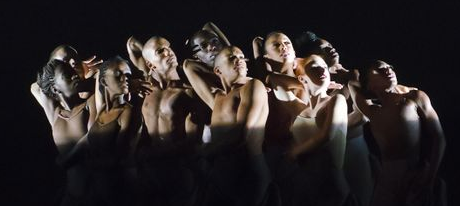 The Ailey II company dancers are certainly busy with training, rehearsals, and community outreach projects. However, a number of them are also full-time college students. Christopher R. Wilson, a current senior at Fordham University, and Courtney Celeste Spears, a graduate of the Ailey/Fordham BFA program, shared their experiences balancing their academic careers with their artistic careers.
Wilson: I began dancing back home in Georgia at 9 years old. But it wasn't until the summer before my junior year of high school that I decided I wanted to pursue dance professionally. I attended the Governor's Honors Program (GHP), a summer arts intensive sponsored by the Georgia state government. During my solo at the end of the summer something clicked. I just knew that I wanted to dance.
VA: Chris, how did you end up dancing with Ailey and why do you continue to pursue dance with this company?
Wilson: GHP offered a college discussion for upperclassmen. I heard about Fordham University in New York and their support for the arts through the BFA program. In partnership with the Ailey company, Fordham and Ailey aim to provide a liberal arts college education while training dancers to prepare for the professional arts industry. It's definitely challenging going to school and dancing professionally. My days are long so I've really learned to balance my time and use it wisely.
But I love dancing with Ailey because they've allowed me to get the college experience through Fordham, which I've always wanted aside from building my career in dance. I'm currently a senior but I finished my academics by my junior year at Fordham. This year, I'm only focusing on my professional job, which is where Ailey comes in. They've hired me for the company so while I dance and travel, I'm receiving credits to complete the program.
VA: Regarding this season specifically, what are you looking forward to the most?
Wilson: We've danced all over the world but not in New York yet so I'm really excited to be back in the city. Circular is a brilliant piece. Its a contemporary ballet by Jae Man Joo and I discover something new about myself every time I perform it. I'm especially looking forward to perform this piece in New York. It's such a positive environment and supportive space that I can't wait for everyone to experience it.
VA: Courtney, you were part of the Ailey/Fordham BFA program like Chris. What was it like going to school while pursuing a career in dance?
Spears: I've always loved school but I am also passionate for dance. Fortunately, Fordham allowed me to do both. Its definitely a hectic schedule as Chris said but finding the balance between school and dance helped me grow and stay sane. I didn't have much time to focus on anything else, which pushed me to really work on my passions full force.
VA: At what point did you decide that Ailey was going to be the community that helped you develop your artistry?
Spears: I saw an Ailey performance for the first time my sophomore year of high school because my teacher at the Baltimore School for the Performing Arts, Linda Denise Fisher Harrell, exposed me to their work. Before Ailey, I had never seen a black body create art in such a graceful and celebratory manner. There was an abundance of story-telling of the black experience and history in America. Since then I've loved the company. But what the company stood for was really important to me. Their story never grows out of style because the repertoire stays true to Mr. Alvin Ailey's vision.
VA: What is some advice you could offer to high school students struggling to find an opportunity to attend college while aspiring to pursue their artistic career professionally?
Spears: You don't have to give up either one. You are making a sacrifice if you want to do both but it is a huge commitment and completely doable. The BFA program was the best four years I could have asked for because I didn't have bills to pay or anything. I was making connections and building relationships with the teachers and professionals in the industry. I really encourage people to be proactive and set yourself up for success in the intensive experience of balancing school with other other passions.
VA: Chris expressed his excitement for a particular piece this season. Are there any pieces you're excited to perform in New York?
Spears: It's actually bittersweet because this is my closing season with Ailey. It feels like a really great chapter is coming to an end so I'm excited to bring everything together and dance in the building I love and started in. It'll be the last time I get to share the stage with my friends since freshman year. I want these last few performances to celebrate what a wonderful time I've had.
I can't say I'm excited for one specific piece though. This season showcases all of us in incredible ways. Because the repertoire is so diverse, we're able to switch hats throughout the night and demonstrate our versatility as artists. And I'm definitely excited to be back in the city. There's nothing like dancing in the city!
Even with the departure of Courtney Celeste Spears, Ailey II has prepared an incredible season premiering Wednesday night in New York City. The program includes three amazing world premieres - Circular (Jae Man Joo), Stream of Consciousness (Marcus Jarrell Willis), and Sketches of Flames (Bridget L. Moore) - and 12 incredible dancers described as "spectacular beings" delivering "sparkling performances" as stated by the New York Times.
Ailey II will be performing at the NYU Skirball Center for the Performing Arts this Wednesday, March 29th until Sunday, April 2nd. Starting at only $15, tickets for these provocative performances are on sale today! Click here for more information about the Ailey II company and don't forget to buy your tickets by clicking here now!
This post was published on the now-closed HuffPost Contributor platform. Contributors control their own work and posted freely to our site. If you need to flag this entry as abusive,
send us an email
.