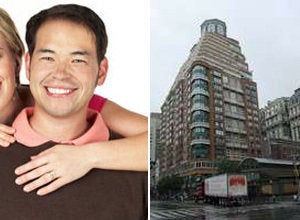 "Jon & Kate Plus 8" newly single dad Jon Gosselin has supposedly moved into a two-bedroom apartment in The Alexandra, an Upper West Side building at 201 West 72nd Street.
People reports he moved into the building recently and stayed a night, shortly before taking off for France with his girlfriend Hailey Glassman and visiting his eight kids in Pennsylvania, where he is also obligated to film his TLC reality show.
The building, on the corner of Broadway, has a few comparable listings currently for rent, which can be seen on Streeteasy.com.
The two two-bedroom apartments now available for rent are going for $4800 and $5000 a month, and are 1076 square ft and 1150 square ft respectively.
The average for-sale price in the building is $1,148 per ft.
No word how much Gosselin is paying or how many beds he's put in to possibly accommodate a visit from his sizable brood.
Popular in the Community