America has 8 million animals in their shelters, and only half of those make it out alive. Troubling statistics like these, which only seem to multiply each year, were enough to keep Emmy nominated producer, and avid dog-loving activist, Michael Levitt awake at night. So he took action with the most powerful medium in the world - television - and made history in the process. Last Thanksgiving day, FOX broadcast Levitt's creation, the first ever prime time dog adoption special. Hosts Jane Lynch and Hilary Swank (who also Executive Produces with Levitt) along with a who's who of film, music and TV stars, helped inspire more than 4,500 dog adoption applications.
This Thursday (FOX 8pm - 10pm) marks the welcome return of Levitt and Swank's All-Star Dog Rescue Celebration, an uplifting two hour spectacular, which is fast becoming as much of an annual Thanksgiving Day tradition as Macy's Parade.
In the middle of producing this year's show, I managed to sneak a few minutes in with Michael Levitt to find out more about The All-Star Dog Rescue Celebration.
Xaque Gruber: Who is hosting this year, and how did they come aboard?
Michael Levitt: Kaley Cuoco, who has proven time and time again, that there is nobody more passionate about helping animals. She is a true animal activist and we are so grateful to have an actress of her caliber and level of popularity agree to host this year's show.
Host Kaley Cuoco loves up a little pooch (Photo by Greg Gayne/FOX):
XG: If you could name a few of your favorite doggie memories from last year's telecast, what would they be?
ML: Highlights for me included the substantive moments that conveyed the messaging about the importance of rescuing. Our piece from the organization Hope for Paws introduced by Channing and Jena Dewan Tatum about Lexy & her pups that were rescued from the streets of South Los Angeles and nursed back to health. Also the piece we did from The Beagle Freedom Project showing the first moments beagles were freed from laboratory cages and touching grass for the very first time. I also loved the march of the basset hounds which included a parade of 35 of the most adorable basset hounds taking over our stage.
Betty White and Kathy Griffin bond over their love for dogs on The All-Star Dog Rescue Celebration (Photo by Greg Gayne/FOX)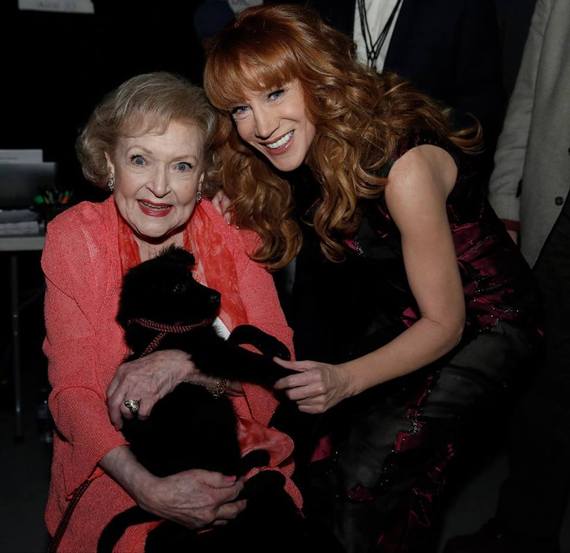 XG: I loved last year's variety of humorous segments like when Max Greenfield tried to identify which dog was his from a lineup and couldn't at first. Are you able to tease any new or returning segments we can hope for this year?
ML: Viewers can look forward to us featuring over 200 dogs this year on the show! This will include a "march of the bulldogs," this year's version of what we did last year with the basset hounds. Additionally, we will be including exclusive coverage of Wings of Rescue's holiday airlift in which over 1,000 dogs are being transported from high kills shelters in Southern California to rescues all over the country waiting to receive them and place them into loving homes. This will all unfold throughout our show and the final 100 dogs will actually walk through our audience down a red carpet to airplanes outside of our venue waiting to take them on their freedom flight to forever homes. We actually have officials on hand that will hopefully certify this holiday airlift as a world record for the most rescue dogs being transported to forever homes during one airlift operation.
Many may not realize that Oscar nominated actress Linda Blair has dedicated her life to rescuing dogs in greater Los Angeles. Here she is with an adorable friend on the red carpet for The All-Star Dog Rescue Celebration (Photo by Scott Kirkland/FOX):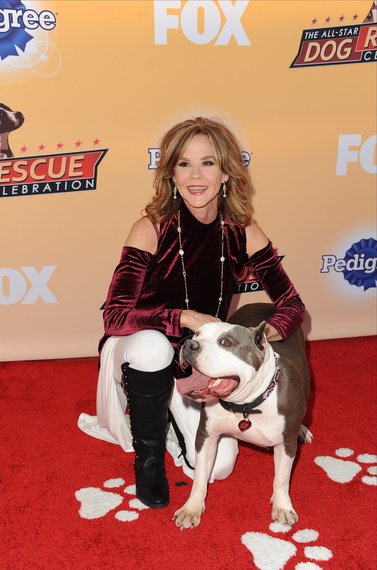 XG: Is there anything that you learned from producing last year's show that surprised you about working with dogs on TV that you didn't expect?
ML: Producing a show like this is unlike anything I have ever done before. You can imagine the logistics that are involved in including over 200 dogs in the show. Safety is our first concern and we go to extraordinary lengths to make sure the dogs are extremely well taken care of. This starts with insuring each dog has up to date vaccines, certified health certificates, and is temperament tested. Additionally, even though we have a lot of human stars on stage, we want these dogs to be treated as the stars of the show. Each dog has it's own luxurious kennel themed as a dressing room with red carpeting and their name on a star on the door of the kennel. There's also a "Treat Suite" or "VIP" room which stands for Very Important Pooch in which dogs can receive bellyrubs throughout the night. Gift bags with treats are given to each dog. And last but not least, I'm fairly certain this is the only television special that has "poop stations" on stage left and right!
Legendary singer/songwriter Emmylou Harris loves up a cutie at The All-Star Dog Rescue Celebration (Photo by Scott Kirkland/FOX)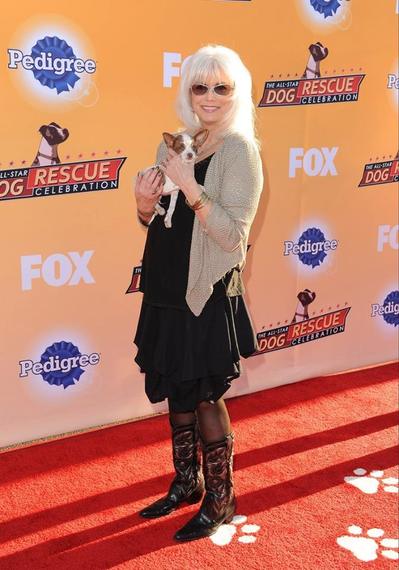 XG: Have you noticed any positive shifts in dog rescue as a result of last year's show?
ML: As a result of last year's show, we received over 4500 adoption applications on the dogs we featured and over 200 people signed up to become fosters. Many rescues reported over 15,000 hits on their websites after the show aired. While we raise money on the show to help rescues along with adopting out the dogs we feature, the primary goal of the show is to create awareness and hopefully encourage viewers to choose rescue instead of going to a breeder or pet store that sells puppy mill dogs. Over 4 million people watched last year's special and I am confident that most of them were touched and influenced by the show and hopefully will rescue the next time they bring a dog into their family.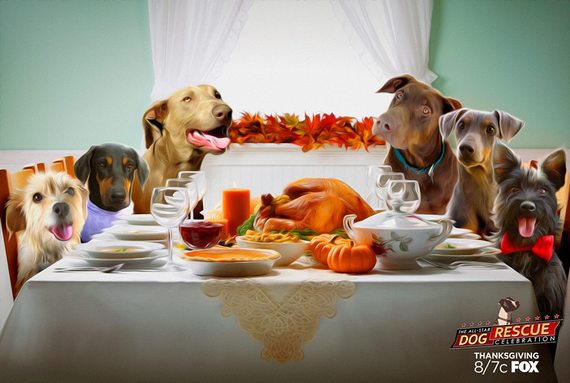 Calling all HuffPost superfans!
Sign up for membership to become a founding member and help shape HuffPost's next chapter