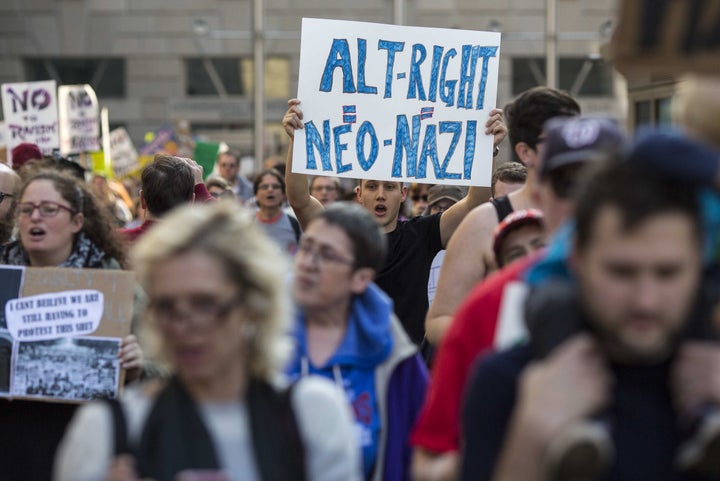 The social media world was recently set ablaze when a video of Richard Spencer surfaced. However, what made this video unique is that it showed the alt-right leader being punched in the face as he reported on protests that are cropping up across the country.
As the video indicates, to say that many aren't happy about Trump's presidency would be a gross understatement. If that's not enough the mass of protests that broke out after the November election are a clear sign that there's a significant chunk of Americans who find themselves utterly disgusted with the current state of affairs.
Add the groundswell of public outcry that has broken out since the inauguration, and it is at once apparent that the incoming President's election has set off a groundswell of public unrest. For example, during her Golden Globes Awards acceptance speech, Meryl Streep lashed out at Mr. Trump for his insensitive remarks about a disabled reporter.
These incidents and more lead us to the question, what exactly is the source of all these negative emotions and feelings?
A nationalist message and the rise of American anger
Alt-right by definition includes many things that Donald Trump said during his campaign, much of the policies that the alt-right movement embraces could be described as extreme populist nationalism. It encompasses Islamophobia, xenophobia, and white supremacy among many other negative perceptions of others. To make matters worse, there are many instances during the campaign when Trump added fuel to the fire with his hateful vitriol. Hence, it can easily be said that President Trump is to blame for the protests, burning cars and all.
One need only witness the hate that Muslims, Latinos, as well as other immigrants, have endured after Mr. Trump's inflammatory messages to know that Mr. Trump's words and actions are setting a dangerous precedent.
Contrast President Trump to FDR or JFK whose words ensured national unity and cohesion and then it becomes apparent that Donald's message is anything but conciliatory. Instead, his words have served to whip up the emotions of the alt-right, while simultaneously provoking the radical left's ire.
Trump takes steps to stoke Anti-American sentiment
America is comprised of a conglomeration of people from diverse geographic, racial, and religious backgrounds. It is arguable that this diversity is one of the factors that has already made the country great.
Furthermore, the open borders policy that America had embraced during the Obama era allowed many to escape the harsh realities of life in developing nations to realize the 'American Dream'. However, based upon campaign trail promises along with the latest string of executive actions it appears that those days are long gone. President Trump tweeted on Tuesday, January 24, 2017,
Big day planned on NATIONAL SECURITY tomorrow. Among many other things, we will build the wall!
On Wednesday, January 25, 2017, he also signed an executive order blocking Syrian refugees indefinitely, as well as putting a temporary halt to immigration from Muslim countries.
Granted, not all of those that come to our shores do so with good intent. However, do the few bad actors justify sweeping actions against an entire region? These are dangerous times to be an immigrant in America, which is indeed a sad situation.
That said, it is a whole different story when you talk about ejecting those already living in the United States. Take second generation Mexican-Americans for example. Most of them were born in the United States. So, telling them to go back home, a home they do not even know, is as impractical as it's cruel. Essentially, it's a recipe for disaster.
Islamophobia—from concept to implementation
While years of biased media reports have conditioned many Americans to view Muslims with suspicion, the numbers tell us that the overwhelming majority of Muslim immigrants are law abiding residents and citizens. Hence, amidst the flurry of legislation making its way from the Oval Office is it any wonder that some are once again making Hitler comparisons.
Based on a recent NBC News/Survey Monkey poll most view the singling out of individuals due to race, ethnicity, gender, religion, sexual orientation, etc. to be wrong no matter how you slice it. This is especially true in the case of refugees who will now be forced to pay for the sins of others.
A vicious tug of war
As mentioned above part of the President's job is to push for unity, especially during the transition from civilian-life to POTUS. Nevertheless, we've seen little of that since his inauguration speech. On the other hand, what is evident is that thanks to the incoming President we now have a major tug of war between the alt-right, who are in power, and the extreme left, who continue their demonstrations in streets across the country.
Many of the protesters appear to be carry overs from the Bernie Sanders crowd who would seemingly protest anything Trump does—whether good or bad. We can surmise from the election results where he won the rural areas but lost many of the larger cities that this clash of world views has the potential to spill over into something far worse.
Although you cannot compare the magnitude of the present situation in America to that of the Arab uprising, it doesn't take masses of the disgruntled to effect negative change. Of course, history teaches that this type of transformation occurs before mighty nations fall and America is arguably the greatest of them all. Since almost everything that happens in America has ripple effects across the globe, we can only hope America doesn't follow in the footsteps of many other once great nations by collapsing under the weight of massive social upheaval.
Calling all HuffPost superfans!
Sign up for membership to become a founding member and help shape HuffPost's next chapter