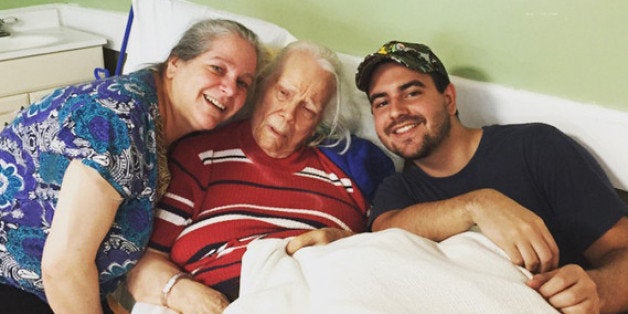 My grandfather knew he was going to see my grandmother with his caregiver that morning. He was still living at home and my grandmother was living in a nursing home. She was the love of his life and he could no longer take care of her. He began to prepare a bath, which he only did if he was going to see her. He always wanted to look his best when he saw her.

When his caregiver arrived at his house, there was no answer at the door. A few minutes later, still no answer. She dialed 911.

It was a tragic end to their love story 66 years in the making. Tragic not only because my grandfather is gone, but that my grandmother has Stage 7 Alzheimer's. She was and still isn't able to comprehend that her husband of 66 years has passed away. There was no goodbye, no grieving, and no true ending to their story -- a story that I've watched and admired my entire life.

Alzheimer's is a disease. It's a disease that my grandmother has no medical coverage for. A disease that costs her over $300,000 in just two years. A disease that took her ability to speak, to walk, to eat, to go to the bathroom, to sit in a chair. A disease that took her memories, her perception of time, her ability to hold the Mother's Day card I got her. A disease that kept her from seeing her grandchildren graduate college and kept her from attending her husband's funeral.
But she's not gone. She's still here. This is not an obituary.
She fought her entire life for the American Dream. She came to America as an immigrant from Greece without speaking a word of English, fell in love with her husband in New York City, worked in the factories as a seamstress through her Great Depression, raised her beautiful, big, fat Greek family and always, always gave everything she had to others.
Alzheimer's will not be how her American Dream ends. It's time to raise our voices for those who can't. To stand up for those who can't. To fight for those who can no longer fight.
She is the greatest fighter I've ever known and she will keep on fighting. And she's not alone. She will never be alone.
From our days as newborns, my grandmother was always there to take care of us. My siblings and I are 19 months apart from each other so we were a lot to juggle growing up. When my family would go out for the day's adventure, my mom had my brother, my dad had my sister, and my grandmother had me. She always had me, and now I have her.

As of 2015, the cost of Alzheimer's paid out of pocket is $44 billion dollars. Alzheimer's care needs to be covered for everyone.

The disease progressed to the point where my grandmother could no longer live in her own home and my family could no longer take care of her by ourselves. My grandmother stays in a four-star nursing home in a unit specializing in Alzheimer's care that costs over $10,000 a month. Do not be fooled by that rating.

But going into a nursing home is not the end of the battle. Stay positive and be there for them. Be their voice. Love them. Pretend like nothing is wrong and give them a big smile -- your biggest smile. They're still the person you knew your entire life.

My grandmother, Sotiria Catacalos, is a victim of Alzheimer's. As of 2015, 5.3 million Americans are living with the disease. Alzheimer's disease, the sixth largest cause of death in America is the only cause of death among the top 10 that cannot be prevented, cured, or even slowed. This disease needs to be taken seriously. It will not be a new norm.

Alzheimer's has taken my grandmother's ability to walk, eat and participate. But, every time I see her, she still gives me the biggest kiss.

She remembers me. I know she does. Love will trump this disease.

June is Alzheimer's Awareness Month. To learn about how you can help fight this disease please visit www.alz.org.
Related