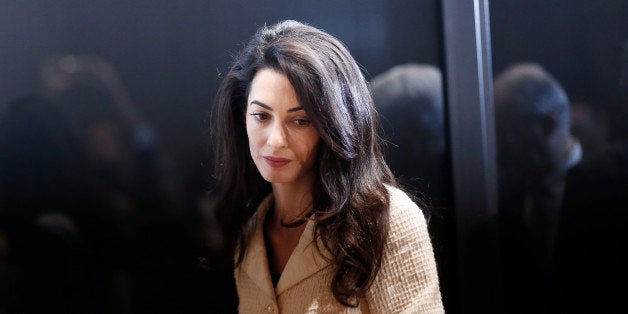 Amal Clooney. Glamorous, famous, and intelligent, with the academic and professional credentials to match. More and more these days, we're seeing women lawyers getting international celebrity news coverage. And, as a new female lawyer myself, I absolutely love it.
It's hard to ignore the recent influx of female attorneys in pop culture. Whether they are married to movie stars or making a career in entertainment for themselves, these women are frequenting the celebrity newsfeeds of today and making them stronger at that.
Amal is the perfect example. She's a human rights attorney, went to Oxford and NYU School of Law, and has worked for now-U.S. Supreme Court Justice Sonia Sotomayor. Yet she is also on the cover of People and in the pages of Us Weekly.
Savannah Guthrie, co-anchor of the TODAY show, is another case in point. She graduated magna cum laude from Georgetown University Law Center, got the high score on the Arizona Bar Exam back in 2002, and is NBC News Chief Legal Correspondent. But you can also find her featured on Perez Hilton and Radar Online.
In fact, ABC's most recent Bachelorette is a lawyer, and a former Real Housewife of New York City has her J.D. Our beloved late-night talk show host Seth Meyers is married to an attorney. There is even a recent, albeit controversial, fictional NBC show about a female judge.
Some may say that the fame associated with these women comes with their movie star husbands or involvement with television. And, while there may be some merit to those arguments, I'd like to think of this trend as something bigger than that -- a societal change. A change in attitude where people are developing a deeper interest in the world around us. Where people are developing a greater curiosity in the glamorous and philanthropic, the elegant and smart, the chic and socially conscious.
Media attention is a powerful tool. No matter how the spotlight finds these women, it really doesn't matter. They are more likely to use it and harness it to affect our world in a positive way.
That is the impact several of my colleagues and I strive to make with our law degrees.
Still, to be safe, I'll just throw this out there -- Leonardo DiCaprio, call me!
Support HuffPost
The Stakes Have Never Been Higher
Related
Popular in the Community