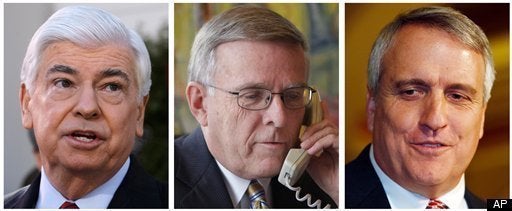 The lobbying world is atwitter over two new hot job prospects: retiring Senators Chris Dodd (D-Conn.) and Byron Dorgan (D-N.D.).
"If you think of the Senate as the Roman Colosseum, those gladiators who know the arena are the most valuable," said Ivan Adler, a headhunter with the McCormick Group. "And today those are Senate Democrats."
The ultimate gladiators are the senators themselves; their staffers also are mighty.
Facing a tough reelection, Dodd said that "there are moments for each elected public servant to step aside and let someone else step up." Dodd hasn't offered clues as to where he might step next, although there's been speculation that he may join the administration. But K Street will inevitably beckon as well.
Dorgan addressed his future plans in a statement: "I would like to do some teaching and would also like to work on energy policy in the private sector."
Working on energy policy in the private sector sounds a lot like working for a lobbying firm, but the senator's office declined to elaborate when queried by HuffPost.
Senators are required to wait two years after leaving office before they can lobby Congress, but the "cooling off" period isn't really much of an obstacle. Among other things, it doesn't prevent lobbyists at the firm from using a former senator's expertise to the fullest extent possible.
Unlike some senators ready to retire, Dodd and Dorgan both intend to finish their terms. But their staffers don't have to wait, and it's likely that some will bolt before the 111th Congress ends and the next Congress convenes. Most staffers have a one-year "cooling off" period (some with smaller salaries are exempt), but their hiring prospects are strongest in the near term.
"Once your rabbi leaves, your value always goes down," said Adler, who has helped staffers and elected officials from both parties and both chambers of Congress find their way to K Street. "Although they are prohibited ethically from doing certain things for a certain period of time, their value is always higher while [their former bosses] are still there."
Several current Dodd, Dorgan, and banking committee staffers are former lobbyists to begin with, which is typical on the Hill.
Adler said the hiring climate has been especially good for former staffers and members of Congress because President Obama's anti-lobbyist stance has made it more difficult to lobby the executive branch. "The people who are only effective to lobby on the Hill have become more valuable."
Dodd's electoral troubles were related to his closeness to the financial industry and accusations of impropriety. But none of that will matter after his term ends, career-wise.
"This is a town where failure doesn't matter," said Adler. "It doesn't matter if you fail in Washington. You have to be indicted and go to jail almost for failure."
Calling all HuffPost superfans!
Sign up for membership to become a founding member and help shape HuffPost's next chapter