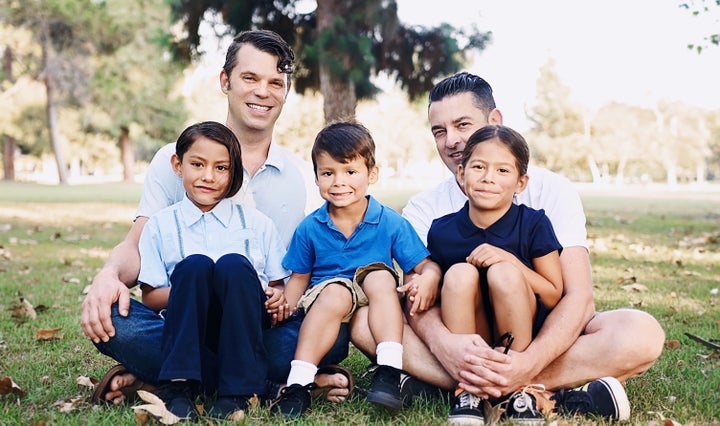 To mark National Foster Care Awareness Month in this RaiseAChild "Let Love Define Family®" series installment for Huffington Post Queer Voices, contributing writer Eric Criswell shares the story of one family's path to parenthood.
Craig Sauer and Mike Lawrence, both in their mid-forties, have the life that many young gay and lesbians dream of. They have been together for nearly sixteen years, married with three kids, have a beautiful home with a pool, each run a small business from home in Long Beach, California, and they travel frequently to Hawaii. As a family, they often can be found bike riding, roller skating or taking in a museum on a Saturday afternoon, with their twin girls, Sofia and Victoria, and their son, Ryan.
"Don't hesitate and don't over think it." That is the advice that Mike offers up to those contemplating becoming foster-adopt parents. He and Craig have lived that advice to create their family.
Kids were not immediately on their radar when they first met in a bar in Laguna Beach in 2001. As time passed, and the craziness that always accompanies the beginning of relationships started to calm down, they began discussing becoming dads. The two became domestic partners and started their search for options to create a family.
Craig explains, "We were in limbo about researching different options, so we decided to divide and conquer, each spending time considering viable scenarios, and would see who would get to an acceptable way first."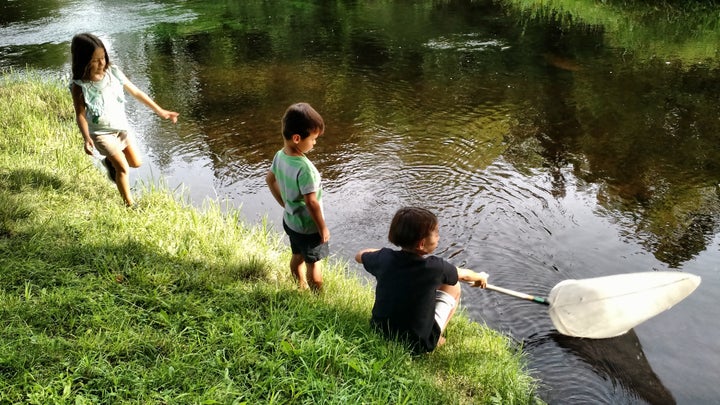 Mike admits he was initially hesitant about the foster system because of his fear of bonding with a child and possibly losing them. His trepidation subsided when, through a friend, they met a gay couple that had adopted siblings through the foster care system and convinced Mike that the risk was worth the reward.
Soon they found themselves working with Extraordinary Families, a nonprofit foster family and adoption agency based in Los Angeles, and in October of 2009, they received their certification. They made it clear they were interested in siblings, for two reasons. First, they both had grown up with siblings and wanted their children to have that experience, and second, because through their training they heard so many stories of brothers and sisters being separated, that they wanted to do what they could to keep this from happening again.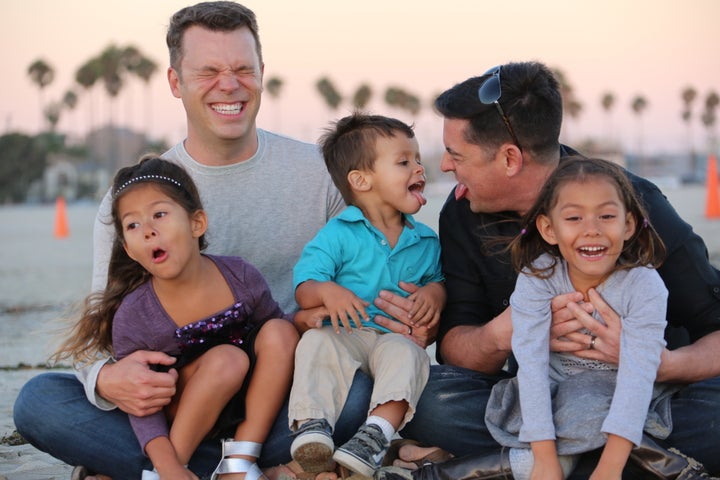 They began to get calls about a number of placements that didn't work out for a variety of reasons, but they never lost hope. Then at noon on a February day in 2010, the call came about newborn twin girls. Though they wanted siblings, they had not imagined they would get twins, or infants, but they felt this might be the right fit and agreed. With five hours till their arrival, the two knew one thing for sure, "We had to go shopping!"
"The house was minimally ready for foster care," says Mike, "but not for babies."
Craig tells the story, "Mike and I printed out a list of infant necessities, but that seemed overwhelming, so we called friends of ours who had just had a baby and asked for her advice. She helped narrow it down to what we really needed, so we jumped in the car and headed for Babies-R-Us. When we got there, we went straight to the manager and asked if someone could follow us around with a cart because we had a lot to buy. Both the clerk and the manager were with us as we filled four carts with cribs, strollers, car seats, and all the little things on the list. It took two car trips to get it all home."
By 5 PM the two walked into the DCFS office in downtown Los Angeles, and picked up their baby girls. "It was a surreal moment." Mike says, "Suddenly they brought them out in their hospital blankets and handed one to me and the other to Craig, and it hits you that 'this is real'. It was a magical moment that changed our lives."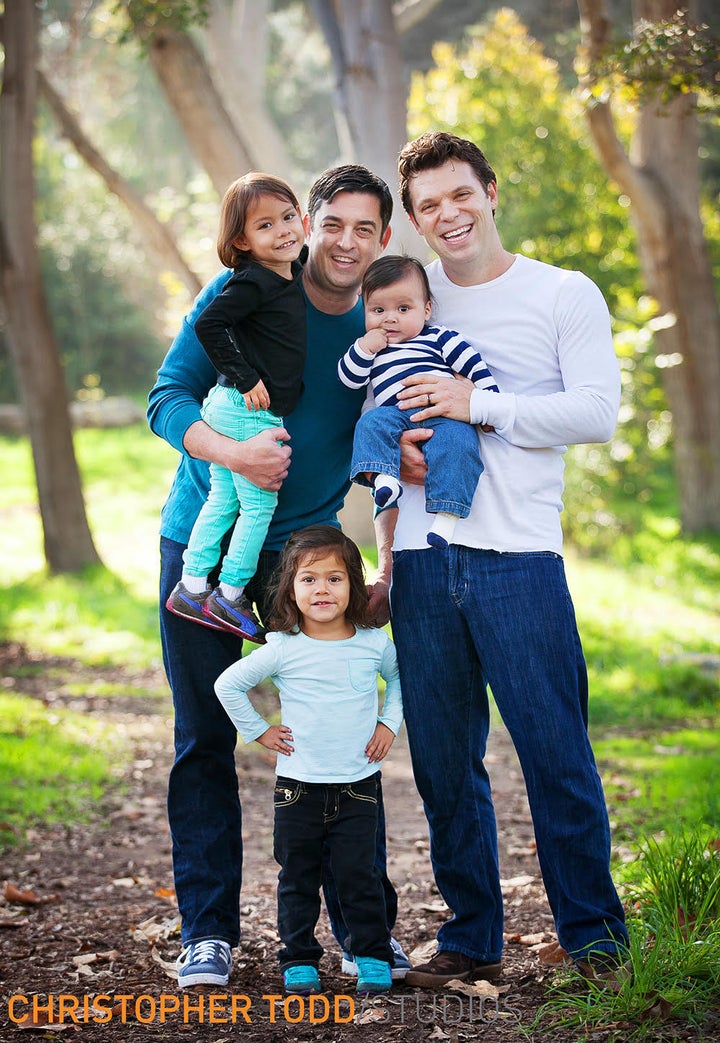 One thing you quickly learn about these two is that, as a couple, they are in-sync and complementary to each other. It was apparent in their division of labor with the night feedings. Since Mike was still working at the time in the hospitality industry, Craig took the night watch for the bottles and diaper changes every three hours.
"Initially, Mike felt guilty sleeping in the king bed as I was up through the night." Craig explains, "You hear a lot of this discussion with straight couples, with one person doing the night feedings while the other one feels guilty, but we felt that was just crazy to have both of us up and not sleeping. I didn't want a situation where we were both up all night because of guilt."
For the first three months Craig would take care of the girls through the night. Luckily, the twins were in sync, too. One would get up and need feeding, and when that feeding was done, the other would start fussing to be fed, so it worked out. Craig points out, "They were such good babies. Once we got to three months, they started sleeping through the night. All-in-all, it wasn't that bad."
They knew from the beginning that there was little chance the biological family would contest the adoption, and they made a point to build a relationship with the twins' aunt. Not only did they want to maintain a biological connection for the girls' sake, they also wanted the family to be confident the babies were in good care.
Before the girls were officially adopted, Mike and Craig started to have the conversation that it would be nice to have another child, a little boy. They went back to the agency and voiced their interest, this time being very specific. They wanted an infant boy, with Latino heritage so that he and the girls would have that commonality, and no chance of reunification with the birth parents. The initial response was skepticism that they would be able to meet the list of requirements, but two months later they received a phone call.
"We were at the beach with the girls," Mike says, "Craig got a phone call, and from his face and body language, I could tell it was the call we had been waiting for." A few hours later they had their little boy, Ryan.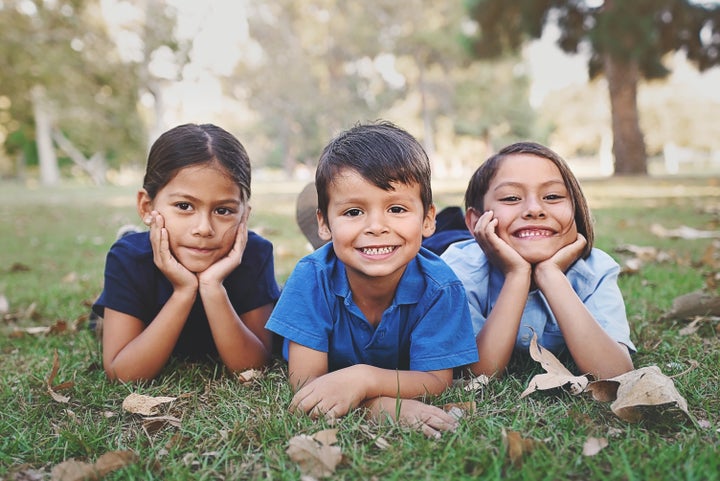 It's what happens next that the couple finds truly remarkable.
On August 29, 2012, the adoption of the twins was finalized. During the months that followed, they were continuing the court process to adopt Ryan. The judge that was presiding over the proceedings jokingly inquired about when Craig and Mike were getting married and if they did, they should call him because he does great ceremonies. A wedding had been something they had discussed, but had their hands full with being parents.
The notification for the court date to finalize Ryan's adoption arrived, and coincidentally was one year to the date of the adoption of the twins, August 29, 2013. The importance of it being on the same day sparked an idea, and Craig and Mike decided to apply for their marriage license two days before the hearing.
When they arrived at court that morning, they had their attorney ask the judge if he would do the honor of marrying them.
"Mike's parents were going to be there for Ryan's adoption." Craig says, "We didn't tell anyone what we were planning. At the end of the procedure the judge asked if there was anything else he could do for us, and we responded that we wanted him to marry us, right now! It was a surprise to everyone, and the judge was fantastic."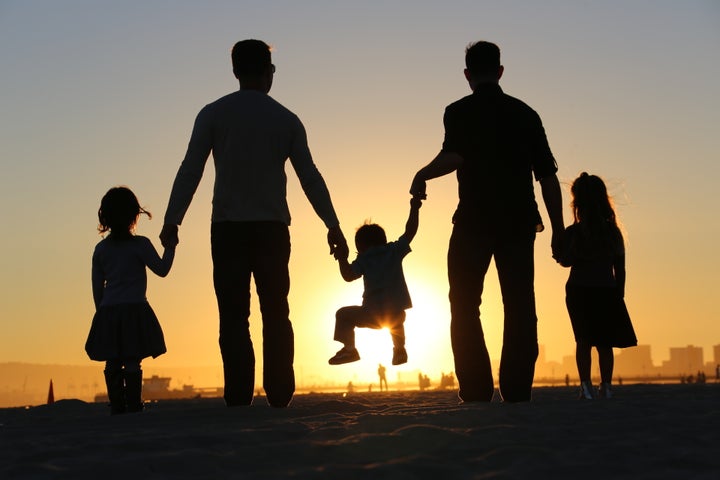 Mike continues, "August 29th is now what we call, 'Family Day'. It's the day we adopted the girls, the day we adopted Ryan, and the day we got married. So that day is special and sacred to us. We make sure we spend that day together and do something fun."
The years have passed, Sofia and Victoria are seven years old, and Ryan is now four. Sofia and Ryan share an interest in LEGO's and building things out of whatever they can find. Victoria has taken the role of older sister, being the one in control and in charge, and defending her siblings if they ever feel threatened.
"We've never had an issue with us being gay dads." Craig declares. "The world is changing, and the reality that there are many different definitions to what it means to be a family is making the world a better place for everyone."
RaiseAChild is a national 501 (c) 3 nonprofit dedicated to building loving families for foster children. RaiseAChild has engaged more than 3,000 prospective foster and adoptive parents as the nationwide leader in the recruitment and support of LGBT and all prospective parents interested in building families through fostering and adoption. For more information, go to RaiseAChild.org or call (323) 417-1440.
You are invited to attend the fifth annual RaiseAChild HONORS fundraising event, sponsored by CBS Corporation, KidsEmbrace, and Banc of California, 7PM on Saturday, June 10th at the Jim Henson Company Lot in Hollywood, CA. Explore the studio lot while enjoying live music, fancy drinks, and designer auctions. Actor Matt Dallas and husband, songwriter Blue Hamilton will be presented the "Let Love Define Family®" Award. Tickets available at https://raiseachild.org/event/honors/.
Popular in the Community