In the often dodgy realm of reality television, "The Amazing Race" is a shining beacon of quality. While other shows tend to turn tangled, tacky or just downright scripted, "The Amazing Race" holds to a standard that few have matched. The televised race around the world -- now in its twenty-fifth season! -- has won 15 Emmys, including 10 for "Outstanding Reality-Competition" -- a reality program's top honor.
Elise Doganieri accidentally birthed the idea for the show while complaining to her now-husband, producer Bertram van Munster, about how "there were no good shows on TV." He challenged her to come up with something better. She remembered the pains and joys of backpacking Europe after college with a best friend. Why don't we do something like that?
A star was born -- one that would permanently change how we perceive travel.
"The Amazing Race" has visited an estimated 82 countries on six continents over the years. And with one host, 22 contestants per season and as many as 2,000 crew members around the world working on the show at any given time, there is a lot to coordinate. HuffPost Travel talked with Elise Doganieri, now the show's executive producer and a co-creator along with her husband, about the logistics of weaving such an intricate, time-sensitive and travel-heavy program.
Turns out the system is a lot more nonchalant -- but no less complex -- than you might think. Here's how they do it.
----------------------------------------------------------------------------------------------------
To plan the route, they literally just play with a massive map on the wall.
Doganieri and van Munster start as any masterminds of a 30-day world tour would: in a place they call The War Room, with a wall-size map of the planet. And very little is off-limits. "We think, 'what's exciting?,'" Doganieri says. "'Where haven't we been?'" To that end, the couple has multiple shoeboxes of old passports -- Doganieri estimates her husband has filled more than 25 of the extra-large kind.
They visit EVERYWHERE first.
After mapping out a basic route, van Munster scouts the actual locations while Doganieri stays home to cast the teams. On his scouting tour, van Munster might talk with hotels, meet with local producers or survey spots for the show's famous Roadblock challenges. When he comes back, Doganieri has a slate of contestants ready to go. That's when the couple heads to The War Room, where every episode of the season gets mapped out on a wall along with Roadblocks, challenges and Pit Stops. It's a giant puzzle of the most exhilarating kind.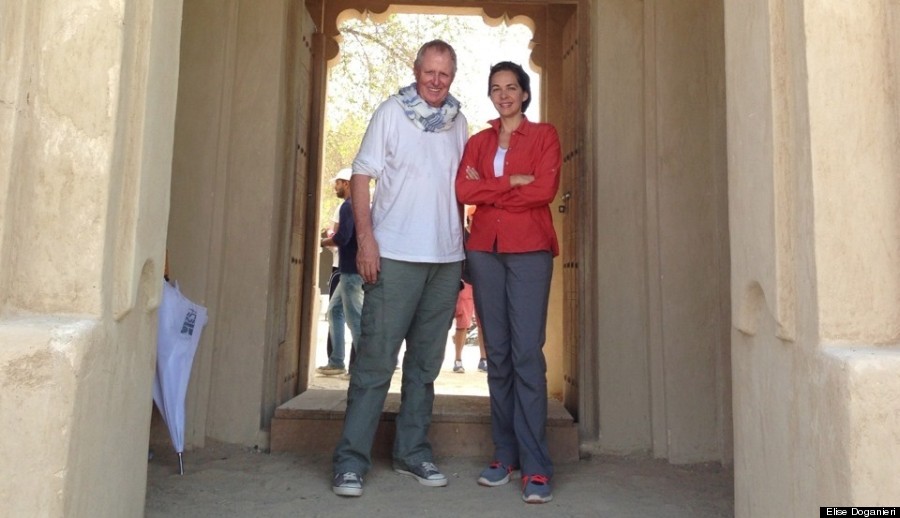 Doganieri and van Munster at Al Jahili Fort, United Arab Emirates during Season 23
Crews are staked out in every country ahead of time...
After being in the media business for decades, van Munster has production contacts all over the world. The show works with "local facilitators" in each season's host countries to coordinate filming permits, hotel rooms, translators and hire local cameramen, who take extra shots to supplement the cameramen that travel with the teams. By this point, "each country has all the details about what we have to do," Doganieri says. "It's kind of like a military operation."
...but the cameramen must be within 20 feet of contestants, no exceptions.
Doganieri is adamant that "The Amazing Race"'s traveling camera and sound crew is the show's secret weapon. "They don't get enough credit," she says. "They're running with a camera. They're the best at what they do." This involves staying within 20 feet of the contestants at all times -- every team of two contestants is assigned a cameraman and sound technician, who must be present with them for all plane flights, cab rides and mad roadside foot races. The show's story team follows too, to keep track of emerging plot lines and start the editing process even as the race continues to unfold.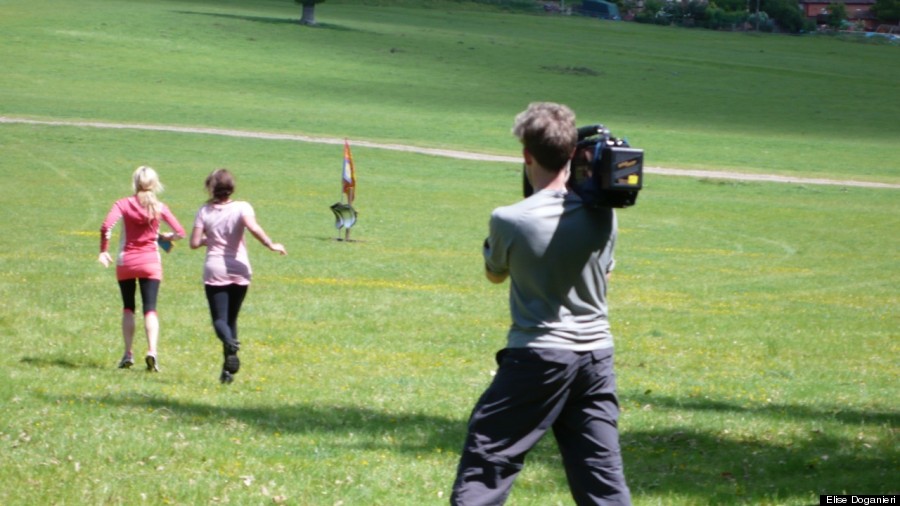 Cameraman Alan Weeks films two contestants at Eastnor Castle, England during Season 17.
Sometimes, they have to pull last-minute location swaps in the middle of the desert.
Yup, like when a sandstorm hit Tunisia during Season 1. "We had this beautiful Pit Stop, and everyone was dancing around the campfire," Doganieri remembers. "Then we got an alert for a sandstorm, and tents starting to wobble." The crew and contestants were forced to pack up in the middle of the night, drive 50 miles to a tiny hotel, and double-bunk until morning. THAT became the episode's new, impromptu Pit Stop. Whatever pops up, there's no stopping in a race as meticulously planned as this. "When nature happens, you just have to change plans," Doganieri says.
The crew has missed flights before, putting them behind the contestants.
About 10 seasons ago, Doganieri recalls, the contestants were on their way to Italy when the production crew's flight was cancelled. The crew had no flight and only hours to traverse Europe before filming resumed. After quick work with the show's travel coordinator, they hopped a bus, rode for 11 hours and made it to the location just in time. "We've been very lucky," Doganieri says. But contestants haven't always been so charmed. "Once, a team missed a flight and got so far behind that the show had to eliminate them in the airport," she says. Another took nine hours to complete a challenge in Switzerland -- and the production schedule just didn't allow enough time for them to keep trying. "We had to go out in the field in the dark and say, 'You're done.' It was really sad."
The crew gets to test every stunt.
While the camera and sound crew travels with the contestants, the production team usually gets to each pit stop about two days before, Doganieri says. They'll do run-throughs at each location and test Roadblock challenges so they're ready to go -- this includes physically assembling desks in the world's largest IKEA, boating, biking and even bungee jumping in New Zealand.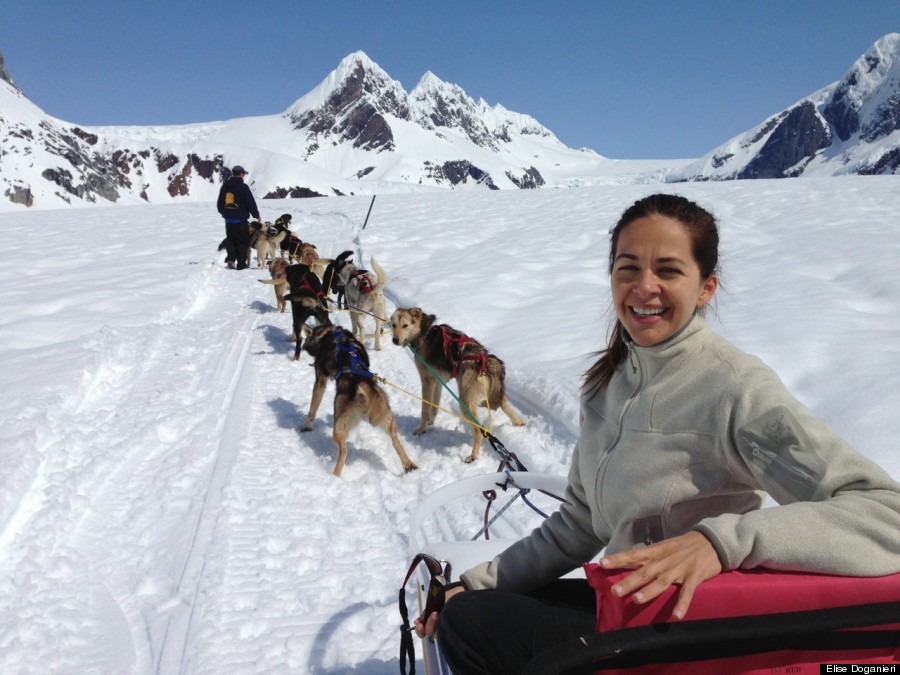 Doganieri scouts locations for Season 23 at Mendenhall Glacier in Juneau, Alaska.
Contestants are truly booking their own flights, in real time.
Producers will reserve tickets for the first episode, but after that contestants are on their own. You'd think producers would give them a little help -- but Doganieri says all her team does is monitor flights to anticipate which ones contestants are likely to take. After reading a clue, contestants will search on computers or run straight to the airport ticket counter, begging for the speediest route. "It's completely organic," Doganieri says. "Sometimes they'll find deals that get them there 20 minutes earlier by hopping from flight to flight. And we're just like, 'Wow.'"
Contestants are terrible at reading clues.
Doganieri says she's routinely surprised at how contestants rush through clues -- even though producers might tweak them for clarity on location after running through the challenges. "Contestants will read two lines and just start running," Doganieri says. "We're always saying to each other, 'Read your clue!'"
And the secret to winning? Be nice.
Doganieri says her favorite contestants -- and those that tend to be most successful -- take time to smile at locals, ask politely for help and show respect for the culture of the country they're racing through. This can result in game-changing advantages. "If you give just a little respect," Doganieri says, "you will get it back tenfold."
For more behind-the-scenes peeks, follow @EliseDoganieri on Twitter. "The Amazing Race 25" airs Fridays at 8 p.m. on CBS.

Related
Before You Go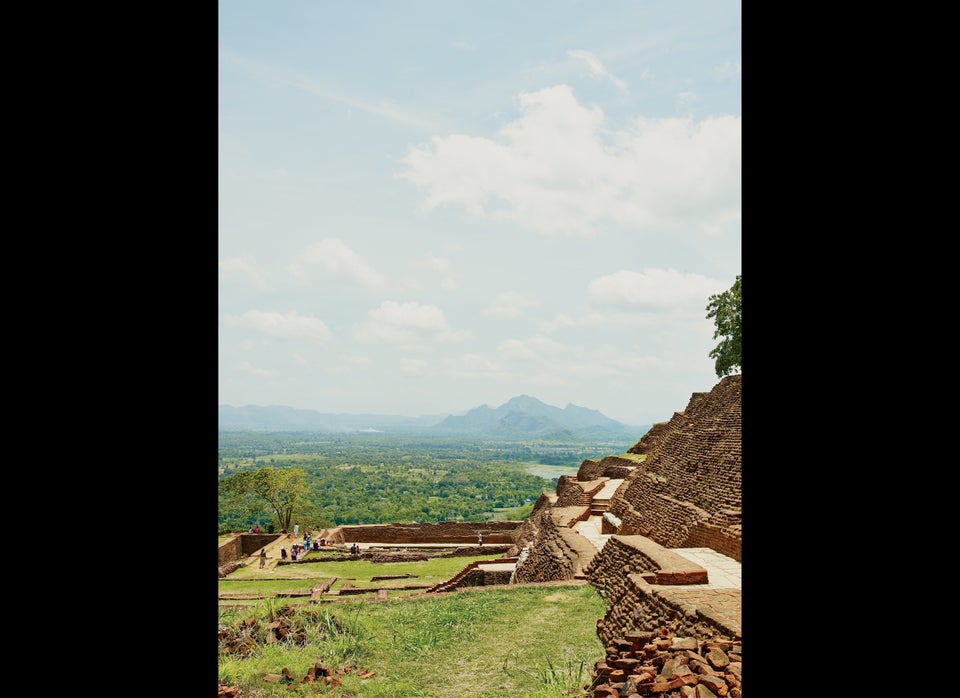 Best Adventure Travel Destinations 2014