Third grade teacher Malinda Williams has a special way of inspiring her students.
Williams, who has been an educator for 21 years, currently teaches at Baldwin Hills Elementary in Los Angeles, California, where she's made a name for herself with the annual Motown revue show she organizes.
Each year, students in different grade levels pay tribute to hits of the 60s and 70s with creative costumes and choreography. Through these performances, Williams and her students have gained internet fame, raised thousands of dollars for arts education, and even attracted the attention of a few celebrities.
"Motown music and old school R&B music were consistently played in my house growing up. I fell in love with it," Williams told The Huffington Post. "Once I became an educator, I felt compelled to share what I learned growing up with my students."
The teacher said she hoped they would fall in love with that period of music as well. "I wanted them to know about a time when music could be enjoyed amongst grandparents, parents, and children alike," she explained. "The lyrics are clean for the most part, and the music is that of quality. Actual people played the instruments, and the singers were naturally talented. Technology was not heavily relied upon."
With some help from parents and faculty, Williams choreographs dances and designs costumes for an annual "Sounds of Motown" show, which has gained widespread attention thanks to a few viral videos of the performances.
Williams said the seeds for the Motown revue show were planted back in 1996 when she was first looking for teaching jobs. "One of the interview questions was, 'Besides teaching, what else could you offer our students?'" she recalled.
Her response was simple: Dance. Though Williams' dance background was limited to classes she took in middle and high school, she channeled that experience and her "intrinsic love and passion for dance" into choreographing routines for Baldwin Hills Elementary's holiday performances, Black History Month programs and multicultural events.
For one Black History Month program, the teacher taught a group of boys a dance to "My Girl" by The Temptations. The number was a hit, leading many parents and faculty to suggest that she organize a full Motown show.
Shortly after that performance, budget cuts put the school at risk of losing its music teacher. As an advocate of the arts, Williams was determined to raise the money needed to keep the teacher's position. She decided to plan a Motown revue fundraiser.
Williams started working on the fundraiser in October 2013. While she had many female students who were enthusiastic about dance, she had trouble finding boys to participate at first.
"None of them had ever taken a dance class, and I had to coach them to not only perform well, but to take on the personae of whomever they were portraying," she recalled, adding that she taught the boys to replicate performances from acts like The Temptations, The Jackson 5, The Four Tops, Stevie Wonder and Marvin Gaye.
The whole process was an educational experience. "The students either didn't know, or knew very little about the Motown artists, so with each group, we went online and watched footage of each act, paying attention to the smallest of details," Williams said.
"They were increasingly motivated and excited to perform," she continued. "They studied independently, and would come to the following rehearsal with an added detail to improve their performance, such as my student who did Stevie Wonder with his signature head sway, or the smooth moves and precision of The Temptations."
The show finally took place in May 2014 and was a huge success. The seven months of hard work were "so worth it," Williams said. The 200-person auditorium hit full capacity, and they had to add more shows due to the high demand for encore performances. Videos from the show went viral, and they ultimately raised the money to retain the school's music teacher.
The following year, Williams organized a slightly scaled back Motown revue. The teacher recreated the choreography of a dance to pay tribute to New Edition. That video went viral as well, and New Edition's manager reached out to invite the boys to perform with the group at a live concert.
The family of Motown Records founder, Berry Gordy, also reached out to ask the mini Temptations to perform at a family fundraiser. Gordy attended the event as well, creating another special memory for Williams' students.
"I am really proud of the fact that these are just regular children," she said. "A few of the girls take dance classes, but other girls and all of the boys found their raw performance talent through the shows we performed."
Though there are many small mistakes throughout the dance numbers, Williams believes the most important thing is the pure joy the kids exhibit every time. "Their families are rooting them on as these children with no prior experience give their performance 100 percent," she said. "Every part of their being is left on that stage."
The teacher also noted that the Motown shows help her students learn about music history, dance, performance, backstage etiquette, stage presence, self-confidence and more. With their viral videos, the kids have also witnessed the positive impact their work can have on others.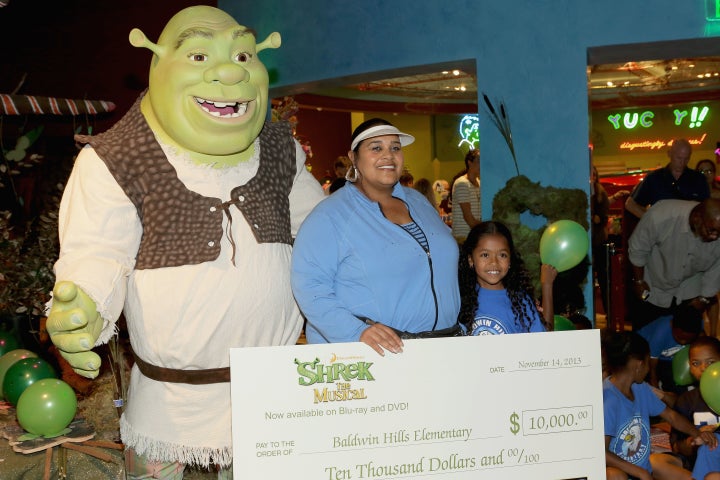 "They have brought smiles on faces of people that they will never see, and other educators have shared with me that my work has inspired them to share their gifts with their students," said Williams.
On a more personal level, Williams said she's learned the power of embracing and sharing your passions. "I am a woman of size, and I don't look like your typical choreographer," she explained, adding that she had to overcome her own insecurities to help her students follow their dreams and pursue creative projects.
"So when people see my students dancing, and comment with such positive feedback, I feel honored and proud," she said. "I want them to have a brief escape from whatever troubles they may be facing."
Williams has received messages from people saying videos of her students brought them joy in challenging times. One man told her his wife watched the performances from her hospital bed while battling cancer.
"He later thanked me after she unfortunately passed away, saying that he was happy to see her smile in her last days," she said.
Ultimately, Williams wants to know she's having a positive effect on her students.
"When I look back on my life, I remember those teachers who planted seeds in me," she said. "They made a difference in my life, and because of them and the lessons and private talks, and encouraging words that they shared, I felt like I could face certain challenges and adversity. It is because of them, that I do what I do with my own students."
She added, "When my students are older and look back on their lives at the teachers who made the biggest impact on them, I hope that one of the faces they picture will be mine."