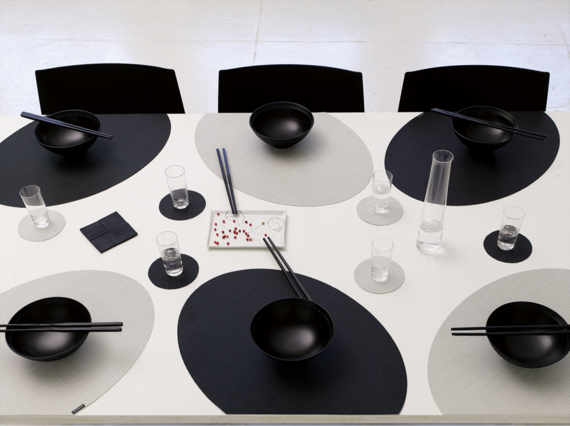 (Photo: Courtesy of Chilewich)
"Making something beautiful is easy... making it durable and easy to clean is my mission and passion," says Sandy Chilewich, owner and creator of the Chilewich brand. What is so interesting about Sandy's product is the myriad of areas she has explored with her product. From furniture, to pocketbooks, to flooring to window covering, this versatile material covers a broad spectrum of uses and looks. Sandy notes, "Our textiles, whether they are used for the table, floor, and wall or used as upholstery on furniture, are all designed to truly deliver on this promise." "Our designs and products are unique. They enhance and affect everyone's daily experience, from eating breakfast to walking across a floor, our products create a good feeling of the unexpected in your life!" Sandy adds, along with her husband and business partner Joe Sultan. Indeed, the breadth of Chilewich is wide and inventive.
Looking to find out how the idea evolved into its many versions, I asked Sandy about its origins. From the depths of chemistry and Sandy's imagination, the Chilewich product arose. Of course, it all started with the yarns, ever flexible yet strong!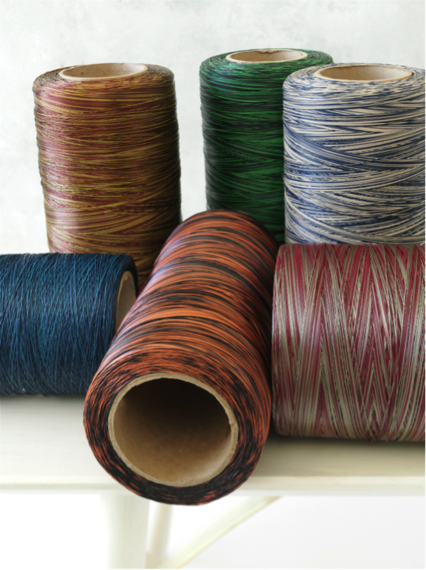 (Photo: Courtesy of Chilewich)
Sandy notes, "As often happens in the design process ... where you end up is not where you began. I was looking for a textile for a particular use which I couldn't make work ... but I fell in love with the textile I found and I just had find another use for it! I found multiple uses ... this material is just so hardworking as well as being beautiful. Every yarn that goes into our woven textiles we have extruded just for that particular texture and color we design. Our proprietary name for these extruded yarns is 'TerraStrand' and is composed of a core polyester or a fiberglass yarn which are incased with vinyl which is Phthalate free and contains 25% renewable vegetable content."
Below are some of the creative and utilitarian venues into which the Chilewich material has branched:
Placemats and runners: The most recognized of creations.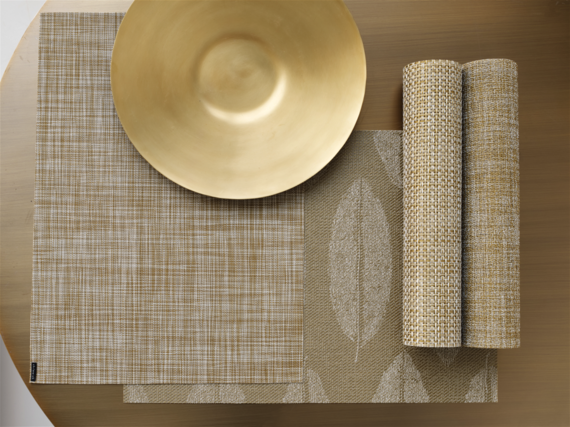 (Photo: Courtesy of Chilewich)
Sandy Chilewich says, "A table surface is like an empty canvas in a home or restaurant. It becomes a creative opportunity to express the mood of any dining experience from a simple breakfast for two to a chic New Year's celebration for twelve. The placemats or runners you choose to place on top of your table provide the anchor for any dining experience. The texture, pattern, color or shape you use, whether subtle or bold can bring out the best of your table surface and all the tableware that sits on top." And, textures, patterns, and colors galore they have. Tom Colicchio, founder of Crafted Hospitality and celebrity chef, says of the Chilewich product, "If you've been to any of my restaurants, you may recognize these placemats from our tabletops. Good looks aside, Chilewich placemats also have plenty of practical advantages. They're extremely durable, stain-resistant, and easy to clean and maintain. I can tell you first hand that these placemats withstand a lot of abuse and still look new - not only in the context of a busy restaurant dining room, but also from my two young boys at home."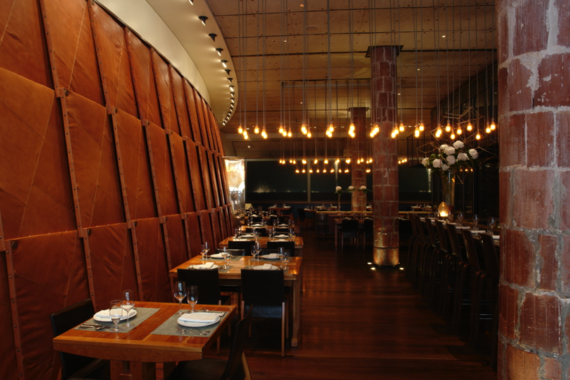 (Photo: Courtesy of Craft)
Floorcovering: Deck the Floors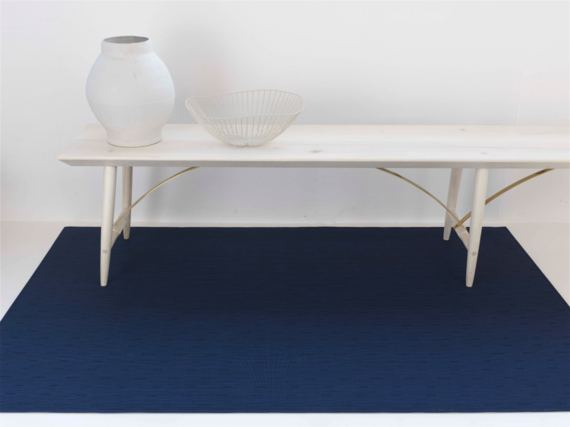 (Photo: Courtesy of Chilewich)
Perfect for indoors or the outside, the Chilewich area rug or wall-to-wall floor covering is ideal. Their woven textiles with latex backing are the modern alternative to tufted rugs. They provide a minimalist and easy to clean surface texture underfoot. The self-bound floor mats work under a dining room table or in a residential living room or the lobby of an office or hotel. Chilewich's wall-to-wall carpeting provides a continuous serene surface in bedrooms, offices, gyms or on the terrace. It is the ideal solution to withstand all types of spills and dirt, which can be vacuumed and mopped clean easily at home or professionally cleaned by maintenance staff if installed in a commercial setting.
Furniture: Form and Function with Cubes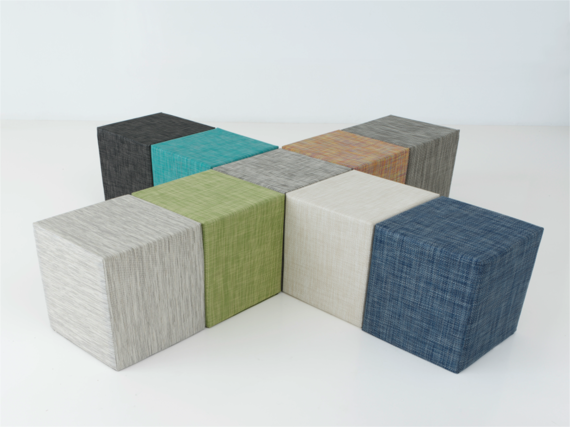 (Photo: Courtesy of Chilewich)
What could be more versatile than an utterly cleanable and attractive piece of furniture? A very stable, firm foam made into a perfect square and covered with the Chilewich signature woven textiles. "Our cubes have multiple uses for any room in your home or office. They are super light and mobile and are on call and ready to work as extra seating, a table surface for drinks or a tray when entertaining, a foot rest or even as a bed side table. As with all of our textiles they are stain resistant and so easy to just wipe clean and of course extremely durable. AND they just look so good stacked and parked somewhere waiting to serve..It is perfect for any family room, den, or children's area," says Sandy.
Shag mats: Coming in out of the cold
The need to wipe your debris strewn feet is answered by the shag. As Sandy says, "Our shag mats are tufted with our unique extruded yarns in a multiple range of different stripes both in neutral and bright colorations. They are backed with heavy commercial grade vinyl making them completely non-slip as well as ideal for indoors and outdoors use. These modern utility mats work beautifully as doormats or at the kitchen or bathroom sink." No slippage here, they provide a steady footing.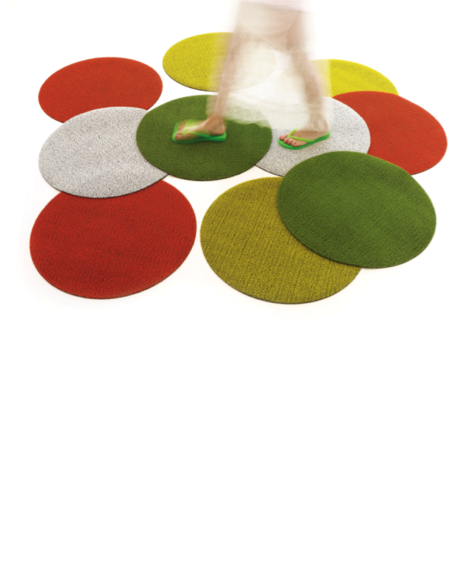 (Photo: Courtesy of Chilewich)
Windows and room partitions: Let thy light shine through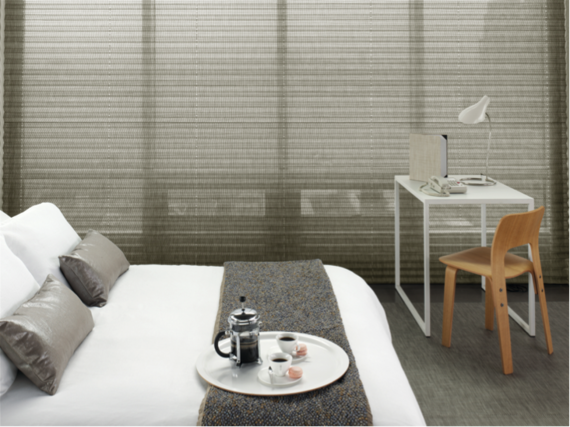 (Photo: Courtesy of Chilewich)
"Our textiles can be used for shade and privacy or just to enhance a room with color and texture on the window. I use our pretty opaque woven mini basket weave in our huge bathroom window at our weekend house. We are in the middle of nowhere...but in case a deer is strolling by while taking a shower I will close it," says Sandy. Have a small space that needs to be sometimes divided to create a distinct area? The Chilewich room partition offers an elegant and functional solution.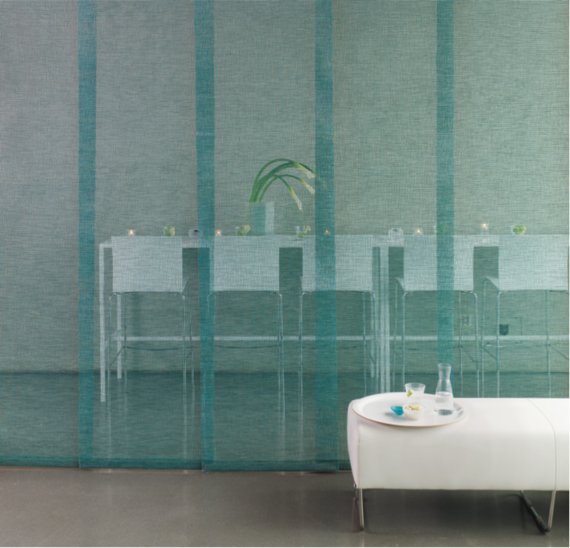 (Photo: Courtesy of Chilewich)
Bags: Putting mags and shags in Chilewich Bags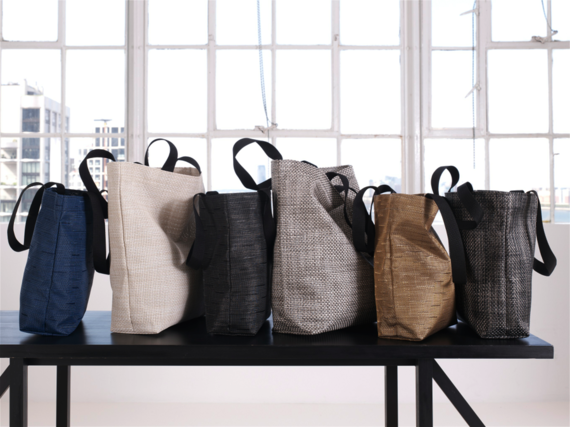 (Photo: Courtesy of Chilewich)
It is hard not to see the alliance between design and fashion: aesthetics spans all types of creative invention. Here, the durability and attractiveness of their fabric makes the Chilewich material a perfect fit for a bag. "There is nothing like being able to hose down your tote bag or cosmetic bag when it's dirty and the inside of my bag gets dirty!!! These bags are workhorses ... tough, resilient and can be made clean with just soap and water ... they take only 5 minutes to air dry." Why not tote your little pup in an easy to clean bag?
From shags to bags, the Chilewich product has illustrated how versatile it is for the home.
Calling all HuffPost superfans!
Sign up for membership to become a founding member and help shape HuffPost's next chapter
This post was published on the now-closed HuffPost Contributor platform. Contributors control their own work and posted freely to our site. If you need to flag this entry as abusive,
send us an email
.