These days it appears that there are few things that bring Democrats and Republicans together, especially during a contentious presidential election year. So when members of both parties in the House and the Senate came together this week in support of making the American bison our National Mammal it came as a surprise to some.
But maybe it shouldn't have. The bison, like the bald eagle, is a quintessentially American symbol. It already appears on two state flags, on the seal of the U.S. Department of the Interior and National Park Service, and on our currency. It is the state mammal of Wyoming and the state animal of Oklahoma and Kansas. Bison can be found in all 50 states in public and private herds, tribal lands, refuges and parks.
Passage of this legislation is the culmination of a four-year effort by the Vote Bison Coalition to officially commemorate the ecological, cultural, historical, and economic contribution of bison.
The coalition - a group of more than 60 organizations, tribes, and businesses led by the Inter Tribal Buffalo Council, National Bison Association, and WCS (Wildlife Conservation Society) - worked with members of both parties in all geographic regions, with support from members of the Congressional Black Caucus and the Congressional Hispanic Caucus.
The new law will recognize an animal that has a long and storied place in our nation's history and culture. Once ranging from Oregon to New Jersey and Alaska to Mexico, bison herds inspired awe in western explorers. North America's largest land mammal, the bison - also called the buffalo - once roamed the continent freely, helping sustain plains and prairie ecosystems as a keystone species through foraging, fertilization, trampling, and other activities.

Fourteen bison were placed into two steel express cars on November 24th, 1913, for shipping on the 25th from the Bronx Zoo in New York City to Hot Springs, South Dakota. Photo credit: ©WCS
Bison populations dwindled from tens of millions to the brink of extinction in the late 19th century - falling to approximately 1,000 individuals due to overhunting and westward expansion. Their numbers steadily rose in the 20th century, with the help of President Teddy Roosevelt; William Hornaday, the first director of the Bronx Zoo; and other conservationists. This is acknowledged as the first success story of the modern conservation movement.
The animal was - and is -integrally linked with the economic, physical, and spiritual lives of Native Americans. Tribes are returning bison to Indian lands in order to regain lost culture, access locally-available and healthy traditional food, expand economic potential for financially challenged reservations, and to right past wrongs against the Native American people related to the historical decimation of bison herds. Recently, 87 animals were transferred from Elk Island National Park in Canada to the ancestral bison territory of the Blackfeet Nation reservation near Browning, Montana, in a spiritually and culturally meaningful homecoming.

In April 2016, 87 bison were transferred from Elk Island National Park in Alberta, Canada, to the Blackfeet Bison Ranch near Two Medicine River in Montana. Photo by Jeff Morey ©WCS

Besides serving as a symbol of national pride, bison also act as an economic driver. The total value of privately owned bison on more than 2,500 bison ranches in the U.S. was estimated to exceed $336 million in 2014. Additionally, bison ranches in nearly every state create jobs, provide a sustainable and healthy protein source, and contribute to our country's food security.
For several years, Americans have celebrated National Bison Day on the first Saturday of November, recognizing this iconic animal's ecological, cultural, historical and economic contribution to our nation. As our national mammal, bison will now join the oak (our national tree, designated in 2004), the rose (national floral emblem, designated in 1998) and the bald eagle (national emblem, designated in 1782) as official symbols of America.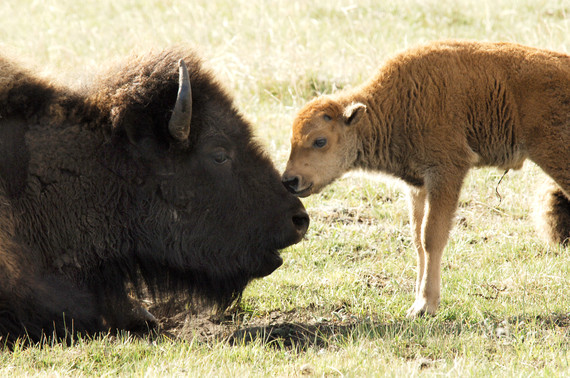 American bison mother and calf in Yellowstone National Park in Wyoming. Photo by Julie Larsen Maher ©WCS.

On a personal note meeting our Congressional champions has been one of the most rewarding experiences of my career. One of the bill's longtime advocates, Rep. William Lacy Clay (D-MO), has said "no other indigenous species tells America's story" than the bison, an animal that is a symbol of strength and Native American culture. In fact, a member of his family actually served as a Buffalo Soldier and when he met with me to discuss the legislation I could visibly see the connection he felt to the history of this iconic species and how they had touched his family.
Similarly there is an incredible amount of pride for Rep. José Serrano (D-NY), who represents one of the most urban and ethnically diverse congressional districts in the country and yet he was instrumental in campaigning for naming an icon from the American West as our national mammal. When you get a chance to speak with the Congressmen you quickly find out that many of those bison that went out to repopulate the West left from the Bronx Zoo which is located in his district. Other lawmakers, including Rep. Jeff Fortenberry (R-NE) and Rep. Kristi Noem (R-SD), were steadfast supporters of the national mammal legislation for years.
Our Senate leaders, Senators Hoeven (R-ND) and Heinrich (D-NM) help to reinforce the fact that literally every corner of our great nation and every political viewpoint has come together to support this historic legislation.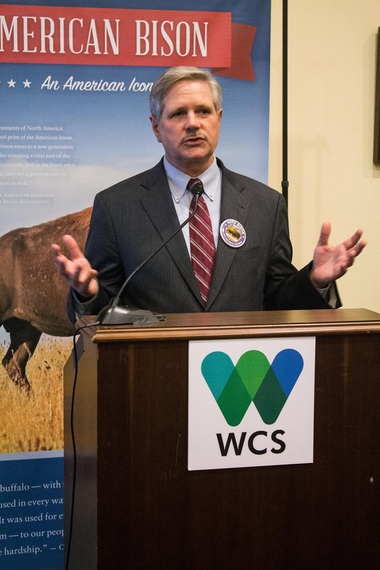 Sen. John Hoeven (R-ND), lead sponsor of the National Bison Legacy Act, speaks at a National Bison Day event on Capitol Hill in November 2015. Photo by Chip Weiskotten ©WCS.
Our symbols tell us who we are and what we stand for. Like the bald eagle, the bison is a symbol of resilience and strength. This iconic animal, which has played such a unique role in our nation's conservation and cultural history, is truly deserving of a place of honor as our National Mammal. At a time of seemingly intractable political gridlock it is nice to see that bison have united our country in ways we could never have imagined.
Popular in the Community