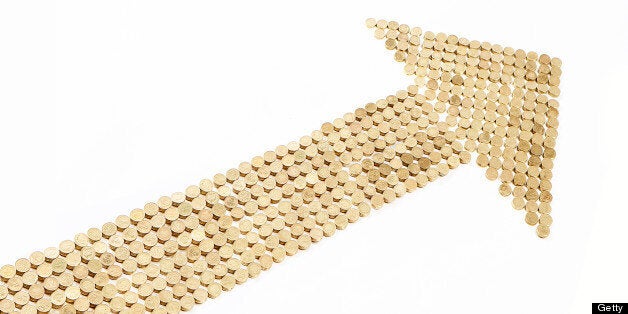 Is the American Dream still alive today? Can people still rise from poverty to success? Why work so hard or put thousands of dollars into a college education or thousands of hours into a starting a business? Some still feel that anyone can be self-made in terms of wealth and status with the right amount of effort, ingenuity and luck. Historically, this "American Dream" has compassed the world and brought many people to the US in pursuit of that dream. There are some of the mega-wealthy who have had opportunity handed to them on a silver platter by being born into a life of comfort, but there are still self-made people who have found avenues to super success. It is not just technology gurus that can make it big -- but there are many from all types of background and industries that have created success. Following are a few people who you may recognize from the past. Each had humble beginnings, but still found success and were able to make it big by their hard work.
Howard Schultz
While Schultz is well-known for his status as CEO of Starbucks Coffee, it is less well-known that he was not handed everything by luck of being born into it or a stumbling upon a fortune. Schultz' life started out in the projects in Brooklyn. After college he jumped into sales and eventually joined a Seattle-based coffee company. I am not a coffee drinker, but I am impressed with what Schultz was able to do with an industry that was experiencing little growth at the time. He was able to reinvent the coffee industry by making a place where the coffee was differentiated from the traditional supermarket coffee brands. He created a place where people could have an experience rather than just a cheap cup of coffee. Now Starbucks is on almost every corner and has gained a reputation for its products, and people are willing to pay a premium for their cup. The establishment has some diversity in its products. The company has also taken on the initiative to make an impact on social and environmental causes. The company is now a multi-billion dollar company and has spread internationally. This is a fairly recent example of someone who has achieved the American dream.

Quote: "Dream more than others think practical. Expect more than others think possible. Care more than others think wise."
Andrew Carnegie
Andrew Carnegie is one of the classic examples of a self-made wealthy individual. He was born in Scotland and immigrated to the United States. His family was not a wealthy family. After a couple small jobs he started working for the Pennsylvania Railroad. He was soon promoted. Carnegie was always looking for great investment opportunities. He got into the steel industry and was very successful. The steel industry was where he made much of his fortune. A lot of this can be attributed to increasing the efficiency of production. Andrew Carnegie was one of the richest men of his time due to his very successful business endeavors. Carnegie later used his accumulated wealth to help society as a whole. He donated a lot of money to charity. Carnegie can give hope to aspiring entrepreneurs. He has shown that hard work can pay off if you are smart about how you invest you time and your money.
Quote: : "People who are unable to motivate themselves must be content with mediocrity, no matter how impressive their other talents."
Ralph Lauren
Ralph grew up in New York in the Bronx. He grew up in a working class family. He was interested in clothes and started his business, Polo, by selling ties. The company was started with a $50,000 loan (bio.com). Since then the company has jumped into more than just ties, it has a wide variety of men's and women's clothes. Ralph Lauren has many bands with different price ranges. The designs are very classy. Needless to say, Ralph Lauren became a very rich man from his business success.
Quote: "People ask how can a Jewish kid from the Bronx do preppy clothes? Does it have to do with class and money? It has to do with dreams."
John Paul DeJoria
John is known for John Paul Mitchell Systems in the hair care industry. He had a really rough start. I personally believe some of his childhood experiences helped him prepare for his career. He worked hard at a young age doing a lot of door-to-door selling. According to entrepreneur.com, he has been homeless more than once (entrepreneur.com). John and his partner sacrificed a lot and had to go through much hardship before their product became a success. He utilized his earlier achieved sales skills to persuade shops to purchase his product. After years of struggle, he was able to find success in his entrepreneurial endeavors and now has a net worth of several billion dollars.
Colonel Harland Sanders
You may know him as Colonel Sanders. His is the iconic face of KFC. Sanders dropped out of school in sixth-grade. He lived on a farm. He worked at a variety of jobs from an insurance salesman to a gas station operator. His father died while Harland was young and his mother had to work. Harland's first wife left him for not holding his job. After going through many jobs, Sanders finally found success in the culinary world with a home cooked style approach. With little more than a perfected chicken recipe, Sanders created the giant franchise we know today as KFC.
Quote: "The hard way builds solidly a foundation of confidence that cannot be swept away"
Go get it
I hope the American Dream continues to live in the heart of every struggling American. There are thousands of success stories that can inspire each of us to do more and try to excel. I believe that the American Dream is still very much alive, not just in the distant past, but today. It can be in any past industry or in something new. I didn't mention all the millionaires and billionaires created by entrepreneurs behind Google, Microsoft, Dell, Facebook and hundreds of other technology companies. Let me know if you agree or if you feel the time is past for entrepreneurship.