Like virtually all Americans, I come from a family of immigrants. Family lore has it that my paternal grandfather was born on a ship coming over from Europe and opened his eyes just in time to see Ellis Island and the Statute of Liberty beckoning. My grandfather drove a truck to earn a living and my grandmother worked as a "chicken flicker," meaning she plucked the feathers from a freshly killed chicken. As a kid, I thought she pretty much had the coolest job ever. Today, not so much.
While my grandparents worked humble jobs, my parents had the opportunity to "do better." They attended college and worked as professionals. And the generation after them -- my sister and I -- continued an upward path by earning graduate degrees. For my family, the American dream of opportunity, education, and a better life for future generations came true.
I'm worried that today's immigrants and their families may not have those same opportunities. We are a nation of immigrants, and those who are in this country working hard to give their families a better life should be able to achieve the same goals that my grandparents did. I'd call it un-American to climb the ladder of success and then pull up the ladder behind you, denying opportunities to others.
Yet, opportunity is denied when people aren't healthy. Children can't learn and adults can't work to their full potential when they are sick and in need of medical care. Health care is expensive and health insurance is the ticket into the American health care system. There is a mountain of evidence that having health insurance leads to improved health, better access to care, greater financial security, and longer life.
Sadly, many of today's immigrants do go without coverage. Nationwide, the most recent Census data show that more than 31 percent of non-native residents are uninsured, compared with 8.7 percent of those born in the United States. Coverage rates for noncitizen children are better, although those children are still more than three times more likely to be uninsured than their native-born counterparts (20.8 percent compared to 5.8 percent).
Insurance coverage among immigrants remains stubbornly low, in part, because many undocumented immigrants are simply ineligible for coverage. With few exceptions, undocumented individuals are barred from accessing public coverage like Medicaid. They are even prohibited from using their own money to purchase coverage through the health insurance exchanges established under Obamacare. Obamacare has dramatically increased coverage rates for Americans. The nation's uninsured rate fell to 9.1 percent in 2015, a record low, according to a new survey from the Centers for Disease Control and Prevention. The difference between 2013 and 2015 translates to 16.2 million more people with health insurance. Yet, these gains have left undocumented residents behind. Remember that ladder? It feels further out of reach for some.
Some states are bucking the trend and honoring their immigrant histories by making coverage more accessible. New York State has expanded opportunities for immigrant coverage, taking advantage of a presidential executive order known as DACA (Deferred Action for Childhood Arrivals). For millions of undocumented immigrants living in the United States who were brought to the country before the age of 16 years and who have been in the country for five or more years, DACA can provide employment authorization, temporary protection from deportation, and a Social Security number to work legally and pay taxes. In New York State, DACA also provides an opportunity for Medicaid eligibility for tens of thousands of immigrants (using State-only dollars).
Awareness of this opportunity for Medicaid coverage has been low. Recently, a targeted ad campaign in New York City (where an estimated three-quarters of undocumented New York State residents live) launched to educate New Yorkers about their potential eligibility for health insurance coverage.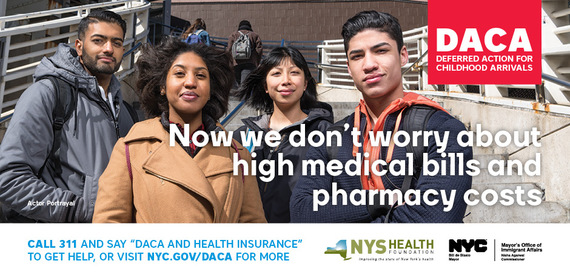 New York State could do more still if it chooses to. A well-functioning, stable, and strong health care market, as well as continued access to care, will depend on creating additional insurance mechanisms for New York's undocumented immigrants. The Community Service Society of New York has modeled the design and cost of three insurance options for undocumented immigrants in New York State.
Aggressive efforts are also underway in California to cover undocumented immigrants; recent legislation aims to allow undocumented immigrants to use their own funds to purchase health insurance on the State's health insurance exchange. Doing so would require federal approval, however, and the likelihood of that approval is unclear.
Historically, New York has been a welcoming gateway for immigrants to the United States. Recently, New York has gone the extra mile to extend State-financed Medicaid coverage to immigrants and been a leader in this area. Emma Lazarus, whose words adorn the Statue of Liberty, would be proud.
Immigration is clearly a charged issue in the national political discussion right now. But we need to rise above politics. When more people have health insurance coverage, we all win in terms of our physical, financial, and societal health. Opportunity, health, education, and jobs--that's the American dream. Let's keep it alive.