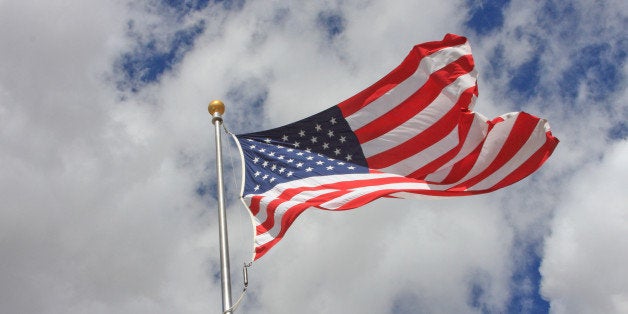 I had a dream... a singularly American Dream. You could say I was born dreaming, because by the time I could articulate, I would tell anyone who would listen that I was going to be a fashion designer, working and living on Fifth Avenue in New York City, and... of course, be rich, famous and glamorous! A rather amazing prophecy from a 4-year-old, as I foretold the life I was meant to lead.
So, when HSN chose me for their "American Dreams" series airing on August 16th, 2014, I accepted in a nanosecond! It wasn't that I felt entitled, but rather my story was a pretty good version of the "Dream" -- first generation American, small-town girl dreams "big-city," grows up in the repressive 1950s, breaks free in the '60s, comes to New York in the '70s, to be "discovered" in the '80s, finally got my break on television in the '90s and so the story goes....
I credit my American Dream coming true to two key factors. First off, I entered this world with impeccable timing! Had I been born five years earlier, I doubt I could have broken free of the constraints on women that had lasted for thousands of years. As a little girl, there was only one acceptable dream for me -- wife, mother, 2.5 children, a white picket fence and a dog named "sparky." But the '60s shattered convention...Blew apart tradition, broke down boundaries and women could finally individualize their own life path!
The second factor was my perception of America itself. I like to think my generation -- we Baby Boomers -- saw America as forever-buoyant. If you experimented, misstepped or failed, America would be there with a safety net -- a country always ready to reward success and forgive failure. It was a time when you didn't need big money, just a great idea and the guts and drive to make it happen. The America of my youth was truly the land of limitless opportunity!
Call it bravery, or just call it delusional, but I started my first business in my garage. I worked two jobs during the day to fund buying fabric to sew through most of the night in that cold cell, with only a tiny heater beside me. I finished every piece by hand, was passionate about my craft, and felt lucky to be doing what I loved... Now, 40 years later, I have discovered that one of the great luxuries of growing older is the ability to look back and say, "Wow! I did it!" In retrospect, success was not about the destination, it was about the journey...
Now, don't get me wrong, there was no straight trajectory or sustained pinnacle. As a matter of fact, if you were to graph my career, and my dream, it would look like an EKG -- spikes and valleys, ups and downs. There were plenty of times I feared I might wind up sitting out on a New York City sidewalk asking kind strangers to drop a dollar into my Birkin Bag. Yet I survived and modestly prospered, until, at the age of 59, I had that uniquely American "Light Bulb Moment." This one key idea, and my career EKG spiked dramatically... beyond my wildest dreams... Quite simply, I stayed in the game long enough to make my dream a reality! It was just one simple idea -- that came from the understanding that we Baby Boomers expect to stay young forever -- which led to my record-breaking DG2 jean. I simply moved the gauge on that "forever young" belief slightly closer to reality for an entire generation of women... and along the way, found my true purpose as a designer...
It didn't come early in my career (understatement, as 59 years old is a dinosaur in the youth-obsessed fashion industry), but maybe the best should be saved, and savored, for last... My prophecy at the tender age of 4 years old, took a bit longer to come true than imagined (slight understatement, again), but it's all about the journey... right?
And frankly, who cares how long it took? Because the irony and the miracle is it finally did come true, and keeps growing and unfolding like a novel you simply cannot put down!
I hope my "Dream" story inspires, and helps, all women of every age to live their own particular dream, because I am living proof dreams do come true...
Related