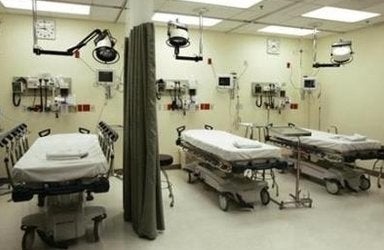 The American health care system is broken. Despite the world's most advanced medical technology and the heroic efforts of devoted clinicians, health care is too expensive, unjustly inaccessible and seriously harmful to many of the citizens it seeks to serve. Politicians and purchasers are exasperated, practitioners are beleaguered, and patients and families are rightly dismayed.
And just when it seemed like the news couldn't get worse, the Commonwealth Fund's 2008 National Scorecard on US Health System Performance, released this week, finds that across a broad spectrum of measures the country has not only failed to improve but the U.S. has lost ground compared to other countries. The litany of bad news must always start with the completely unacceptable fact that 40% of Americans are uninsured or underinsured, but other news is just as alarming:
· The US spends more per capita on health care than any other industrialized nation, but its overall performance rating (an index that accounts for systems' quality, efficiency, access, equity and the public's health) is just 65 out of 100.
· The US ranks last in the industrialized world on rates of "mortality amenable to health care" -- that is, the nation's care system often fails to manage those conditions that we know how to prevent or treat ("amenable" conditions), resulting in premature death and suffering.
· Minorities, low-income and uninsured adults and children are much more likely than other Americans to experience delays, receive poor-quality care and suffer damaging health outcomes.
· Infant mortality rates in the US are double the rates in other comparable countries.
Variation is the report's dominant theme: the care that is delivered reliably in one state, city or facility is simply unavailable in the next. What is even more puzzling is that the quality of care in one place bears no relationship -- and sometimes even an inverse relationship -- to the amount of money that is spent per patient there. No matter where we examine the system -- studying waiting times or access, studying hospitals, office practices or nursing homes -- what we observe are stark differences in performance. The sources of these differences are controversial, but while debates rage, patients suffer and fragmentation persists.
Ironically, this fragmentation has revealed some paths to genuine improvement. The parts of the US health care system that perform well don't just exceed their peers by small increments; they do so by miles. Studying these exceptional states, cities and facilities might be the key to meaningful progress. Some ideal subjects for study include:
· States like Massachusetts, which has provided health insurance to 439,000 new individuals in the last two years; Michigan, where a project to reduce hospital infections saved more than 1,500 lives and avoided more than $160 million in costs; and New Jersey, where 150 health care organizations reduced the incidence of bed sores by more than 70%.
· Regions like Montgomery County, Maryland, where the Primary Care Coalition is addressing the needs of uninsured and under-insured individuals and reducing the need for emergency care by reaching out through a broad range of community-based partners and activities, and providing inexpensive ways for otherwise unconnected providers to share information online.
· Systems like Bellin Health in Green Bay, Wisconsin, which has achieved both high quality and some of the lowest overall costs of care in the US by shifting their focus from providing health care alone to promoting healthier lifestyle in the community, businesses and schools; and Ascension Health, based in St. Louis, which in 2003 set the bold goal of preventing 900 avoidable deaths in its hospitals and five years later exceeded that goal by more than three times.
What is happening in these places? What is the secret to their great success? A state like Iowa, last year ranked by the Commonwealth Fund as second in the nation for its overall health system performance, gives us some clues. First, they are a model of genuine cooperation. All stakeholders in Iowa health care -- providers, purchasers, payers, policymakers, providers of care and, crucially, patients and families -- come together around the same table to architect a system of improved care. Second, their aims are shared and comprehensive; they judge the progress of the whole state, as measured by the well-being of all Iowans. Third, rather than simply setting bold goals they invest in resources, like the Iowa Healthcare Collaborative, that connect stakeholders to one another and support them in the hard work of designing better care and adapting good practice to their local settings. Genuine cooperation, shared system-level aims and intense focus on the practical work of making improvement -- these are the characteristics of high performers at every level of care.
A common -- and disappointing -- response to variation in performance is to publicly recognize high-performing states, cities and facilities while admonishing the poorer performers. Simply knowing who does well isn't enough to stimulate necessary change, any more than knowing who the best pianist is helps a beginner play an elaborate concerto. Likewise, financial incentives - the knee-jerk solution offered as a panacea by countless commentators and policymakers in the last seven years -- are alone insufficient to trigger improvement, just as offering that same beginner millions of dollars to play that concerto will do little to guarantee a better performance. Incentives in health care may be helpful, but without commensurate investment in learning they can be divisive and discouraging, doing little to help the patients and families that deserve better.
Instead, our next challenge is to remove barriers to learning, making the insights and experience of each successful community, city, state and system available to the entire nation. Data on health system performance around the nation is an important start, but we must also create a system that studies exceptional performers -- inside and outside of the US -- and makes their strategies and breakthroughs shared property as we work together to improve the quality of the health care in the nation.
The primary task for any fragmented system is integration. The creation of a single-payer health care system could make the greatest progress toward that goal but, failing that, a model where every state, city and facility acts as a laboratory for shared improvement promises to accelerate the rate of change that we so badly need.

Joe McCannon is Vice President and director of the 5 Million Lives Campaign at the Institute for Healthcare Improvement. Maureen Bisognano is the Institute's Executive Vice President and Chief Operating Officer; she is also a member of the Commonwealth Fund Commission on a High Performance Health Care System.