Throughout this extraordinary campaign, Barack Obama challenged us to believe that we have the power to change America, and to change the world. On Election Day, America responded to his challenge with a resounding "Yes We Can." As a result, we can now begin the urgent work of rebuilding the middle class at home; restoring America's reputation in the world; and transforming our government into a vibrant force that solves problems, stands with American families and empowers people and communities to improve their lives.
Americans voted for a new direction because this country is in crisis: Two wars that are costing lives and draining the treasury of badly needed resources; an American middle class at risk in the worst economic crisis since the Great Depression; a broken health care system that wreaks havoc on families, overwhelms government budgets and makes businesses uncompetitive; retirement security gone by the wayside; and a state and local fiscal crisis that is crippling the ability of government to meet the ever-increasing demand for vital services.
This election was about hope and unity. In response to an Administration that has told Americans "You're on your own" for the last eight years, voters have said "No we're not. We're in this together." Americans have voted for a president and a Congress that will rebuild government in the public interest and make it a force for creating opportunity and prosperity, supporting and protecting our families, and strengthening our communities.
With Barack Obama, we will have a president who values the workers who make America happen at home and defend it abroad. Along with a Congress that supports us and with historic gains at the state and local level, we have the opportunity to make a huge difference in the lives of America's working families.
With Barack Obama and Joe Biden, we will have a team of proven fighters committed to providing state and local fiscal relief, fully funding and supporting public services and the workers who provide them, and guaranteeing that everyone in our country has quality, affordable health care they can count on.
Over the past year, as I met with working families across the country, one could see that people were yearning for change. I can't begin to describe all the disappointments they've had over the last eight years of a rigged economy that has favored the privileged and left the rest of us behind.
What they experienced, however, didn't destroy them. It motivated them to work like never before for change. More people than ever got involved through the AFL-CIO's political program, the smartest, biggest and broadest effort we've ever run. We put 250,000 union volunteers into action, combining cutting-edge voter communications with massive grassroots strength. Our people created the largest, most efficient independent voter mobilization initiative in American history.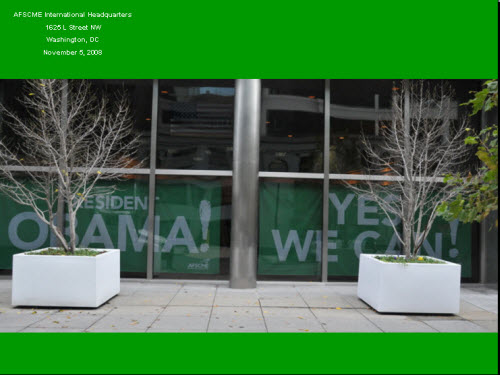 We knocked on 10 million doors, made 70 million phone calls, and distributed more than 27 million workplace flyers focusing on economic issues. AFSCME alone spent $67 million on political activities, including our aggressive independent expenditure campaign which played a key role in the most competitive House and Senate races. Forty-thousand AFSCME members volunteered along with more than 500 staff because we all knew we could not afford four more years like the last eight.
Among union households in battleground states, there was clear momentum for Obama on the eve of the election. What moved people? The issues, and talking to workers one-on-one. For example, in Pennsylvania, polls showed Barack Obama gained 22 percent since August for a 63% - 27% advantage going into Election Day.
Tuesday's election was a milestone in building an America that lives up to its ideals, an event that has broken down old barriers and opened up new doors. As we celebrate this victory, we also face monumental challenges as a country. Working families are ready to join with our new leaders to meet these challenges and enact a bold agenda for change.
Popular in the Community