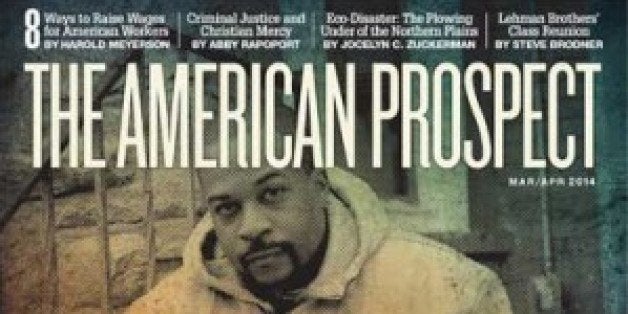 NEW YORK -- The American Prospect, an influential liberal politics and policy magazine, is considering shifting from a bimonthly to a quarterly publication schedule in "an effort to stay within a realistic budget," publisher Jay Harris said Wednesday night.

"Details are still the subject of internal discussions with the magazine's staff and board," Harris said in a statement. "Further announcements will follow shortly."
News of the Prospect's possible plans spread on Twitter Wednesday after senior editor Gabriel Arana tweeted that the magazine was becoming a quarterly "journal of ideas." A source told Capital New York it was "highly likely" the Prospect's board would approve the change to a quarterly frequency.
Kit Rachlis, who joined the Washington-based American Prospect as editor-in-chief in 2011, is leaving in June for a job in California. Robert Kuttner and Paul Starr, who co-founded the magazine with Robert Reich in 1990, will serve as co-editors beginning this fall, according to the publisher's statement.
"The Prospect will continue to publish its authoritative pieces that combine reportage with political and economic analysis," Harris said.
While boasting a relatively small newsroom, many political and policy journalists cut their teeth at the Prospect.
Alumni include Ezra Klein and Matt Yglesias (Vox), Josh Marshall (Talking Points Memo), Garance Franke-Ruta (Yahoo), Dana Goldstein (The Marshall Project), Nicholas Confessore (The New York Times), Kate Sheppard (The Huffington Post), Jamelle Bouie (Slate), Jonathan Chait (New York), Richard Just (National Journal), Phoebe Connelly (The Washington Post), Jonathan Cohn (The New Republic), Joshua Green (Bloomberg Businessweek), Adam Serwer (MSNBC), and Alexandra Gutierrez (Alaska Public Radio Network).
Several tweeted in response to the news of expected cutbacks and how the Prospect actually began as a quarterly.
I have a lot of gratitude to @theprospect for giving me a chance in journalism. It's sad to see all of this happen.

— Jamelle Bouie (@jbouie) May 28, 2014
REAL LIFE. REAL NEWS. REAL VOICES.
Help us tell more of the stories that matter from voices that too often remain unheard.