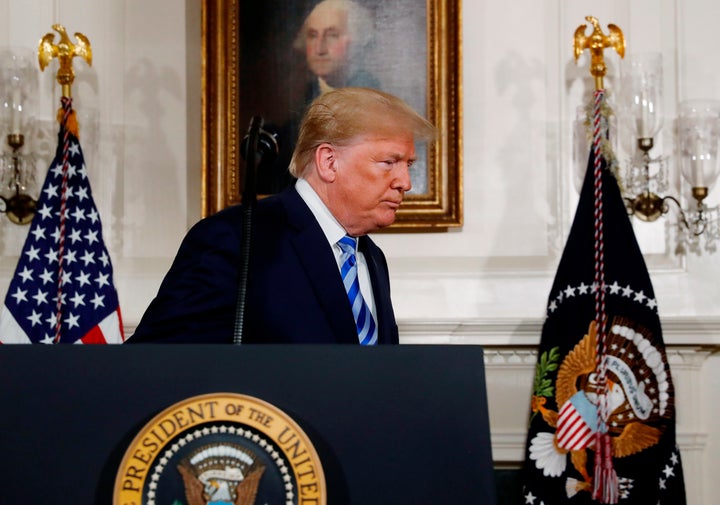 Just 23 percent of the public say they'd support the U.S. deciding to declare war on Iran, while the majority, 53 percent, oppose the idea. Just 9 percent would strongly support declaring war, while 37 percent are strongly opposed.
Voters who backed Hillary Clinton in the last election are the most vehemently against the idea, with 82 percent opposed and just 6 percent in favor; non-voters are also opposed, 48 percent to 20 percent. Voters who backed President Donald Trump's campaign are more likely to support a war against Iran, but even among that group, backing remains below the majority level, with 47 percent saying they'd support declaring war, and 29 percent that they'd oppose it.
Trump "is certainly not going to tolerate the leader of Iran making threats against Americans, making threats against this country, making threats against Israel," White House press secretary Sarah Huckabee Sanders said Monday. "This is a president who is going to stand up and make sure he is doing what is necessary."
About 60 percent of Americans polled say they'd heard about Trump's tweet, although just 12 percent had seen it directly on Twitter, with the rest learning about it from the news.
Perhaps as a result of that missive, nearly half the public says that Trump would support a declaration of war against Iran, with his opponents especially likely to believe that Trump has hawkish intent toward the nation. Forty-nine percent of Americans ― including three-quarters of Clinton voters, but just 29 percent of Trump voters ― say they believe Trump would support declaring war on Iran.
Overall, 36 percent of Americans say they approve of Trump's handling of issues related to Iran, while 42 percent disapprove, and the rest is uncertain. That net -6 is slightly more positive than overall views of Trump's job performance.
Polling earlier this year found decidedly mixed reactions to Trump's decision to withdraw from the Iran nuclear agreement, with much of the public saying they hadn't paid the matter much close attention.
Just 7 percent of Americans consider Iran to be friendly or an ally to the United States, with a third describing it as unfriendly; 38 percent believe Iran is an enemy of the U.S.
The HuffPost/YouGov poll consisted of 1,000 completed interviews conducted July 24-25 among U.S. adults using a sample selected from YouGov's opt-in online panel to match the demographics and other characteristics of the adult U.S. population.
HuffPost has teamed up with YouGov to conduct daily opinion polls. You can learn more about this project and take part in YouGov's nationally representative opinion polling. More details on the polls' methodology are available here.
Most surveys report a margin of error that represents some, but not all, potential survey errors. YouGov's reports include a model-based margin of error, which rests on a specific set of statistical assumptions about the selected sample rather than the standard methodology for random probability sampling. If these assumptions are wrong, the model-based margin of error may also be inaccurate. Click here for a more detailed explanation of the model-based margin of error.
Popular in the Community