I do not like singing competitions. I stopped watching them on TV years ago for many reasons, and I've never intentionally entered one as a solo performer - until this year.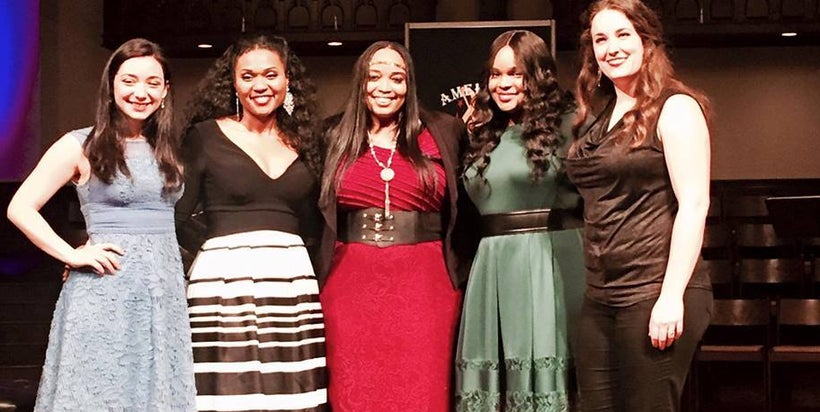 I was entered in a jazz competition last year, and I left with that 'Why did I bother' feeling. I made the finals, only to be told I wasn't a 'real' jazz singer (duh) and that I should study the tradition more. (Anyone who knows me would find that quite humorous. Anyway.) That left me with a pretty bad taste in my mouth.
Last fall, Mikki Sodergren posted in a Facebook group I belong to that the American Traditions Competition was taking applications. I had never heard of it, and decided to take a look. I wasn't really sure what to make of it. They ask singers to compete in NINE separate genres, and from what I could tell, most of the performers who had made it to the finals in the past were opera and theater powerhouses. While I have a ton of respect for the opera and theater worlds, that's not my background. I debated for a while on whether or not to bother with an application, but decided to do it on a whim. I didn't expect much to come from it.
Lo and behold, I got a notice a couple of months later that I had been selected to compete in the quarterfinals to be held in Savannah, GA in February. Now it was time to actually put up or shut up.
It's a tough thing in the music industry when you're not any one thing. You're not jazz enough for the jazz folks - not R&B enough for the R&B folks - not singer/songwriter enough for the singer/songwriter folks - and not Broadway enough for the Broadway folks.
But here was a competition that celebrated a wide array of genres. I figured I might as well give it my best shot. I got about the task of getting charts made (Thanks, Matt Endahl) and learning my songs. After a point, I got a little curious, and started to check out some of the performance videos on YouTube from the previous years' competitions. Good Lord. I wasn't in these people's league. Why had they selected me in the first place? Maybe they got my application mixed up with someone else's. Well, they would figure it out soon enough.
Thankfully, I had a great road dog & cheerleader with me, Greg Bryant. From the minute we arrived in Savannah, we were welcomed with open arms by the competition's organizers - Vale Rideout (Artistic Director) and Danny Cohen (Board Chair). They explained the whole process in contestant meetings; they made sure the contestants were comfortable in the sound check; they arranged a meet and greet with our sponsors and hosts. The contestants cheered each other on, and went out of their way to get to know one another. They supported each other, and lifted each other up. The organizers even had a party for the contestants who didn't advance past the quarterfinals. Who does that???
The quarterfinals required that we perform 3 different songs from 3 separate genres. From day 1, it was apparent that I was in the company of world class singers. One after another, contestants delivered powerful operatic arias, explosive musical theater showstoppers and heartfelt ballads. I made sure to attend every round of competition, for the sheer joy of watching performances I would only be able to see at symphony halls, performing arts centers & major world stages. The level of talent in that place was staggering, and truthfully, I was starting to wonder why I was invited to participate.
Not to be self-deprecating, but I don't really have a lot in common with those singers. They've trained for years to do what they do, and I'm so in awe of their gifts. Meanwhile, I've never had a voice lesson in my life. I grew up listening to my parents sing in church, and I've gotten my butt kicked on jazz stages for the last 12 years - that's the extent of my training. The feeling I had was of not wanting to sully or undermine the proceedings with anything that came across as... unserious.
Advancing to the semifinals was one of the biggest shocks of my life. I thought, "Oh, no way. Not with what I've witnessed the last 2 days. I'm just happy to be a part. Now I'll go home and practice. It's been a positive experience overall, thankfully." Sitting there as the semifinal announcements were being made, I sorta/kinda thought I might have heard my name called. Frankly, it sounded like the teacher on Charlie Brown - "wha wha wha...". Next thing I know, Greg is adamantly pushing my arm and telling me to, "Go down there!" I didn't want to embarrass myself if I only imaged my name was called. But everybody seemed to be looking at me at that point, so I went. When I got to the front, I asked the creative director if he called the right name. He assured me that he had.
Honestly, I knew my material for the semifinal round was stronger - again, we had to choose 3 different songs this time - three new genres. I figured if I could nail those songs, there was a chance I could advance to the finals. Still, it came as a huge shock when I heard my name - the 4th out of 5 finalists. Whoa. Were they sure? For real? All 4 of the other singers had opera backgrounds, and frankly, I'd never want to be caught on a stage with them - they were vocal powerhouses. But there I was. In overalls and flip flops. No. Not really, but...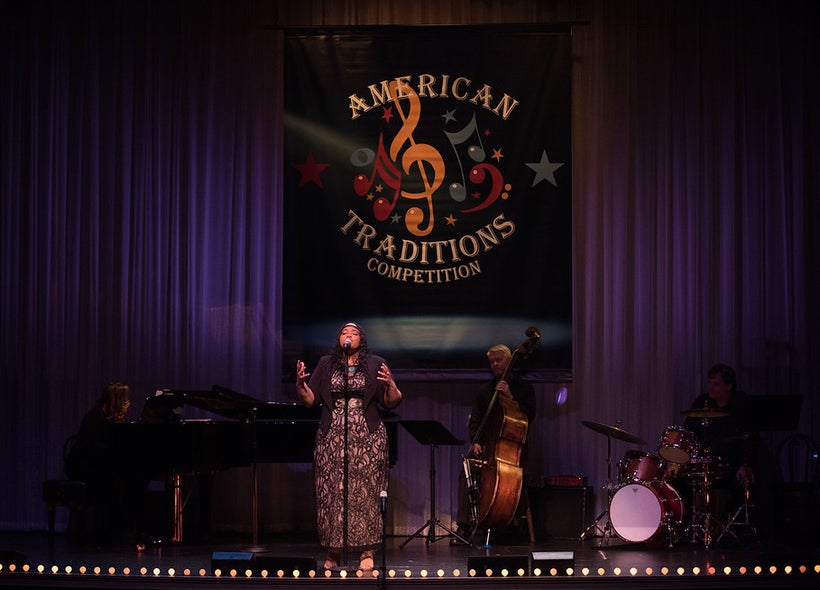 Now it's finals night, and the throat infection I've been fighting all week is trying to rear its ugly head. I haven't been sleeping well, and I'm cranky and tired. I decided to take a nap after sound check, and woke up needing a serious vocal warm-up. Let's see... what might a trained singer do? I decided to improvise, (Like any good jazz singer would), and created my own vocal warm-up, which worked like a charm!
Showtime at the Savannah Theater. I was slated to go on last, after going 1st in my quarterfinal and semifinal rounds. I'm backstage with 4 of the strongest singers in the competition. I didn't trip over anything. I didn't forget any of my lyrics. I felt I had a strong showing, but who knows what was in the judges' minds?
We're backstage, and the awards are being announced. First, the special prizes. I'd won the Ben Tucker Award for best performance of a jazz song! It was presented to me by Ben Tucker's widow, and what an honor it was! I could feel Greg in the balcony freaking out. :-)
Next, they would announce the final placements. Only there was pandemonium backstage. I'm not sure what happened, but no one was in place. The singers were in various places in the backstage area and in the hallway when they started calling names. The 5th place winner just happened to be near the stage when they called her name. We all scrambled to get in place, realizing that this was it – the final announcement.
They called the #4 winner. It wasn't me. What? 3rd place winner - the bronze medalist - wasn't me. Whaaaaatt??? Now it's down to me and 1 other contestant, and we're staring at each other in utter disbelief. Our pianist and two of the evening's sponsors are jumping up and down with excitement. We said a few encouraging words to each other before they announced the silver medalist - Dara Tucker. (Cue Whitney's "Didn't We Almost Have it All")
Clearly, this is farther than I ever thought I would make it in this or any other competition. With each successive step, I set a new goal for myself. My final goal was to win the Ben Tucker jazz award and place in the top 3, and by golly if it didn't happen.
I'm still not a big fan of singing competitions, but my experience with the American Traditions Competition restored a bit of my faith in what can happen when we're willing to put ourselves out there - for better or for worse. This whole experience was a reminder to me that (as a wise woman told me) sometimes we have to remove the judgement and doubt we tend to carry, and allow events to unfold as they were meant to. You just might be surprised at how things turn out.
REAL LIFE. REAL NEWS. REAL VOICES.
Help us tell more of the stories that matter from voices that too often remain unheard.
This post was published on the now-closed HuffPost Contributor platform. Contributors control their own work and posted freely to our site. If you need to flag this entry as abusive,
send us an email
.