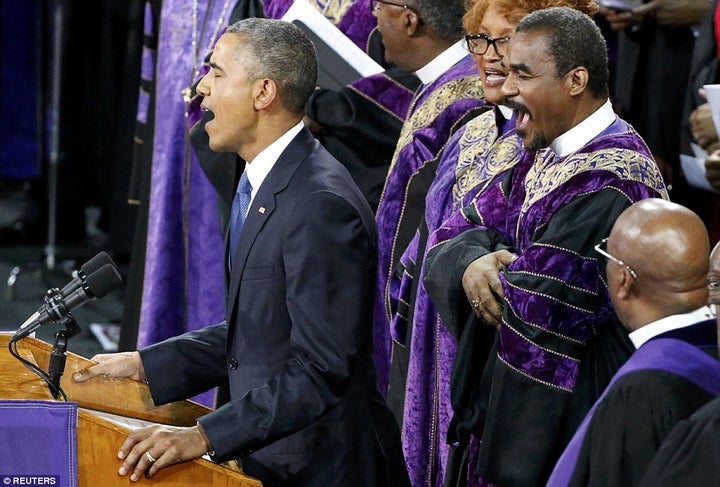 Author's note: This is a revision of a piece I wrote on June 23, 2015, after a gunman killed nine people in a Charleston, South Carolina, church. Sadly, this piece is as relevant now as then.
We Americans do grief well.
When senseless and often random acts of violence occur — such as the massacre of at least 59 people at the Mandalay Bay Resort and Casino in Las Vegas Sunday night — we trot out the usual public panoply of grief.
Somewhere, someone rouses the bagpipes to play "Amazing Grace." We hold prayer and candlelight vigils in public places. We mourn publicly in our churches, synagogues, and mosques. We place pictures of the slain in public places, ringed by flowers and lit candles. We hold moments of silence for the victims. We cross arms, hold hands, and sing "We Shall Overcome." The funerals become public vehicles for displays of grief. The media shows up; the president — or someone he deputizes — often attends, saying the appropriate words to express a nation's shock, sadness, and often dismay or anger.
Grieving is, of course, the way humans come to terms with loss. Grieving is appropriate, cathartic and healthy, and no one would or should deny those who suffered serious loss the right to grieve in whatever way helps the process of healing.
No, there is nothing wrong with grief — except when ritualized public grieving is all we do, when public displays of grief become a substitute for action.
Run down the list of massacres in recent years: 1999, Columbine, Colorado, two teenagers shoot and kill 13 people at the local high school; that same year, a gunman opens fire on a Christian rock concert in Fort Worth, Texas, killing seven; 2003, a Lockheed Martin employee shoots up his plant in Meridian, Mississippi, killing seven; 2005, a teenager in Red Lake, Minnesota, kills his grandfather and his grandfather's girlfriend, then opens fire at the local high school, killing seven more people; 2007, 32 people killed by gunfire at Virginia Tech; 2009, a psychiatrist at Fort Hood army base in Texas shoots and kills 13 and wounds 29; 2011, six people die and then-Representative Gabby Giffords is shot in the head by a gunman in Tucson, Arizona; 2012, 12 people killed in a movie theater in Aurora, Colorado, by a gunman wielding multiple firearms; later that year, 20 children and six adults killed by gunfire at the Sandy Hook Elementary School in Newtown, Connecticut; 2013, a gunman fatally shoots 12 at the Washington, D.C., Navy Yard; 2015, a gunman murders nine people at historic Emanuel African Methodist Episcopal Church in Charleston, South Carolina; that same year, 14 people killed in an attack in San Bernardino, California; 2016, a gunman opens fire in a crowded nightclub in Orlando, Florida, killing 49; now, Las Vegas, Nevada, the deadliest mass shooting in modern American history.
This is a partial list, but every tragedy on it — and the others not listed — have three things in common: First, the perpetrators used guns; second, we had the usual displays of public grief; and third, after much hand wringing and "thoughts and prayers," we did nothing.
There is no reason to think our response will be any different this time. "It is positively infuriating that my colleagues in Congress are so afraid of the gun industry that they pretend there aren't public policy responses to this epidemic. There are, and the thoughts and prayers of politicians are cruelly hollow if they are paired with continued legislative indifference. It's time for Congress to get off its ass and do something," said Connecticut Democratic Senator Chris Murphy in response to the Las Vegas shooting.
Infuriating, but almost certainly Congress will do nothing. President Donald Trump, who has often jumped to conclusions absent facts, muted his response to Las Vegas. Initially, he tweeted, "My warmest condolences and sympathies to the victims and families of the terrible Las Vegas shooting. God bless you!" Later, he delivered somber and largely apolitical remarks, calling the massacre, "An act of pure evil." But, the only action the president took was to order American flags to be flown at half-staff. Unlike his predecessor, Trump did not call for further controls on guns.
We do not know, of course, how many lives, if any, would have been saved if the country had tougher gun control laws. But logic dictates that banning, at the least, assault weapons saves lives. There is the example of Australia for guidance. In 1996, a gunman killed 35 people in Tasmania. Australia responded by banning semiautomatic and automatic weapons, and the nation instituted a mandatory buy-back program for the banned guns. Since then, the firearm homicide rate has fallen by 59 percent and the firearm suicide rate by 65 percent, without a parallel increase in non-firearm homicides and suicides. And since then, there have been no gun-related massacres similar to Sandy Hook or Las Vegas. The United States is not Australia. But, President Barack Obama was right when he said after Charleston, "This type of mass violence does not happen in other advanced countries."
The families and friends of the victims in Las Vegas need to grieve. It is right, proper, and healthy. As for the rest of us, our public grief should not become an excuse, once again, to do nothing. It is time to act! It will be difficult, but it could show not only the world, but ourselves, that we Americans can move beyond grieving.
Related
Popular in the Community