As the U.S. soccer team advances out of the "Group of Death" in the 2014 World Cup, I couldn't help but think of the quote before competition started from the U.S. soccer coach Jurgen Klinsmann, who was a star striker for Germany's World Cup-winning team in 1990, "For us talking about winning a World Cup, it is just not realistic."
What??? That's contrary to what America stands for to not just the citizens of this great country but what America stands for to other countries. There is ALWAYS a chance to succeed in America, despite the odds. Obviously, the U.S. national soccer team understands their important role as an underdog. And have proved their coach doesn't understand what drives America. American sports history is littered with great upsets...
Buster Douglass beat Mike Tyson. Villanova did the same against Patrick Ewing's Georgetown. The Giants had no chance against the undefeated Patriots until the final gun when they won the Super Bowl. The 1980 U.S. hockey team shocked the world against the Russians with the Miracle on Ice. And, to step away from sports for a minute, so did the 13 colonies who joined together to make up the then-new United States of America in July of 1776 who took on the odds-maker's choice Great Britain in the Revolutionary War. How did that turn out as we approach the Fourth of July!
Americans love a challenge of any kind, and we believe we have a puncher's chance at winning. That's the American way.
And that was the mindset of a group of undocumented Mexican students from Carl Hayden High School in Phoenix, Arizona, as they entered a national underwater robotics competition going up against major colleges including robotics powerhouse MIT (Massachusetts Institute of Technology). After being inspired, challenged and guided by a teacher named Fredi Lajvardi and the robotics coach Allan Cameron, the students, from a school that had over 90 percent Latino population and over 90 percent free or reduced lunch, built a robot in just three days after shopping at Home Depot and even used tampons in a creative way to absorb unwelcomed water. The robot, nicknamed "Stinky," cost $800 and beat an $11,000 robot built by the MIT team which was sponsored by top corporations (for a trailer of a terrific documentary titled UnderwaterDreams by award-winning filmmaker Mary Mazzio click here, and to find out where the movie is playing visit www.UnderwaterDreamsFilm.com).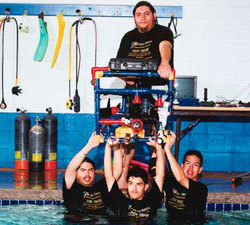 Those kids and their teacher understood the opportunities to advance in America.
But does America understand the opportunities to advance through students like the Carl Hayden High Robotics team?
In order for America to compete globally, we need more Steve Jobs, not simply more jobs created by other countries' innovations. Oscar Vazquez, Lorenzo Santillan, Luis Aranda, Cristian Arcega -- the hopeful-engineers from the desert who beat MIT in 10 years ago -- could have been the next great American innovator. Unfortunately, without their citizenship, today Lorenzo works in catering, Luis is a janitorial supervisor and works with Lorenzo's catering business. Cristian graduated second in his class at Hayden High and attended Arizona State University on a full-ride for a year before Proposition 300 revoked his scholarship and is currently working construction to pay for tuition at a community college. And Oscar graduated from Arizona State University with a degree in mechanical engineering but then deported himself to Mexico, where he worked in an auto-manufacturing plant, to apply for citizenship in the U.S. by enlisting in the Army, where he served a tour of duty in Afghanistan and is currently in the Airborne. Opportunity missed by America? Perhaps.
That number needs to change -- must change -- and in order for that change to happen, we need to leverage every bit of talent available to the U.S. that is in the U.S. And that talent pool should include the scrappy underdogs from Carl Hayden High and many other "Dreamers" like them. According to the excellent article by Rodney Adkins titled "America Desperately Needs More STEM Students. Here's How to Get Them Now":
Forty-three percent of school-age children today are of Latino, African American, or Native American descent yet out of all the engineering bachelor's degrees in the U.S., less than 15 percent are awarded to underrepresented minorities. We need to reconcile these opposing trends so that the composition of our STEM education pipeline reflects America's shifting demographics.
The aging of this huge cohort of Americans -- 26 percent of the total U.S. population are Baby Boomers -- will dramatically change the composition of the country.
Which side of that trend would you want to be on if you're trying to move our country forward?
• 29 nations: The number of industrialized nations whose high school students performed better than U.S. students in math in 2012.
• 22 nations: The number of industrialized nations whose high school students performed better than U.S. students in science in 2012.
• In 2008, four percent of U.S. bachelor's degrees were awarded in engineering - compared to 31 percent in China.
• In 2008, 31 percent of U.S. bachelor's degrees were awarded in science and engineering fields -- compared to 61 percent in Japan and 51 percent in China.
Like the U.S. soccer team playing in the World Cup or the Hayden High Robotics team beating MIT a decade ago, we can overcome any challenges to take our place at the top of the rankings. But we need to be resourceful and one of our greatest untapped resources are innovative immigrants living in America. Tapping immigrants like Alexander Graham Bell (Scotland), Levi Strauss (Bavaria), Albert Einstein (Germany) and innovative youngsters like Oscar, Lorenzo, Luis and Cristian is the American Way.
REAL LIFE. REAL NEWS. REAL VOICES.
Help us tell more of the stories that matter from voices that too often remain unheard.