Note: Do not read on if you have not seen Season 3, Episode 1 of FX's The Americans, titled "EST Men"
Oof! What a good premiere. Just enough catch up, just enough new, just enough gorgeous Keri Russell hair.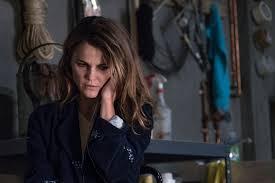 Catch up: Elizabeth has been going to church with Paige. She's learning that Paige is "open" to the ideas they need her to be open to, but not quite ready for a KGB confession. This won't be the last time someone confuses a liberal with a communist. Philip is not happy.
We are in the throes of the Russian involvement in Afghanistan, so I think it's going to be fun to watch for themes that ring true today, in 2015. Annalise is sort of in love with her informant, Yousef. She's sexually involved with Philip, too. And then Yousef chokes her because she admits she's a spy. So, good job, Annalise.
Likewise, Beeman is in a war, too. A divorce. He's attending self help seminars and spending way too much time in the Jennings' house. He's going to put some things together soon, right? I've been saying this since day one, so let's just cross our fingers.
Something new: Elizabeth and Philip are not OK with each other. Probably because of Paige, probably because of that botched Larrick season finale last spring. They've been at each other before but this is different. This is Paige's future.
Frank Langella is their mentor, Russian friend! I love this idea of them having someone who cares about them, cares about the kids, and cooks them dinner.Of course, he wants Paige ready. But he loves them. This is the kind of counsel they need.
Amazing Keri Russell: After being surprised by that CIA snitch, she carefully wipes her glass and hoofs it home. Maybe she should have taken off her wig, but her surprise attack on Gaad was bad, badass.
But she's spending a lot of time crying in the laundry room listening to her tapes, isn't she?
"The Americans" airs Wednesdays at 10 p.m. ET on FX.
REAL LIFE. REAL NEWS. REAL VOICES.
Help us tell more of the stories that matter from voices that too often remain unheard.